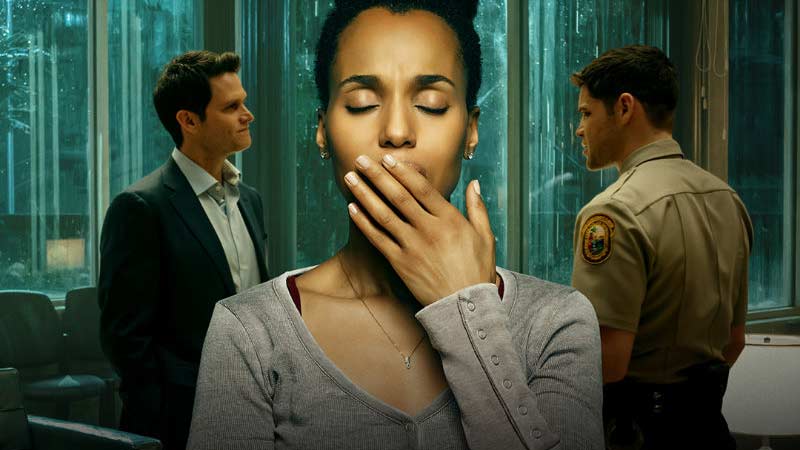 Kerry Washington stars in the film version of "American Son" (Netflix, streaming) about the mother of a missing mixed-race boy opposite other stars from the Broadway cast, Steven Pasquale and Jeremy Jordan.
TImothee Chalmet is "The King" (Netflix, streaming) in the recent big-screen film about Henry V that veers sharply from the Shakespearean play. Joel Egerton plays Falstaff and the cast also includes Sean Harris, Ben Mendelsohn, Robert Pattinson and Lily-Rose Depp.
In the new romance "Holiday in the Wild" (Netflix, streaming) has Kristin Davis of "Sex and the City" takes a safari after her marriage breaks up, only to get involved in saving elephants alongside Rob Lowe.
In the third season of "Atypical" (Netflix, streaming), Keir Gilchrist's character is off to college where his teachers include Sara Gilbert and Eric McCormack. His parents, played by Jennifer Jason Leigh and Michael Rapoport are still in the picture.
A four-episode diversion "Queer Eye: We're in Japan!" (Netflix, streaming) originates from Tokyo.
The second documentary this week with the title "Fire in Paradise" (Netflix, streaming) looks at the devastating wildfire in California last year, even as the Golden State burns this year (the other documentary was on PBS' "Frontline" Tuesday).
The latest singing competition is seeking "America's Most Musical Family" (BET, MTV, Nickelodeon, Paramount, TV Land and VH1, 7 p.m.). Debbie Gibson, Ciara and David Dobrik serve as judges; it gets a wide kickoff from a half dozen networks. Nick Lachey hosts. (Nickelodeon will be its usual home).
The trivia question game show "Nashville Squares" (CMT, 8 and 8:30 p.m.) returns for a new season, with Bob Saget at host and country stars in the squares.
"In the Long Run" (Starz, 10 and 10:20 p.m.), the series based on Idris Elba's childhood in London, returns for a second season.
A new comedy special, "Celeste Barber: Challenge Accepted" (Showtime, 9 p.m.) stars the Australian comic, actress and viral success.
"Great Performances" (PBS, 9 p.m., check local listings) presents London's 2018 revival of "42nd Street" with Clare Halse, Bonnie Langford, Tom Lister and Philip Bertioli.
Everybody must be cured! Or if not, either way, the season ends for "Couples Therapy" (Showtime, 10 p.m.).
Ronan Farrow, Richard Stengel, Dennis Prager, Christina Bellantoni and Jay Gordon are on a new "Real Time with Bill Maher" (HBO, 10 p.m.).
It was supposed to start today, but "Tom Clancy's Jack Ryan" (Amazon, streaming) actually got a one-day start Thursday.
Katie is bummed by her impending 40th birthday on "American Housewife" (ABC, 8 p.m.).
On "Charmed" (CW, 8 p.m.), Maggie starts her new job.
A driverless car delivering heroin is involved in a hit and run on "Hawaii Five-0" (CBS, 8 p.m.).
On "Fresh Off the Boat" (ABC, 8:30 p.m.), Matthew Chestnut returns to Cattleman's Ranch.
An assassin with a history of weaponizing diseases is investigated on "The Blacklist" (NBC, 8 p.m.).
In "The Secret Life of the Zoo" (Animal Planet, 9 p.m.), the mother of a baby flamingo loses interest.
Adam tires to sabotage Blake and Cristal on "Dynasty" (CW, 9 p.m.).
TC confronts Kamekona about stealing his helicopter business on "Magnum, P.I." (CBS, 9 p.m.).
A former cop has a pension gripe on "Blue Bloods" (CBS, 10 p.m.).
On "Van Helsing" (Syfy, 10 p.m.), there's a big chase across the desert.
Dennis Miller hosts Friday nights this month on Turner Classic Movies, inviting a friend each week, starting with Martin Short. Together they watch "Duck Soup" (8 p.m.), "Dr. Strangelove, or: How I Learned to Stop Worrying and Love the Bomb" (9:30 p.m.) and  "Abbott and Costello Meet Frankenstein" (11:15 p.m.). Later comes the women's prison films "Caged Heat" (2:15 a.m.) and "Women's Prison" (3:45 a.m.).
During the day, TCM has movies about stunt men: "Thrill Hunter" (8:30 a.m.), "Having a Wild Weekend" (10 a.m.), "The Fall Guy" (11:45 a.m.), "Lucky Devils" (noon), "I'm Still Alive" (1:15 p.m.), "Hooper" (2:30 p.m.), "Viva Knievel!" (4:15 p.m.) and "Stunts" (6:15 p.m.).
NBA action includes Houston at Brooklyn (ESPN, 7 p.m.) and Lakers at Dallas (ESPN, 9:30 p.m.).
College football includes Princeton at Cornell (ESPNU, 6 p.m.) and Navy at Connecticut (ESPN2, 8 p.m.).
U-17 FIFA World Cup soccer has Angola vs. Brazil (Fox Sports 2, 7 p.m.).
Drag racing has Friday Nitro Live (Fox Sports 1, 7 p.m.) from Las Vegas.
Daytime Talk
Kelly and Ryan Seacrest: Emma Thompson, Dr. Wendy Bazilian, Ingrid Michelson. The View: Miranda Lambert. The Talk: Angela Bassett, Jodie Sweetin. Ellen DeGeneres: Greta Thunberg, Lizzo, Garth Brooks. Kelly Clarkson: Hailee Steinfeld, Valerie Bertinelli. Wendy Williams: Dolores Catania, Margaret Josephs, Judy Joo. The Real: Ja Rule, Brittney Atkins, Amanda Seales.
Late Talk
Stephen Colbert: Curtis "50 Cent" Jackson, Conan O'Brien, Kate Willett. Jimmy Kimmel: Jennifer Aniston, Dave Matthews, Blanco Brown (rerun). Jimmy Kimmel: Edward Norton, Alessia Cara (rerun). Seth Meyers: Kenan Thompson, David Remnick, Steve Gorman (rerun). James Corden: Michelle Dockery, Max Greenfield, Alessia Cara (rerun). Lilly Singh: Natalie Portman (rerun).