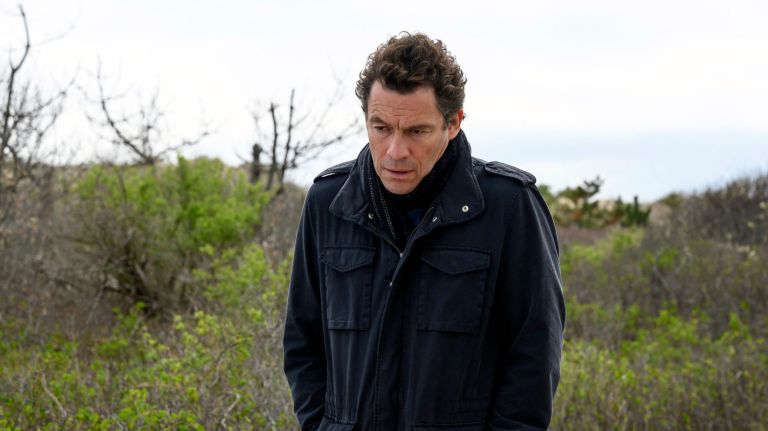 It ends where it all began – up in Montauk, where Whitney's wedding is the scene of the series finale of "The Affair" (Showtime, 9 p.m.) after five seasons of strong writing and acting. Then things move to the future where Alison's adult daughter Joanie finds the truth about her mother's death.
Also ending its four season run tonight is "The Durrells in Corfu" (PBS, 8 p.m., check local listings) just as war seems imminent.
An FBI agent goes to Tulsa to take over the murder investigation on "The Watchmen" (HBO, 9 p.m.). Jean Smart plays Laurie Blake, who appeared in the original comic as Silk Spectre.
On "Silicon Valley" (HBO, 10 p.m.), Richard meets a questionable investor.
Sunday Night Football has New England at Baltimore (NBC, 8:15 p.m.). Earlier NFL games include Indianapolis at Pittsburgh (CBS, 1 p.m.), Washington at Buffalo (Fox, 1 p.m.) and Green Bay at Chargers (CBS, 4:25 p.m.).
If you think you're out of touch with popular music in the U.S. try the 2019 MTV EMAs (MTV, 9 p.m.), hosted by Becky G  from Seville, Spain. Ariana Grande is nominated for the most awards, seven, followed by Billie Eilish, Lil Nas X and Shawn Mendes, with sixth each. Performers include Ava Max, Akon, Rosalia, Mabel, Dua Lipa, Halsey, NCT 127, Niall Horan, Liam Gallagher and Green Day.
"The Weekly" (FX, 10 p.m.) looks at the effectiveness of police breathalyzers.
A criminal lawyer looks at the perpetrators of genocide on "Why We Hate" (Discovery, 10 p.m.).
There appears to be a new "Last Week Tonight with John Oliver" (HBO, 11 p.m.).
Ghost seeks vengeance on his former drug partner on "Power" (Starz, 8 p.m.), an action dissected in "Power Confidential" (Starz, 9:19 p.m.).
Iowa's weekend Liberty and Justice Celebration is covered on "The Circus: Inside the Wildest Political Show on Earth" (Showtime, 8 p.m.).
All those Halloween baking shows are over; time for the "Ultimate Thanksgiving Challenge" (Food, 9 p.m.).
It's Christmas most places, though, including on "Mr. Robot" (USA, 10 p.m.).
A woman returns to her hometown for the holidays and volunteers to work on the town's "Christmas Scavenger Hunt" (Hallmark, 8 p.m.), only to find she has to work with her ex. Kevin McGarry and Kim Shaw star in the new made-for-TV movie.
Not to be outdone, "Always and Forever Christmas" (Lifetime, 8 p.m.) Lexi Lawson plays a high powered marketing exec who has to go home to take over her family Christmas store, where she meets a local diner owner (Mark Ghanimé).
"Mrs. Fletcher" (HBO, 10:30 p.m.) considers going out on a date or staying in.
Kenya enjoys being a mother on "The Real Housewives of Atlanta" (Bravo, 8 p.m.).
On "The Simpsons" (Fox, 8 p.m.), Homer buys a boat and regrets it.
Catherine pokes around Wayne Tower looking for Kate on "Batwoman" (CW, 8 p.m.).
On "Kids Say the Darnedest Things" (ABC, 8 p.m.), a 9-year-old aspires to be a talk show host.
Betty and Jenny go after Crystalynn on "Bless the Harts" (Fox, 8:30 p.m.).
On "Bob's Burgers" (Fox, 9 p.m., the Belchers go to the mall.
Geoffrey makes a desperate plan to elope with Cicily on "Poldark" (PBS, 9 p.m., check local listings).
"Supergirl" (CW, 9 p.m.) exposes a terrorist plot.
Supplies go missing on "The Walking Dead" (AMC, 9 p.m.); then it's discussed on "Talking Dead" (AMC, 10:08 p.m.).
"The Rookie" (ABC, 10 p.m.) has to deal with an imminent missile attack on Los Angeles.
Turner Classic Movies guest programmer Edward Norton, star of the current "Motherless Brooklyn," presents a double feature of classic L.A. noir, "The Big Sleep" (8 p.m.) and "Chinatown" (10 p.m.). At midnight comes Carl Theodor Dreyer's silent "Master of the House" (12:30 a.m.) and two from Czech director Jiri Menzel, "Capricious Summer" (2:30 a.m.) and "Closely Watched Trains" (4 a.m.).
Hockey has Calgary at Washington (NHL, 7 p.m.).
Baseball holds its Golden Glove Awards Show (ESPN2, 7 p.m.).
Auto racing has the U.S. Grand Prix (ABC, 1:30 p.m.), the Texas 500 (NBC Sports, 3 p.m.) and the Nevada Nationals (Fox Sports 1, 4 p.m.).
The New York City Marathon (ESPN2, 9 a.m.) is run.
Women's college volleyball includes Minnesota at Purdue (ESPN2, 1 p.m.), West Virginia at Texas (ESPNU, 1 p.m.) and Iowa State at Baylor (ESPNU, 5 p.m.).
Men's college soccer includes Michigan at Maryland (ESPNU, 3 p.m.).
Sunday Talk
ABC: Reps. Eliot Engel and Steve Scalise, Pete Buttigieg. CBS: Reps. Stoney Hoyer, Kevin McCarthy and Jackie Speier. NBC: Reps. Terri Sewell and Tom Cole, Andrew Yang. CNN: White House counselor Kellyanne Conway, Rep. James Clyburn. Fox News: Conway, Rep. Jim Himes.