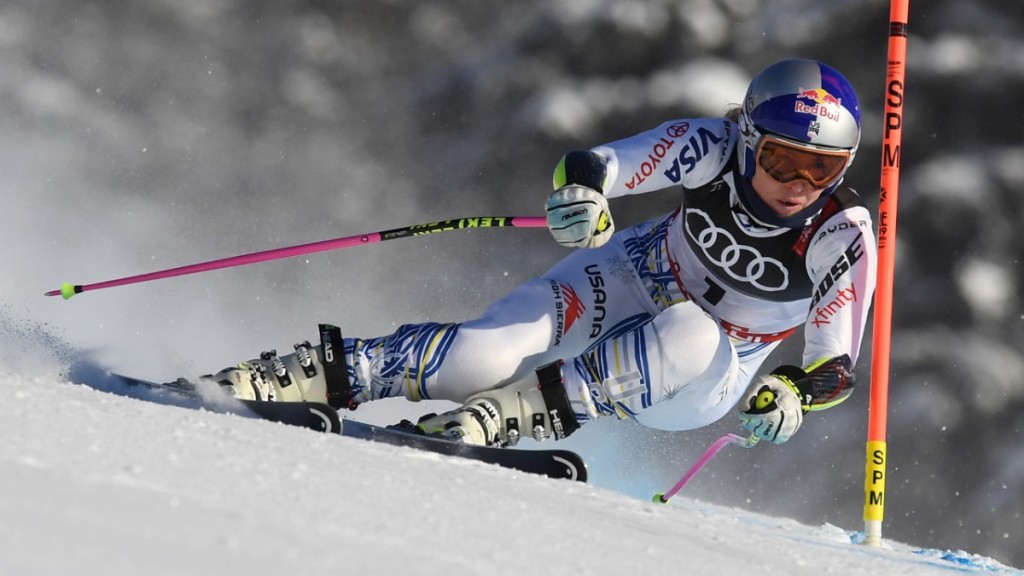 At 34, the four-time Olympic gold medal skiier Lindsey Vonn faced her last competitive downhill at the World Championships in Sweden earlier this year. It's captured in the documentary "Lindsey Vonn: The Final Season" (HBO, 10 p.m.) by directors Steve and Todd Jones.
It's been a big few weeks for Dolly Parton — co-hosting the CMAs, launching a Netflix series and now being honored in the suburban Nashville barn known as the Grand Ole Opry. She'll get to sing on "Dolly Parton: 50 Years at the Grand Ole Opry" (NBC, 9 p.m.), but so will Dierks Bently, Toby Keith, Lady Antebellum, Hank Williams Jr., Margo Price, Emmylou Harris and Chris Janson. And it won't be the same without Porter Wagoner.
The comedian titles his new one-man standup show "Mike Birbiglia: The New One" (Netflix, streaming), but he may be referring to his child. Fatherhood and its challenges is the show's theme.
Students embark on yearlong senior projects in advance of the finale of "College Behind Bars" (PBS, 10 p.m.), which ends with a graduation.
"NCIS" (CBS, 8 p.m.) looks into a petty officer's murder that was live-streamed.
Jackie is faced with a difficult decision on "The Conners" (ABC, 8 p.m.).
Barry is on the threshold of his impending death on the first of a two part episode of "The Flash" (CW, 8 p.m.).
Thanksgiving packs the emergency room on "The Resident" (Fox, 8 p.m.).
On "Bless This Mess" (ABC, 8 p.m.), jealousy rears its head.
They'll come up with a Top 10 in the results show of "The Voice" (NBC, 8 p.m.).
On "Batwoman" (CW, 9 p.m.), Laurel tries to make peace with the past.
Cookie discovers a promising new artist on "Empire" (Fox, 9 p.m.).
"FBI" (CBS, 9 p.m.) looks for a teacher after a fight with a student.
Marcus' family makes a tough decision on "The Purge" (USA, 9p.m.).
Braunwyn talks Kelly into going on the Florida trip on "The Real Housewives of Orange County" (Bravo, 9 p.m.).
Participation in a beauty pageant is a problem on "Mixed-ish" (ABC, 9 p.m.).
On "Blackish" (ABC, 9:30 p.m.), Junior decides he wants to become a comedy writer.
The FBI takes over the case on "Emergence" (ABC, 10 p.m.).
"NCIS: New Orleans" (CBS, 10 p.m.) wants to avenge Lasalle's murder.
A family divide grows on "Welcome to Plathville" (TLC, 10 p.m.).Petra visits a comrade on "Treadstone" (USA, 10 p.m.).
Geraldo Rivera, Aubrey O'Day and Todd Bridges are "Famously Afraid" (Travel, 10 p.m.).
Turner Classic Movies' month-long Bette Davis salute concludes with her last work: "Winter Meeting" (6 a.m.), "All About Eve" (8 a.m.), "Payment on Demand" (10:30 a.m.), "The Star" (12:15 p.m.), "The Catered Affair" (2 p.m.), "The Scapegoat" (3:45 p.m.), "Pocketful of Miracles" (5:30 p.m.), "Whatever Happened to Baby Jane?" (8 p.m.), "Dead Ringer" (10:30 p.m.), "The Nanny" (12:30 a.m.), "Bunny O'Hare" (2:30 a.m.) and "The Whales of August" (4:15 a.m.).
Basketball includes Clippers at Dallas (NBA, 8:30 p.m.).
Hockey has Dallas at Chicago (NBC Sports, 8 p.m.).
In college football, it's Western Michigan at Northern Illinois (ESPNU, 7 p.m.).
Men's college basketball includes Seattle vs. Western Michigan (ESPNU, noon), Bucknell vs. Yale (ESPNU, 2:30 p.m.), Michigan State vs. Georgia (ESPN2, 2:30 p.m.), Wichita State vs. South Carolina (CBS Sports, 6 p.m.), Virginia Tech vs. Dayton (ESPN, 8 p.m.), Central Michigan at DePaul (Fox Sports 1, 8 p.m.), Northern Iowa vs. West Virginia (CBS Sports, 8:30 p.m.) and Clemson vs. Colorado (ESPN2, 11:30 p.m.).
Women's college volleyball has Pepperdine at BYU (ESPNU, 10 p.m.).
Daytime Talk
Kelly Ripa and Ryan Seacrest: Daisy Ridley, Michael Symon. The View: LL Cool J, Arica Himmel. The Talk: Don Johnson. Ellen DeGeneres: Tom Hanks, Chrissy Teigen. Kelly Clarkson: Kristen Bell, Ne-Yo . Tamron Hall: Jon Durenbos. Wendy Williams: Julie Bowen. The Real: Tina Lifford, Ne-Yo, Tiffany Alice, Tisha Campbell.
Late Talk
Stephen Colbert: Paul Rudd, Adrienne Warren. Jimmy Kimmel: Laura Dern, Andrew Yang, Bishop Briggs. Jimmy Fallon: Sen. Bernie Sanders, Katherine Langford, Gary Vaynerchuk. Seth Meyers: Oscar Isaac, Casey Wilson, Jon Pardi. James Corden: Kathy Bates, Billy Eichner. Lilly Singh: Jillian Bell, Utkarsh Ambudkar. Trevor Noah: Julián Castro (rerun). David Spade: Jeff Garlin, Guy Branum, Anna Faris (rerun).