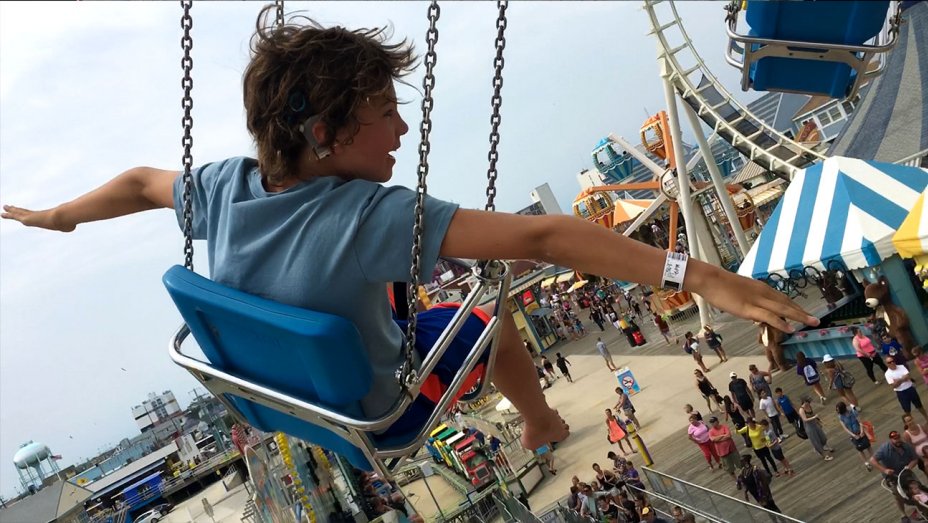 Director Irene Taylor Brodsky chronicled her deaf parents' journey in the 2007 "Hear and Now," returns with another personal project, tracking her own son who began going deaf at a young age. A pianist, he wanted to learn "Moonlight Sonata," which Beethoven wrote as he was going deaf. She chronicles the process in the documentary "Moonlight Sonata: Deafness in Three Movements" (HBO, 9 p.m.).
"Full Frontal with Samantha Bee" (TBS, 10:30 p.m.) will likely have some impeachment angles.
Robert Downey Jr. helps Ellen on the second night of "Ellen's Greatest Night of Giveaways" (NBC, 8 p.m.), which presumably is greater than last night's.
On "Survivor" (CBS, 8 p.m.), the 14th castaway will be voted out, becoming the eighth jury member, as the field shrinks from seven to six in advance of next week's finale.
Five remaining singers vie for a spot in the finals of "The Masked Singer" (Fox, 8 p.m.). Last night, the tree turned out to be Ana Gasteyer. She's probably happy to get out of that getup.
"The Goldbergs" (ABC, 8 p.m.) try to improve their annual family holiday card.
"South Park" (Comedy Central, 10 p.m.) has a holiday themed season finale.
Charmaine announces her pregnancy to the "Black Ink Crew Chicago" (VH1, 8 p.m.).
On "Riverdale" (CW, 8 p.m.), Jughead looks for his grandfather.
Frank tries to figure out David's intent with Dolores on "The Real Housewives of New Jersey" (Bravo, 8 p.m.).
On "Schooled" (ABC, 9:30 p.m.), CB hopes to get Lainey a Beanie Baby for Christmas.
Since it's the last season of "Modern Family" (ABC, 9 p.m.) tonight's episode is titled "The Last Christmas."
On "Vikings" (History, 10 p.m.) Lagertha is visited by women from nearby villages.
Dei goes undercover as a substitute teacher on "Stumpton" (ABC, 10 p.m.).
On "Tyler Perry's Sistas" (BET, 10 p.m.), Andi is in a tight spot.
The holiday season of "The Great Truck Race" (Food, 10 p.m.) involves some tubing.
"Nancy Drew" (CW, 9 p.m.) searches for George's missing sister.
Nobody's getting impeached on "Tyler Perry's The Oval" (BET, 9 p.m.).
"Making It" (NBC, 9 and 10 p.m.) crowns a winner on the finale of its short season.
Julia wonders about her own fertility on "Almost Family" (Fox, 9 p.m.).
"S.W.A.T." (CBS, 10 p.m.) provides security for a warlord.
Paris Hilton and Tank join "Martha & Snoop's Potluck Dinner Party" (VH1, 9 p.m.).
Jason is back from back surgery on "SEAL Team" (CBS, 9 p.m.).
On "Single Parents" (ABC, 9:30 p.m.) Graham writes to Santa.
Bobby Brown, Wanda Sykes and Kathy Griffin place calls on "Crank Yankers" (Comedy Central, 10:30 p.m.).
Turner Classic Movies has two films about cats, "Bell Book and Candle" (8 p.m.) and "Harry and Tonto" (10 p.m.), and three about horses, "The Black Stallion" (12:15 a.m.), "Run Wild, Run Free" (2:30 a.m.), and "National Velvet" (4:15 a.m.).
Earlier on TCM are films about eccentric relations, with "Colleen" (6:15 a.m.), "So Long Letty" (8 a.m.), "Holiday" (9:15 a.m.), "The Merry Frinks" (11 a.m.), "Loose Ankles" (12:15 p.m.), "Arsenic and Old Lace" (1:30 p.m.), "Travels with My Aunt" (3:30 p.m.) and "Auntie Mame" (5:30 p.m.).
NBA action includes Clippers at Toronto (ESPN, 7 p.m.) and New Orleans at Milwaukee (ESPN, 8:30 p.m.).
Hockey has Philadelphia at Colorado (NBC Sports, 9:30 p.m.).
Women's college basketball includes Iowa at Iowa State (Fox Sports 1, 8 p.m.).
Daytime Talk
Kelly Ripa and Ryan Seacrest: Wilmer Valderrama, AJ Mitchell. The View: Lupita Wyong'o, Clay Aiken, Ruben Studdard, Chris Christie. The Talk: Vanessa Williams. Ellen DeGeneres: Kevin Hart, Chrissy Teigen. Kelly Clarkson: Lionel Richie, Justin Willman, Dan Price, Gary Clark Jr. Tamron Hall: Dr. Ruth Westheimer, Dionne Warwick. Wendy Williams: Aldis Hodge, Dave Koz and Jonathan Butler. The Real: Michelle Williams, Michael Eric Dyson.
Late Talk
Stephen Colbert: Clive Owen, Samantha Power, Thomas Rhett. Jimmy Kimmel: Kevin Hart, Julia Fox, Finneas. Jimmy Fallon: Jon Hamm, Keri Russell, Gary Clark Jr. Seth Meyers: Jack Black, Ari Melber. James Corden: Nick Jonas, Rashida Jones, Vampire Weekend, Anthony Anderson. Lilly Singh: John Legend. Trevor Noah: Lupita Nyong'o. David Spade: Stassi Schroeder, Chris Franjola, Brad Williams. Conan O'Brien: Giancarlo Esposito.