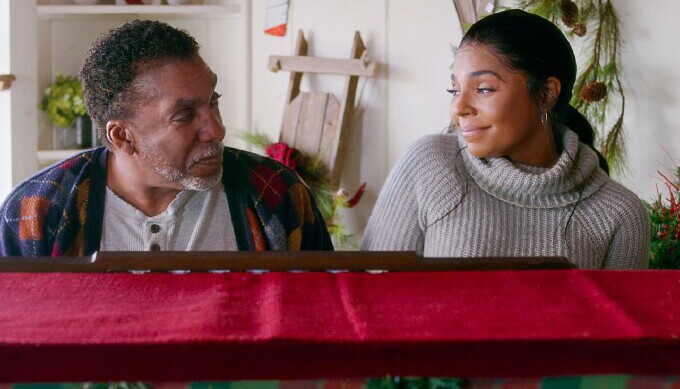 Of the many, many Christmas movies on tonight, Ashanti plays a woman who befriends a homeless jazz singer (Stan Shaw) and helps him find his daughter (Sanhani Nichole) in time for the holiday in  "A Christmas Winter Song" (Lifetime, 8 p.m.). Also, Ashanti sings.
Hallmark tries a Christmas movie that involves Jewish traditions in "Holiday Date" (Hallmark, 8 p.m.), but stumbles when they assume Jewish people know nothing over the overwhelming Christian holiday. Brittany Bristol plays a woman who gets a Jewish friend, Matt Cohen, to pretend to be her boyfriend.
In "Holiday Heist" (BET, 8 p.m.) Tobias Truvillion is blackmailed into robbing a diamond display at a struggling jewelry store. Complication: he falls in love with the shop's daughter (Chaley Rose).
Not a holiday movie: "Most Likely to Murder" (Lifetime Movie Network, 8 p.m.) in which a formerly popular teen becomes less so when a house fire kills her father and leaves her hairless.
In the new "Best Christmas Ball Ever!" (ION, 7 p.m.) a woman impulsively goes to Vienna after a breakup and meets a dashing European dance partner, with whom she becomes a competitive dancer and a romantic partner. Elisabeth Harness and Samuel Hunt star.
Closer to the original intent of Christmas, Oscar Isaac stars with Keisha Castle-Hughes as Joseph and Mary in the 2006 "The Nativity Story" (Univision, 7 p.m.), this time presented in Spanish.
Last year's Oscar winner "Green Book" (Showtime, 9 p.m.) makes its premium cable debut, as does the 2019 version of "Hellboy" (HBO, 8 p.m.)
Kevin Hart, Rob Gronkowski, Kevin Love and CJ McCollum are among the guests on "The Shop: Uninterrupted" (HBO, 10 p.m.).
Repeats abound on network TV starting with a replay of that odd, only semi-live "The Wonderful World of Disney Presents the Little Mermaid Live!" (ABC, 8 p.m.) with Queen Latifah.
Also back again: "Rudolph the Red Nosed Reindeer" (CBS, 8 p.m.), "Frosty the Snowman" (CBS, 9 p.m.) and "Frosty Returns" (9:30 p.m.).
On the special "How to Train Your Dragon: Homecoming" (NBC, 8 p.m.), they're preparing for the Snoggletog Festival. On the calendar, that's followed by the "Dreamworks Trolls Holiday" (NBC< 8:30 p.m.).
Also "The Masked Singer" (Fox, 8 p.m.) reruns its last couple of episodes.
The men and women meet each other's families before making their final choices on "Ready to Love" (OWN, 10 p.m.).
I'm thinking Christmas party incidents will abound on "Live PD" (A&E, 9 p.m.).
"Destination Fear" (Travel, 10 p.m.) goes to West Virginia State Penitentiary.
Rescued sea turtles are pleased near the Great Barrier Reef on "Crikey! It's the Irwins" (Animal Planet, 8 p.m.).
On "Body Bizarre" (Discovery Life, 9 p.m.), a woman has a tooth transplanted in her eye to prevent going blind.
"Elf" (AMC, 7 and 9 p.m.) gets another double play.
An impeached president appears in "Home Alone 2: Lost in New York" (Freeform, 6:35 p.m.).
The UK's first ever surviving sun bear cub is born on "Secret Life of the Zoo" (Animal Planet, 10 p.m.).
It's a mixed bag on Turner Classic Movies, with the epic "Gandhi" (8 p.m.) followed by the noir "Criss Cross" (midnight) and two drug sagas, "The Panic in Needle Park" (2 a.m.) and "Stakeout on Dope Street" (4 a.m.).
NBA action includes San Antonio vs. Phoenix (NBA, 5 p.m.) and Brooklyn at Toronto (NBA, 7:30 p.m.).
Hockey has Detroit at Montreal (NHL, 7 p.m.).
College football subdivision quarterfinals, it's Illinois State at North Dakota State (ESPN, noon).
Also it's Army vs. Navy (CBS, 3 p.m.) before presentation of the Heisman Trophy (ESPN, 8 p.m.).
Men's college hoops includes Kansas State at Mississippi State (ESPNU, 11:30 a.m.), Oregon at Michigan (USA, noon), Michigan State at Oakland (ESPN2, noon), Southern at Butler (Fox Sports 1, noon), Syracuse at Georgetown (Fox, 1 p.m.), Tulsa at Arkansas (ESPNU, 1:30 p.m.), Delaware vs. Villanova (ESPN2, 2 p.m.), Illinois Chicago at DePaul (Fox Sports 1,, 2 p.m.), Memphis at Tennessee (ESPN, 3 p.m.), UCLA at Notre Dame (ABC 3 p.m.), Saint Louis vs. Auburn (ESPN2, 4 p.m.), Georgia Tech at Kentucky (ESPN, 5 p.m.), College of Charleston at Richmond (NBC Sports, 5 p.m.), Oklahoma at Wichita State (ESPN2, 6 p.m.), Stanford at San Jose State (CBS Sports, 7 p.m.), Stony Brook at Providence (Fox Sports 1, 8 p.m.) and Gonzaga at Arizona (ESPN2, 10 p.m.).
The women's college volleyball NCAA tournament has Baylor vs. Washington (ESPNU, 4 p.m.), Wisconsin vs. Nebraska (ESPNU, 6 p.m.), Louisville vs. Minnesota (ESPNU, 8 p.m.) and Penn State vs. Stanford (ESPNU, 10 p.m.).
In international women's hockey, it's Canada at U.S. (NBC Sports, 7 p.m.).
And it's the U.S. Grand Prix in Halfpipe Snowboarding (NBC Sports, 2:30 p.m.).
Dan Auerbach and the band Shinyribs play an "Austin City Limits" (PBS, 11 p.m.) from last year.
Scarlett Johansson hosts a new "Saturday Night Live" (NBC, 11:30 p.m.) with musical guest Niall Horan.