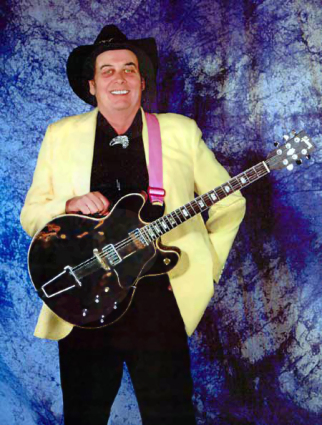 Sleepy LaBeef, the rockabilly figure who played and toured for more than 60 years, died the day after Christmas. He was 84 and had played his last concert in September.
One of the last rockabilly artists to be signed by Sun Records, LaBeef had an encyclopedic knowledge of American roots music, professing at one point to know about 6,000 songs.
"I do 'em all," he told me once. "Not all the songs, but all the styles: blues, country, rock 'n' roll, gospel and hillbilly."
Indeed, on a riverboat cruise performance I caught in 1995 he moved freely from each of those styles — often in mid-song — in a freewheeling style that delighted the audience even as it terrorized his band.
He began with a twangy instrumental "Detour" that foretold the winding, scenic trip down the Connecticut River, and followed it with Hank Williams' "Jambalaya," in honor of the event. From there, it was all over the place from Fats Domino's "My Girl Josephine" to Tony Joe White's "Polk Salad Annie."
Thomas Paulsley LaBoeuf was born in Smackover, Arkansas in 1935, the youngest of 10 children. He got the name Sleepy as a child because of his droopy eyelids; he changed his last name to LaBeef as a professional because that's how people spelled it anyway.
He had a stab at the movies. Standing 6-foot-6, he once played a swamp monster in a 1950s B movie. But his love was in music.
LaBeef worked on labels like Starday and Dixie, Picture, Gulf, Crescent and Wayside, as well as some bigger outfits, like Mercury and Columbia before signed to Sun Records.
LaBeef reminds some of Johnny Cash, if only for the black clothes and rich baritone. But playing a version of "Ring of Fire" as the boat cruised past the trash-burning plant, he jumped it up rockabilly-style before switching to another Williams tune, "Hey Good Lookin."
It was fun to watch in the proximity of the boat trip how effortless his guitar-playing was, and how much authority it had in any field, but especially in rockabilly, where the pulse was so alive.
"Here's a song I bet you haven't heard in some time," he said at one point. "Well, maybe some of you never heard it at all!"
Finally, he added: "I bet the band has never heard it before either!" Which is probably right. "But it's always an adventure!"
And with that he plunged into Merle Haggard's "Ragged But Right" without any further hint to his backing trio (except a coaching tip mid-song: "Try it in 2/4!").
Once LaBeef started in a steady groove, he'd play every song it reminds him of. "Hi-Heel Sneakers" turned into "Big Boss Man" and finally "(I Washed My Hands in) Muddy Water."
Then he stopped cold to change gears — Ernest Tubb's "Waltz Across Texas" followed by an even more unexpected gospel number, "Strange Things Happening," played so vibrantly that LaBeef's hat nearly flies off. As he played it, the dance floor filled for the first time, and a wildness occurred that its songwriter Sister Rosetta Tharpe might not have never imagined.
LaBeef freely mixes the sacred and the profane, "Born To Lose" with "Danny Boy"; "Midnight Special" with "Elvira."
At the time, the latest of what would be an output of 30 albums, was titled "I'll Never Lay My Guitar Down." Now, sadly, he has.