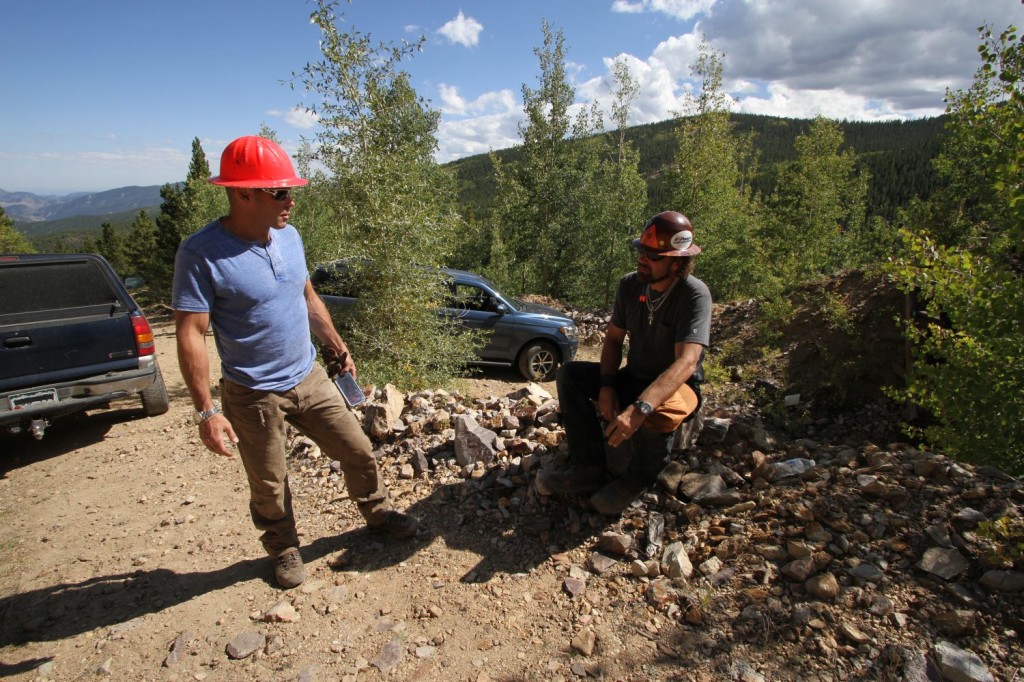 In the new series "Reclaimed" (Discovery, 9 p.m.), Alex Charvat and Kevin Gilman are a couple of freelance miners with their own shovels and picks who help homeowners suspecting there might be  something down in some old abandoned mines in their properties.
Also digging, in its way, a prime time special focusing on the women victims, "Truth & Lies: The Jeffrey Epstein Story" (ABC, 9 p.m.).
Later, a father takes matters into his own hands against his daughter's rapist on "Law & Order: Special Victims Unit" (NBC, 10 p.m.).
"Jeopardy! The Greatest of All Time" (ABC, 8 p.m.) moves to night three. A player has to win three nights to win the $1 million.
Cyndi Lauper is a guest judge on "Project Runway" (Bravo, 9 p.m.).
A third season starts of "Very Cavallari" (MTV, 9 p.m.), following the growth of her business.
"Superstore" (NBC, 8 p.m.) has been bought out by a new parent company.
Mary plans Pastor Jeff's wedding on "Young Sheldon" (CBS, 8 p.m.).
"The Good Place" (NBC, 8:30 p.m.) returns with the first of its final four episodes.
Wade looks for daughter approval of Anna on "The Unicorn" (CBS, 8:30 p.m.).
A pizza van is carjacked on "Alaska PD" (A&E, 9 p.m.).
On "Deputy" (Fox, 8 p.m.), the new sheriff just can't stay desk bound.
Marty saves a mother and daughter from a rampaging moose on "Homestead Rescue" (Discovery, 8 p.m.).
"Perfect Harmony" (NBC, 9:30 p.m.) has Conley Fork's annual pageant.
One of the five participants drops out on "60 Days In" (A&E, 10 p.m.).
On "Evil" (CBS, 10 p.m.), David recovers from a bad wounding.
Carol uses subterfuge to get a patient into an ICU on a new "Carols' Second Act" (CBS, 9:30 p.m.).
On "Last Man Standing" (Fox, 8 p.m.), Mike tries to find common hobbies with Vanessa.
Will meets a potential surrogate father on "Will & Grace" (NBC, 9 p.m.).
A long-lost aunt suddenly appears on "Mom" (CBS, 9 p.m).
On "Floribama Shore" (MTV, 8 p.m.), Cody invites the roommates to his parents' house in South Carolina.
Past couples discuss the new couples on "Married at First Sight" (Lifetime, 8 p.m.).
On "Restaurant: Impossible" (Food, 8 p.m.), Robert returns to a restaurant in Florida. Then he goes to Ohio at 9.
Gene Simmons is the perfect guest on "Ridiculousness" (MTV, 10 p.m.).
Newly admitted titles in the National Film Registry are Turner Classic Movies tonight: "The Phenix City Story" (8 p.m.), "I Am Somebody" (10 p.m.), "Gaslight" (10:45 p.m.), "Girlfriends" (2:45 a.m.) and "Body and Soul" (4:30 a.m.).
During the day are films of actress Anita Louise, born this day in 1915, with "Anthony Adverse" (6 a.m.), "The Story of Louis Pasteur" (8:30 a.m.), "First Lady" (10:15 a.m.), "The Phantom of Crestwood" (11:45 a.m.), "Millie" (1:15 p.m.), "Everything's Rosie" (2:45 p.m.), "The Firebird" (4 p.m.), "Personal Maid's Secret" (5:30 p.m.) and "Brides Are Like That" (6:45 p.m.).
Basketball includes Boston at Philadelphia (TNT, 7 p.m.) and Houston at Oklahoma City (TNT, 9:30 p.m.).
Hockey has Nashville at Chicago (NBC Sports, 8:30 p.m.).
Men's college hoops includes Drexel at Towson (CBS Sports, 6 p.m.), Memphis at Wichita State (ESPN2, 7 p.m.), Louisiana Tech at Texas San Antonio (ESPNU, 7 p.m.), Purdue at Michigan (Fox Sports 1, 7 p.m.), Hofstra at Northeastern (CBS Sports, 8 p.m.), Minnesota at Michigan State (ESPN2, 9 p.m.), Arizona at Oregon (ESPN, 9 p.m.), Murray State at Jacksonville State (ESPNU, 9 p.m.), Washington at Stanford (Fox Sports 1, 9 p.m.), Arizona State at Oregon State (ESPNU, 11 p.m.) and BYU at Saint Mary's (ESPN, 11 p.m.).
Women's games include Quinnipiac at Rider (ESPNU, 11 a.m.), Austin Peay at Tennessee Tech (ESPNU, 5 p.m.), Baylor at Connecticut (ESPN, 7 p.m.) and North Carolina State at North Carolina (NBC Sports, 7 p.m.).
Daytime Talk
Kelly Ripa and Ryan Seacrest: Billy Porter, Dr. Taz Bhatia. The View: Michael B. Jordan. The Talk: Tim Allen. Ellen DeGeneres: Jamie Foxx, Liv tyler, Dua Lipa. Kelly Clarkson: Reed Newman,, Ben Feldman, Ryan Michelle Bathe, Danny Seo, Bob Harper, Erica Lugo. Wendy Williams: Tiffany Haddish. The Real: Stephen "Twitch" Boss.
Late Talk
Stephen Colbert: Sen. Bernie Sanders, Penn Badgley. Jimmy Kimmel: Michael B. Jordan, January Jones, Cigarettes After Sex. Jimmy Fallon: Will Smith, Patti Smith. Seth Meyers: Larry David. James Corden: Adam DeVine, Kieran Culkin, Ismo (rerun). Lilly Singh: Brett Gelman, Rosanna Pansino. Trevor Noah: Jimmy Butler. David Spade: Tig Notaro, Nikki Glaser, Tony Rock. Conan O'Brien: Willem Dafoe, Emily Catalano (rerun).