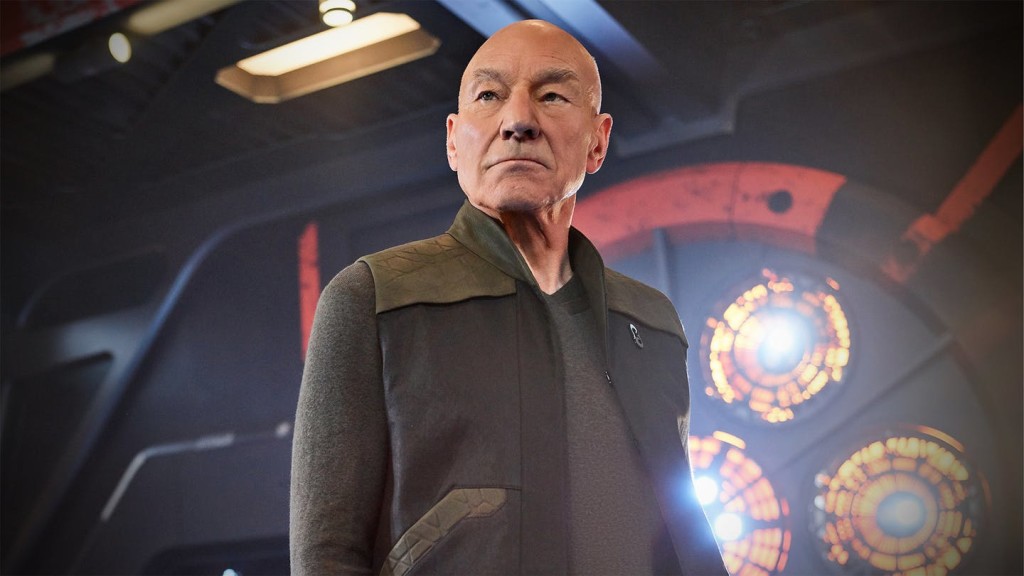 It's the kind of role that hobbled his career but in the end, at 79, he succumbed to the title once again as the famous bald "Star Trek" commander in "Star Trek: Picard" (CBS All Access, streaming). The first few episodes are slow – he's living on a vineyard and retired as a Starfleeet admiral, ruminating on the death of Data and Romulus. He must be encouraged to, as they say, re-engage.
Like the earlier streaming sequel, "Star Trek: Discovery," a ton of money was thrown at the production, the gentler intent of the original 1966 series seem a long ago memory, and there's an eventual jump to space warring.
Several faces from "The Next Generation" and "Voyager" pop up, including Jonathan Frakes, Jeri Ryan and Brent SPiner. But  I'm more taken by the fact that novelist Michael Chabon did not only helped write this but is its showrunner — a whole other career. But it's hard to discern the show for his usual charm or sense of fun. Like old school TV, new episodes will trickle out weekly.
The exceedingly dumb new sitcom "Outmatched" (Fox, 8:30 p.m.) plays like a family populated with several Young Sheldons but parented by proud dopes, Jason Biggs and Maggie Lawson, who cower in the basement smoking pot.
J.C. MacKenzie and Tamara Taylor star as a married couple who fight evil and their monsters, aided by their teenage twins, in the new sci-fi horror series "October Faction" (Netflix, streaming), based on the comic of the same name.
The Impeachment Trial (CSPAN, CNN, MSNBC, 1 p.m.) is now restricted to fewer networks – even though it's only happened three times in history.
"The Bold Type" (Freeform, 9 p.m.) returns for its fourth season with the magazine they all work at facing a new reality.
There's a crossover episode between the returning "Station 19" (Fox, 8 p.m.) and "Grey's Anatomy" (ABC, 9 p.m.) caused when a car crashes into Joe's Bar.
"Perfect Harmony" (NBC, 9:30 p.m.) reaches its first season finale at the regional choir competition.
Billie Eilish, Lizzo, Jonas Brothers, Lil Nas X, Blake Shelton and Gwen Stefani are guests on "The Gayle King Grammy Special" (CBS, 10 p.m.) in advance of Sunday's event.
Patty arrives on "The Good Place" (NBC, 8:30 p.m.).
It's the opening night of Danny's play on "A Million Little Things" (ABC, 10 p.m.).
"Deputy" (Fox, 9 p.m.) finds an old informant mixed up in a human trafficking ring.
Snoring is an issue on "Last Man Standing" (Fox, 8 p.m.).
On "Superstore" (NBC, 8 p.m.), Amy tries to make Mateo her new assistant.
On the made-for-TV "Death by Friendship" (Lifetime Movie Network, 8 p.m.) Alexa Rose Steele plays a sinister new friend of who drives a wedge between a girl (Sarah Fisher) and her friends.
There's some bad behavior during the Fourth of July on "Floribama Shore" (MTV, 8 p.m.).
"Restaurant: Impossible" (Food, 8 p.m.) goes to Columbia, Mo., and then at 9, Alexandria, Vancouver; and at 10, South Padre Island, Texas. .
Sam and Dean hit the road to help a friend on "Supernatural" (CW, 8 p.m.).
"Grown-ish" (Freeform, 8 p.m.) promises a couple of surprises.
Matilda wants to get wasted on "Everything's Gonna Be Okay" (Freeform, 8:30 p.m.).
"Legacies" (CW, 9 p.m.) celebrates Coven Day.
Designers collaborate with painter Ashley Longshore on "Project Runway" (Bravo, 9 p.m.).
On "Very Cavallari" (E!, 9 p.m.), Kristen mourns her failed friendship with Kelly.
Grace and James give their relationship another chance on "Will & Grace" (NBC, 9 p.m.).
People are bailing on "60 Days In" (A&E, 10 p.m.) and not just viewers.
Part two of overlooked African-American performances on Turner Classic Movies comes tonight with "Imitation of Life" (8 p.m.), "Body and Soul" (10 p.m.), "Member of the Wedding" (midnight), "Intruder in the Dust" (1:45 a.m.), "Within Our Gates" (3:30 a.m.) and "The Symbol of the Unconquered" (5 a.m.).
Earlier are films of feuds with "Sombrero" (6:15 a.m.), "Romeo and Juliet" (8:15 a.m.), "Storm Over Wyoming" (10:30 a.m.), "Manpower" (11:45 a.m.), "The Painted Desert" (1:30 p.m.), "Beneath the 12-Mile Reef" (3 p.m.), "Pure Feud" (4:45 p.m.), "The Voice of Bugle Ann" (5 p.m.) and "Sporting Blood" (6:30 p.m.).
Winter means skating and ice dancing on the U.S. Figure Skating Championships (NBC Sports, 5 and 9 p.m.).
Basketball includes Lakers at Nets (TNT, 8 p.m.) and Dallas at Portland (TNT, 10:30 p.m.).
Men's college hoops has Delaware at Hofstra (CBS Sports, 6:30 p.m.), Minnesota at Ohio State (Fox Sports 1, 6:30 p.m.), Belmont at Murray State (ESPN2, 7 p.m.), Florida International at Old Dominion (ESPNU, 7 p.m.), Michigan State at Indiana (Fox Sports 1, 8:30 p.m.), Valparaiso at Missouri State (CBS Sports, 8:30 p.m.), Connecticut at Houston (ESPNU, 9 p.m.), San Francisco at Saint Mary's (CBS Sports, 10:30 p.m.), Southern Cal at Oregon (ESPNU, 11 p.m.) and UCLA at Oregon State (Fox Sports 1, 11 p.m.).
Women's games include Tennessee at Connecticut (ESPN, 7 p.m.).
Tennis' Australian Open (Tennis, 7 p.m.; ESPN2, 9 p.m.) has third round play.
Daytime Talk
Kelly Ripa and Ryan Seacrest: Noah Centineo, Jason George. The View: Terry Crews, Paula Faris. The Talk: Nancy Travis. Ellen DeGeneres: Wanda Sykes, Michael Kiwanuka. Kelly Clarkson: Norman Lear, Fortune Feimster. Tamron Hall: Nev Schulman, Kamie Crawford. Wendy Williams: Chris Appleton, Midwin Charles. The Real: Boris Kodjoe.
Late Talk
Stephen Colbert: Chris Cuomo, David Alan Grier, Algiers. Jimmy Kimmel: Kumail Nanjiani, Sting. Jimmy Fallon: Noah Centineo, Wendy Williams, Griselda. Seth Meyers: Eric McCormack, Lewis Black, Chelsea Cutler, Adam Marcello. James Corden: Greta Gerwig, Noah Baumbach, Demetria Martin. Lilly Singh: Fortune Feimster. Trevor Noah: Kehinde Wiley. David Spade: Yamenelka Saunders, Tim Dillon, Andrew Santino.