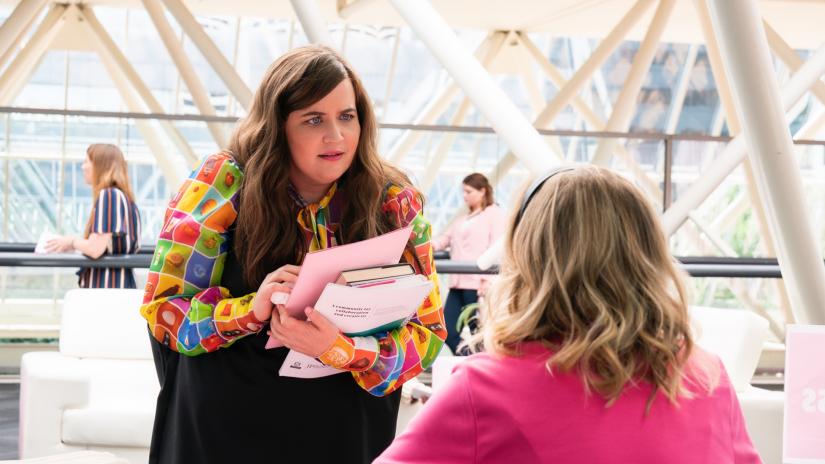 Second seasons begin for a couple of the most entertaining leading women in the streaming world.
Aidy Bryant stars in the sharp comedy "Shrill" (Hulu, streaming) that picks up the moment season one ended, when she quit her job and got revenge against an internet troll with a bit of vandalism.
A second season also starts for Kiernan Shipka in the "Chilling Adventures of Sabrina" (Netflix, streaming) and with Sabrina having defeated Lucifer last time, now she has to get her boyfriend sprung from hell.
Healing and wellness, celebrity style, is served up on "The Goop Lab with Gwyneth Paltrow" (Netflix, streaming) which sounds like a product line infomercial.
It's the final day for the prosecution in The Impeachment Trial (CSPAN, CNN, MSNBC, 1 p.m.) and the case is building.
The unusual sitcom "The Ranch" (Netflix, streaming), returns for an eighth and final season, with Ashton Kutcher, Elisha Cuthbert and Sam Elliott.
The Turkish import "Rise of the Empires: Ottoman" (Netflix, streaming) is a docmentary featuring such multi-accented Turkish stars as Cem Yiğit Üzümoğlu and Tuba Büyüküstün
The U.S. Figure Skating Championship (NBC, 8 p.m.) makes its debut on a broadcast network.
"MTV Presents: A 2020 Grammy Celebration" (MTV, 9 p.m.) boasts Lizzo, Billie Eilish, Dua Lipa and Post Malone, but probably no coverage of this week's Recording Industry scandals.
In the Taiwanese import "A Sun" (Netflix, streaming), a family deals with the incarceration of its younger son's incarceration.
It's hockey's All Star Weekend in St. Louis and events begin tonight in the entertaining skating, shooting and goaltending competitions in the 2020 NHL All-Star Skills (NBC Sports Network, 8 p.m.).
Vivica A. Fox is behind another film of peril "The Wrong Housesitter" (Lifetime Movie Network, 8 p.m.).
On "American Housewife" (ABC, 8 p.m.), Anna-Kat has an invitation to Westport's elite scout troop
Maggie and Mel fear Jordan's curse is working on "Charmed" (CW, 8 p.m.).
On "Fresh Off the Boat" (ABC, 8:30 pm.), Evan trains for the spelling bee.
Megyn Kelly makes an appearance on "Real Time with Bill Maher" (HBO, 10 p.m.). Other guests include Alex Wagner, Erick Ericsson, Ingrid Newark and Ambassador Michael McFaul.
Cristal and Alexis clash on "Dynasty" (CW, 9 p.m.).
Patrick Stewart, Michael B. Jordan, Jamie Foxx, Jennifer Saunders and Michael Kiwanuka are on a new episode of "The Graham Norton Show" (BBC America, 11 p.m.).
Turner Classic Movies has three Robert Mitchum films from the 1970s, "The Wrath of God" (8 p.m.), "Farewell, My Lovely" (10 p.m.) and "The Yakuza" (midnight). Then comes "Scary Movie" (2 a.m.) and "The Texas Chainsaw Massacre 2" (3:30 a.m.).
During the day, TCM shows bedroom politics of the 1960s with "Not With My Wife, You Don't" (6 a.m.), "Doctor, You've Got to be Kidding!" (8:15 a.m.). "Promise Her Anything" (10 a.m.), "Sunday in New York" (11:45 a.m.), "The Chapman Report" (1:45 p.m.), "Any Wednesday" (4 p.m.) and "Boys' Night Out" (6 p.m.).
Basketball has Milwaukee vs. Charlotte (NBA, 3 p.m.), Clippers at Miami (ESPN, 8 p.m.) and Indiana at Golden State (NBA, 10:30 p.m.).
Men's college hoops include Kent State at Buffalo (CBS Sports, 6:30 p.m.), Yale at Brown (ESPNU, 7 p.m.), Wisconsin at Purdue (Fox Sports 1, 7 p.m.), Northern Kentucky at Wright State (ESPNU, 9 p.m.) and Marquette at Butler (Fox Sports 1, 9 p.m.).
Third round play continues in tennis' Australian Open (ESPN2, 9 p.m.).
Women's college gymnastics has LSU at Florida (ESPN2, 7:30 p.m.).
Men's college hockey has North Dakota at Minnesota Duluth (CBS Sports, 8:30 p.m.).
Daytime Talk
The View: Tim Robbins, Susie Essman. The Talk: Vivica A. Fox. Ellen DeGeneres: Will Ferrell, Selena Gomez, Jennifer Aniston. Kelly Clarkson: Garth Brooks. Tamron Hall: Apryl Michelle Brown. Wendy Williams: Young M.A. The Real: India.Arie.
Late Talk
Stephen Colbert: Sen. Bernie Sanders, Penn Badgley (rerun). Jimmy Kimmel: Al Pacino, Florence Pugh, Nicky Jam with Daddy Yankee (rerun). Jimmy Fallon: Milo Ventimiglia, Guy Raz, Carmen Lynch. Seth Meyers: Larry David, Caitlin Kalafus (rerun). James Corden: Billie Ellish, Ali Wong, Alicia Keys (rerun). Lilly Singh: John Legend (rerun).