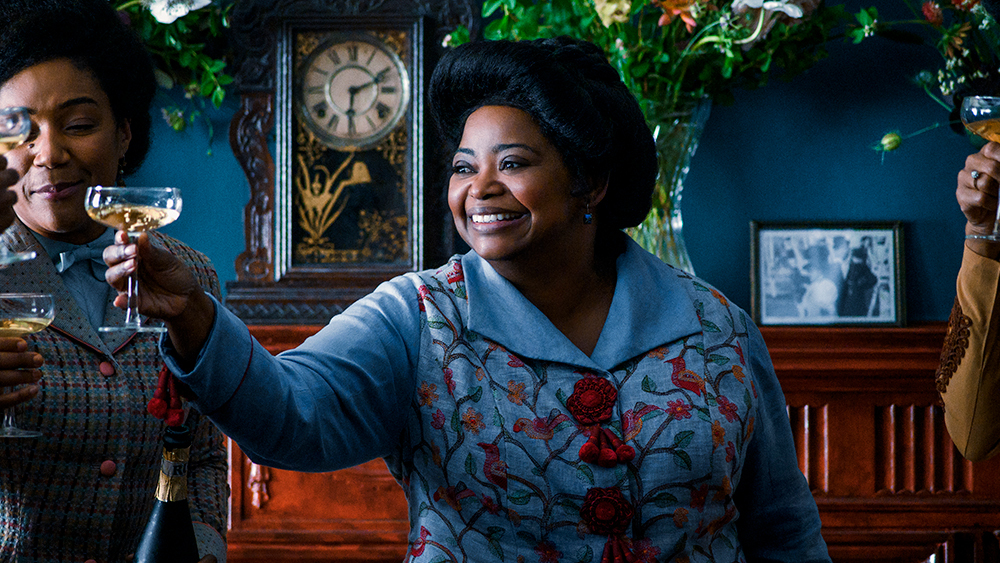 It would seem that streaming services are stepping to keep up with the demand of a nation being asked to stay home. But then again, it's just Friday, when they regularly release a load of new titles.
Octavia Spencer stars as a entrepreneur who built an African American haircare company that made her the first female self-made millionaire in "Self Made: Inspired by the Life of Madam C.J. Walker" (Netflix streaming). Written by Walker's great-great-grandaughter A'Lelia bundles, the film also stars Blair Underwood, Tiffany Haddish, Garrett Morris and Bill Bellamy.
Anthony Mackie, Samuel L. Jackson and Nia Long star in the movie "The Banker" (Apple TV+, streaming), a civil rights era story about men who bought homes in white areas with an intent to rent them to the black middle class.
"A Life of Speed: The Juan Manuel Fangio Story" (Netflix, streaming) is a documentary about the famous Formula One racecar driver from Argentina.
The seven-part documentary "Tiger King: Murder, Mayhem and Madness" (Netflix, streaming) follows a dude who dyed his hair blonde and called himself Joe Exotic, who raised his own zoo and his own exotic troubles, eventually getting himself arrested for attempted murder.
A knight is sent on a dangerous delivery duty in the new series "The Letter for the King" (Netflix, streaming), based on a popular Dutch children's book.
They've already moved up "Frozen II" (Disney +, streaming) for distribution during the current crisis, and announced plans to include the new "Onward" in a couple of weeks. So now they also open up their boardroom discussions, looking at various projects on "Disney Insider" (Disney+, streaming).
In the new "Blow the Man Down" (Amazon streaming), two people in a Maine fishing community try to cover up a killing, but find traces of a fictional town there called Easter Cove. Morgan Saylor and Sophie Lowe star.
In lieu of a new season of "The Handmaid's Tale" right away, here's a documentary about the source book's author, "Margaret Atwood: A Word After A Word is Power" (Hulu, streaming).
"Great Performances at the Met" (PBS, 9 p.m., check local listings) offers the recent revival of Franco Zeffirelli's production of Puccini's "Turnandot," with soprano Christine Goerke. Yannick Nézet-Séguin conducts.
A deaf interpreter at a photo shoot is part of the season finale of "High Maintenance" (HBO, 11 p.m.).
"Blacklist" (NBC, 8 and 9 p.m.) returns with a pair of new episodes.
A fourth season starts for the boarding house drama "Greenhouse Academy" (Netflix, streaming).
The closest things to sports tonight may be the sports-themed pageant on "RuPaul's Drag Race" (VH1, 8 p.m.).
"WWE Smackdown" (Fox, 8 p.m.) chronicles fake matches, of course. But tonight, there's even no audience in the arena.
The six-part series "The English Game" (Netflix, streaming) dramatizes the development of football (what we call soccer) in the UK, written and produced by "Downton Abbey" creator Julian Fellowes.
A coming-of-age series from France with teeth: "Vampires" (Netflix, streaming).
In the made for TV "My Daughter's Psycho Friend" (Lifetime Movie Network, 9 p.m.), a teen is framed. Taylor Blackwell and Avery Pohl star.
An alternative to popcorn is pitched on a new "Shark Tank" (ABC, 8 p.m.).
Human trafficking at the border is a concern on "The Trade" (Showtime, 9 p.m.).
There are some movies about gambling on Turner Classic Movies tonight with "A Big Hand for the Little Lady" (8 p.m.), "Frankie and Johnny" (10 p.m.) and "Any Number Can Play" (11:45 p.m.). Then some classic black action films, "Across 110th Street" (2 a.m.) and "Super Fly" (3:45 a.m.), both worth it for the soundtracks alone.
Earlier, the theme is Lovers on the Run, an especially strong set of movies with "A Criminal is Born" (6:15 a.m.), "Bonnie and Clyde" (6:45 a.m.), "They Live by Night" (8:45 a.m.), "Gun Crazy" (10:30 a.m.), "Badlands" (12:15 p.m.), "The Honeymoon Killers" (2 p.m.), "Breathless" (4 p.m.) and "The Getaway" (5:45 p.m.).
Daytime Talk
Kelly Ripa ad Ryan Seacrest: Tyler Perry, Scarlett Johansson, Olivia Rodrigo. The Talk: Andy Grammer, Brigitte Nielsen. Ellen DeGeneres: Chris Pratt (rerun). Kelly Clarkson: Eric McCormack, Liza Koshy. Tamron Hall: Fran Drescher, Amber Childers (rerun). Wendy Williams: Remy Ma (rerun). The Real: Tiffany Haddish, Tiffany Boone.
Late Talk
All reruns: Stephen Colbert: Dr. Sanjay Gupta. Jimmy Kimmel: Ben Affleck, Justina Machado, Victoria Monét. Jimmy Fallon: BTS. Seth Meyers: Nicolle Wallace, Keke Palmer, Daymond John, Steve Wajatta. Lilly Singh: Wendi McLendon-Covey.