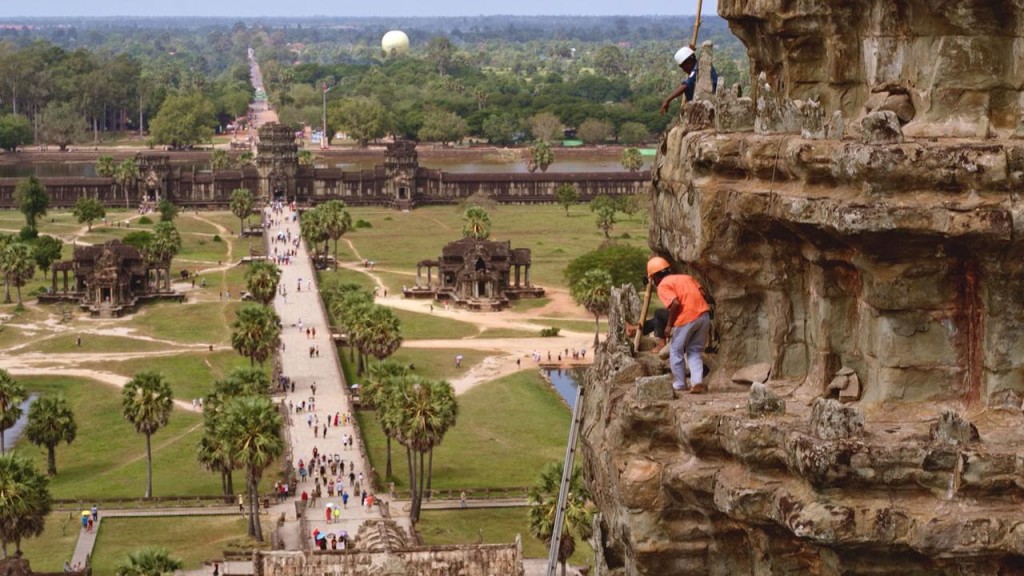 When travel began to be shut down due to the worldwide coronavirus pandemic, religious landmarks were among the first to close. Thus a new series like "Earth's Sacred Wonders" (PBS, 10 p.m., check local listings) may be the only way for now to visit such places as Angkor Wat in Cambodia, Jerusalem and the Shaolin Temple in China — all featured in the first episode of the series.
(The regular Travel channel is showing haunted house fare like "True Terror with Robert England" (Travel, 10 p.m.).
The latest documentary from the Obamas' production company looks at the beginnings of the disability rights movement in the 1970s, which had its beginning in a summer camp. "Crip Camp: A Disability Revolution" (Netflix, streaming) is directed by Jim LeBrecht and Nicole Newnham.
"Humboldt: Epic Explorer" (Smithsonian, 8 .m.) looks at the discoveries of Alexander von Humboldt in South America.
The new "Eating History" (History, 10 p.m.) doesn't so much blend two disciplines as it has two guys eating way expired foods,from a 1947 box of Wheaties to Civil War hardtack.
"CMT Crossroads: Halsey & Kelsea Ballerini" (CMT, 10 p.m.) combines the talent of two young performers, caught during a show in Nashville.
"Pandemic: COVID-19" (Discovery, 10 p.m.) takes a scientific look at the virus and its transmission.
Will Arnett is guest panelist on "The Masked Singer" (Fox, 8 p.m), where last week Bella Thorne was revealed to be the Swan.
On "Chicago Med" (NBC, 8 p.m.), doctors treat a terminally ill patient; on "Chicago Fire" (NBC, 9 p.m.), a motel blaze turns suspicious; and on "Chicago P.D." (NBC, 10 p.m.), a case is built against a drug kingpin.
"Year of the Rabbit" (IFC, 10:30 p.m.), the Victorian detective spoof, has its season finale. You have time to go back and watch the rest. A second season is on its way.
Empty baseball stadiums is the problem in the future, too, on "Brockmire" (IFC, 10 p.m.).
"Dave" (FXX, 10 p.m.) has stage fright while opening a show for a big rapper.
Dee is prime suspect in a murder investigation on the season finale of "Stumptown" (ABC, 10 p.m.).
"LEGO Masters" (Fox, 9 p.m.) welcome Terry Crews as a guest.
It will be hard to beat the double blindside on last week's "Survivor" (CBS, 8 p.m.).
"SEAL Team" (CBS, 9 p.m.) prepares for a three month deployment in Afghanistan.
It's the first season finale for "Awkwafina is Nora from Queens" (Comedy Central, 10:30 p.m.) and she goes to China.
"Black Ink Crew" (VH1, 8 p.m.) goes to Philly for a convention.
Adam gets a bike just like the one from "Pee Wee's Big Adventure" on "The Goldbergs" (ABC, 8 pm.).
On "Schooled" (ABC, 8:30 p.m.), Principal Ball's parking spot may be turned into a community garden.
Crazy as the world is, it's crazier still on "Motherland: Fort Salem" (Freeform, 9 p.m.).
On "American Housewife" (ABC, 9:30 p.m.), Katie tries to recreate her first apartment.
Danni has dating problems on "Tyler Perry's Sistas" (BET, 9 p.m.).
"S.W.A.T." (CBS, 10 p.m.) rescues a hotel of civilians when gang leaders descend.
An earthquake shakes things up on "Twenties" (BET, 10 p.m.).
"The Magicians" (Syfy, 10 p.m.) is reaching its conclusion; you'd think there would be better episode descriptions than: "Alice writes a letter."
Michael has a reluctance to convert on "Bride & Prejudice: Forbidden Love" (Lifetime, 10 p.m.).
The month-long Wednesday night salute to Joe E. Brown on Turner Classic Movies concludes with his later films, "Some Like It Hot" (8 p.m.), "A Midsummer Night's Dream" (10:15 p.m.), "It's a Mad, Mad, Mad, Mad World" (1 a.m.), "The Comedy of Terrors" (4 a.m.) and "Around the World in 80 Days" (5:30 p.m.).
Earlier are the films of Maureen O'Hara with "A Woman's Secret" (6 a.m.), "Jamaica Inn" (7:45 a.m.), "The Fallen Sparrow" (9:45 a.m.), "The Wings of Eagles" (11:30 a.m.), "This Land is Mine" (1:45 p.m.), "McLintock!" (3:30 p.m.) and "The Hunchback of Notre Dame" (5:45 p.m.).
Daytime Talk
Kelly Ripa and Ryan Seacrest: Josh Groban, Joshua Jackson, Dr. Jennifer Ashton. The View: Mark Cuban, Sara Haines. The Talk: Trichina Arnold, Beth Behrs (rerun). Ellen DeGeneres: Kristen Bell, Ajani Huff (rerun). Kelly Clarkson: Tiffany Boone, Billy Ray Cyrus. Tamron Hall: Soledad O'Brien, Anthony O'Neal (rerun). Wendy Williams: Joseline Hernandez (rerun).
Late Talk
All reruns: Stephen Colbert: Pete Buttigieg, Patton Oswalt. Jimmy Kimmel: Tim Robbins, Eric Andre, Phantogram. Jimmy Fallon: Niall Horan. Seth Meyers: Kelly Clarkson, Bashir Salahuddin, Diallo Riddle, CJ Hauser, Terri Lyne Carrington. James Corden: Jessica Biel, Natasha Lyonne, Chris Garcia. Lilly Singh: Taran Killam. Conan O'Brien: Laurence Fishburne.