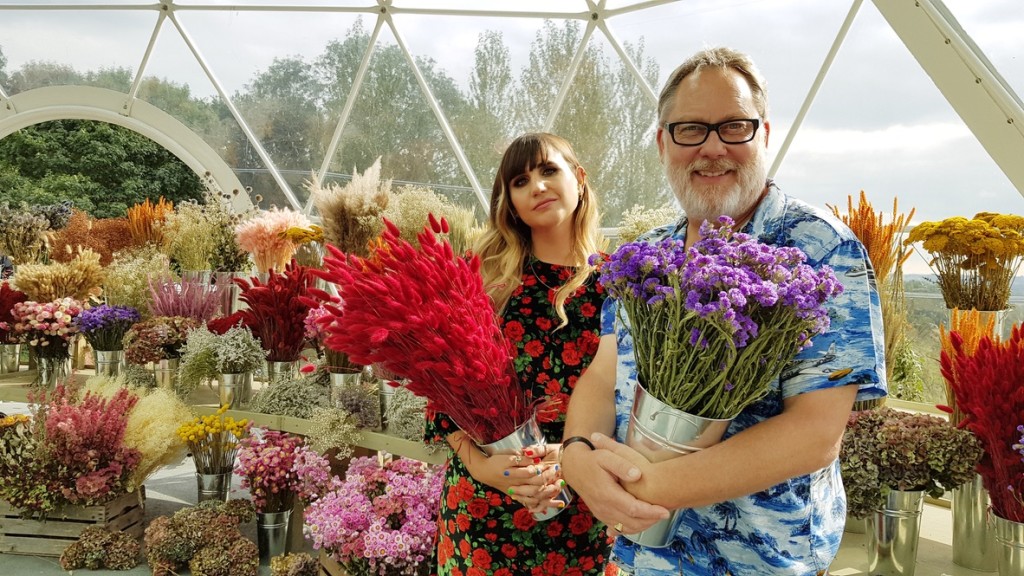 Think of it as "The Great British Baking Show" for florists: "The Big Flower Fight" (Netflix, streaming) brings in 10 pairs of  florists from across the globe to create giant floral wonders for the Royal Botanic Gardens. It's hosted by Vic Reeves and Natalie Demertrion (of "What We Do in the Shadows") co-host. But it's all very polite.
Also from across the ocean comes the Irish drama "Dead Still" (Acorn TV, streaming), about 19th century post-mortem photographer drawn into a series of murders. Michael Smiley, Eileen O'Higgins  and Jimmy Smallhorne star.
Up until the coronavirus caused the Supreme Court to conduct its hearings by phone, and thus could be heard live for the first time, Clarence Thomas had only asked six questions in 14 years, the last one more than a year ago. Apparently all he needed was an audience. The week of live hearings last week brought 64 questions from Thomas.
Now learn more about the suddenly loquacious justice tonight in "Created Equal: Clarence Thomas in His Own Words" (PBS, 9 p.m., check local listings), which covers most of his life, if not the 1991 hearing that got him there.
"The Bachelor Presents: Listen to Your Heart" (ABC, 8 p.m.) has its season finale in Nashville. It will also be the last new episode of any "Bachelor" series until at least the fall. One couple will be named winners, by celebrity panel that includes Taye Diggs, Rita Wilson and Jewel, who will vote on how convincing each relationship seems to be.
The finale shows begin for "The Voice" (NBC, 8 p.m.) as well.
On "Songland" (NBC, 10 p.m.), Florida Georgia Line comes looking for a song.
Jeremy Renner fixes up an L.A. condo for his mom on the season finale of "Celebrity IOU" (HGTV, 9 p.m.).
The Oscar-nominated documentary short, "St. Louis Superman" (MTV, VH1, 9 p.m.), about an activist in Ferguson, Mo., who was elected to the Missouri House of Representatives.
Among his many comic roles, Fred Willard, who died Friday at 86, was often used in bits by Jimmy Kimmel, so "Jimmy Kimmel Live!" (ABC, 11:35 p.m.) devotes tonight's episode in tribute to him.
Liz seeks help when her dad is detained in "Roswell, New Mexico" (CW, 9 p.m.).
On the special "Penn & Teller: Try This at Home" (CW, 8 p.m.), the magicians do tricks from their homes and friends check in, including Elle and Dakota fanning, Michael Carbonaro and Shin Lim.
"Amy Schumer Learns to Cook" (Food, 10 p.m.), or tonight, learns to make a sandwich.
Toya considers proposing to Red on "T.I. & Tiny: friends & Family Hustle" (VH1, 8 p.m.).
On "Below Deck Sailing Yacht" (Bravo, 9 p.m.), Captain Glenn admonishes Jenna about her relationship with Adam.
There's a mail call on "Bakeaway Camp with Martha Stewart" (Food, 9 p.m.). But it's LGBTQ weekend at "Camp Getaway" (Bravo, 10 p.m.).
And it's All Hallows Eve on "Creepshow" (AMC, 10 p.m.).
On "The Baker and the Beauty" (ABC, 10 p.m.), Vanessa stars a scandal that affects Noa and Daniel.
Turner Classic Movies has a night of college musicals with "Girl Crazy" (8 p.m.), "She's Working Her Way Through College" (10 p.m.), "Variety Show" (midnight), "Too Many Girls" (1:30 a.m.) and "Good News" ((3:15 a.m.).
During the day are movies about mad scientists and such with "The Devil Bat" (6 a.m.), "Doctor X" (7:15 a.m.), "The Murder of Dr. Harrigan" (8:45 a.m.), "Dr. Jekyll and Mr. Hyde" (10 a.m.), "The Law and the Lab" (11:45 a.m.), "The Brain That Wouldn't Die" (noon), "Hands of a Stranger" (2 p.m.), "The Omega Man" (4:15 p.m.) and "The Terminal Man" (6 p.m.).
Daytime Talk
Kelly Ripa and Ryan Seacrest: Laura Linney, Dr. Melina Jampolis. The View: Rita Wilson. The Talk: Wayne Brady, Jonathan Mangum, Dr. Mike Varshavski. Ellen DeGeneres: Kumail Nanjiani. Kelly Clarkson: Seth Meyers, Kelly Rowland. Tamron Hall: Wanda Cooper-Jones, Lee Merritt, Wayne Brady. Wendy Williams: Melissa Garcia (rerun). The Real: Yvette Nicole Brown.
Late Talk
Stephen Colbert: Kumail Nanjiani, Andra Day, Elmo. Jimmy Fallon: Arnold Schwarzenegger, Cole Spouse, Billy Corgan. Seth Meyers: Nick Kroll, Gov. Gretchen Whitmer. James Corden: Terry Crews, Old Dominion. Lilly Singh: Larry Wilmore, Quinta Brunson (rerun). Conan O'Brien: Adam Sandler (rerun).