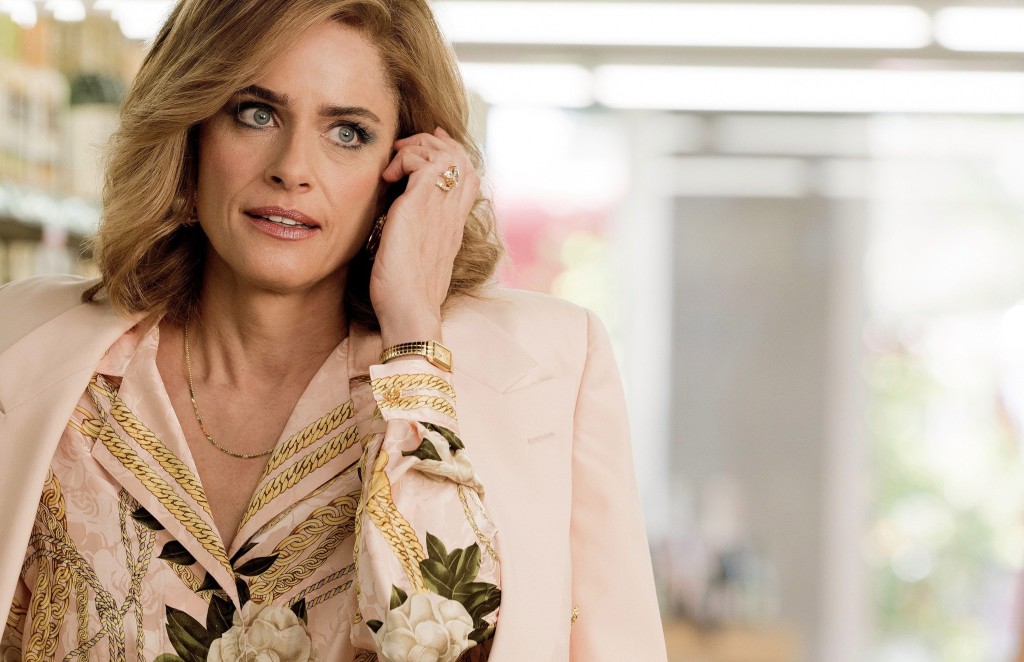 The first "Dirty John" proved that a true crime story with among the wealthy middle aged folks can be engrossing and entertaining, especially if there is a compelling actress at its core. Just as Connie Britton starred in the first season, which ran on Broadway, so does Amanda Peet in the second season, now on a different cable network, "Dirty John: The Betty Broderick Story" (USA, 9 p.m.).
As the title indicates, the new season is about a completely different California case (but nobody named John). Instead, it centers around the 1980s case of a San Diego housewife who can't cope with the dissolution of her marriage, leading to murder. Peet is very good playing opposite a cold Christian Slater, but she has to modulate her madness so it can last over 10 episodes.
One of the many characters who stood out in "Tiger King" was the former "Inside Edition" reporter who helped turn Joe Exotic into a reality TV star — online anyway. All the film he shot got lost in a fire, but he's now star of his own special "The Truth Behind Joe Exotic: The Rick Kirkham Story" (Investigation Discovery, 9 p.m.). The timely update comes just a day after Carole Baskin won the rights to Joe Exotic's zoo in Oklahoma.
The dread surrounding the D.C. sniper of 2002 is relived in the documentary series "I, Sniper" (Vice, 10 p.m.) with commentary from the surviving accomplice, who was 17 at the time.
The final nine episodes of "Fuller House" (Netflix, streaming) wraps up the remake, with the central three, played by Candace Cameron Bure, Jodie Sweetin and Andrea Barber, all planning for their respective weddings.
I'm thinking the season finale of "The Secret of Skinwalker Ranch" (History, 10 p.m.) won't be revealing its secret.
The 1998 murders of Megan and Sherri Scherer is investigated by "The Genetic Detective" (ABC, 10 p.m.)
Trey finds a new love on "The Last O.G." (TBS, 10:30 p.m.).
Auditions continue on "America's Got Talent" (NBC, 8 p.m.) and "World of Dance" (NBC, 10 p.m.), but the former has twice as much time.
"DC's Legends of Tomorrow" (CW, 9 p.m.) find themselves in 1984.
The relationship between Esperanza and Eddie comes to a head on "If Loving You is Wrong" (OWN, 10 p.m.).
"Chopped" (Food, 9 p.m.) tries poke.
Winter slams in on "Deadliest Catch" (Discovery, 8 p.m.).
On "Stargirl" (CW, 8 p.m.), Pat warns Courtney to back down.
The reunion shows begin for "Vanderpump Rules" (Bravo, 9 p.m.).
"OutDaughtered" (TLC, 9 p.m.) returns for a seventh season, marking Valentine's Day.
Ann Sheridan is star of the month on Turner Classic Movies, and the 37-movie Tuesday night salute starts with her early roles in "Black Legion" (8 p.m.), "Dodge City" (9:30 p.m.), "The Footloose Heiress" (11:30 p.m.), "They Made Me a Criminal" (12:45 a.m.), "Alcatraz Island" (2:30 a.m.), "Mystery House" (3:45 a.m.) and "The Patient in Room 18" (5 a.m.).
Franklin Pangborn may not have starred in any movies, but he popped up in an awful lot of them including all of these on TCM today: "Romance on the High Seas" (6 a.m.), "My Dream is Yours" (7:45 a.m.), "George Washington Slept Here" (9:45 a.m.), "Turnabout" (11:30 a.m.), "Topper Takes a Trip" (1:15 p.m.), "A Star is Born" (3 p.m.), "Fifth Avenue Girl" (5 p.m.) and "Living on Love" (6:45 p.m.).
Daytime Talk
Kelly Ripa and Ryan Seacrest: Anna Camp, Dr. Jennifer Jellison. The View: Sen. Lindsey Graham (rerun). The Talk: Kristen Bell, Shawn Johnson East. Ellen DeGeneres: Jake Tapper, Ricky Martin. Kelly Clarkson: Lauren Benanti, Thomas Rhett, Lauren Akins (rerun). Tamron Hall: Patrick Amersbach, Soleil Moon Fyre (rerun). Wendy Williams: Ashlee Glazer (rerun).
Late Talk
Stephen Colbert: Keegan-Michael Key. Jimmy Kimmel: Shaquille O;Neal. Jimmy Fallon: Joel McHale, Phoebe Robinson. Seth Meyers: Atlanta Mayor Keisha Lance Bottoms, Leslie Jones. James Corden: Michael Sheen, M. Ward. Lilly Singh: Jenny Slate, Kathryn Hahn (rerun). Conan O'Brien: Patton Oswalt.