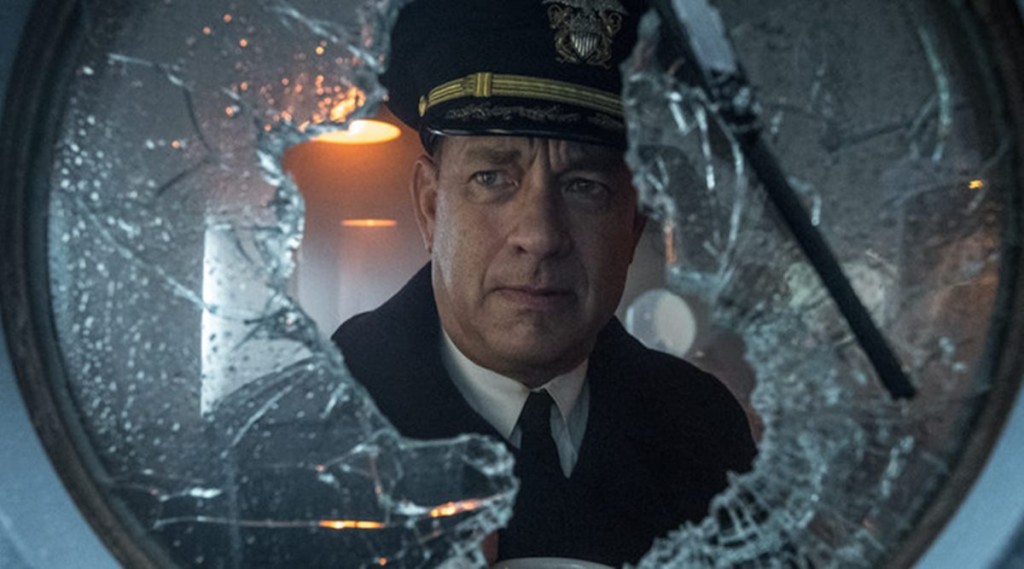 The big streaming services bring in big stars for a trio of new movies today.
Tom Hanks puts on another military uniform, as a U.S. Naval officer overseeing a shipment of supplies crossing the Atlantic in World War II and trying to avoid German U-Boat attacks in the thriller "Greyhound" (Apple TV, streaming).
Charlize Theron stars in another action film, "The Old Guard" (Netflix, streaming) based on the graphic novel by Greg Rucka. It's directed by Gina Prince-Bythewood ("Love & Basketball," "Beyond the Lights").
And Andy Samberg traverses on "Groundhog Day" territory as a wedding guest reliving a day in the desert in the romantic comedy "Palm Springs" (Hulu, streaming) in which Cristin Milioti likely proves his comic equal.
Following the two night history of the woman's vote in the U.S. earlier this week, "American Masters" (PBS, 9 p.m., check local listings) follows it up with a look at female progress in the political realm over the last century in "Unladylike2020."
Sarah Bareilles helps create "Little Voice" (Apple TV+, streaming), which looks at that time in the early 20s when young performers are trying to find their voice.
With a new adaptation of "The Baby-Sitters Club" (Netflix, streaming) enticing new viewers, here's a documentary about how influential the Asian-American character was in the book for a generation of young women. "The Claudia Kishi Club" (Netflix streaming) talks of its affects on Yumi Sakugawa, Sarah Kuhn and Phil Yu.
In the new series "Down to Earth with Zac Efron" (Netflix, streaming), the Hollywood star travels the world with a wellness expert looking fur sustainable ways to live.
From the Grey Lady people who brought you "The Weekly," here's a retuning: A monthly hourlong documentary from the newspaper's investigators, instead of a weekly presence. The first installment of "The New York Times Presents" (FX, 10 p.m.) looks at New York City's medical workers during the pandemic.
The reality dating series has a South American spin-off with "Dating Around: Brazil" (Netflix, streaming).
In the new series "Greatness Code" (Apple TV+, streaming) well-known athletes tell their stories.
"The Disney Channel Summer Sing-Along" (Disney, 8 p.m.) relies on songs — and singers — from the cable channel's roster. Expect a whole lot of "High School Musical." Also coming from the brand tonight: "Radio Disney Presents: ARDYs Summer Playlist" (Disney, 8:45 p.m.), a celebration of past ARDYs, which are the Radio Disney Music Awards.
There is some backyard grilling and Bebe Rexha joins the party on "RuPaul's Drag Race All Stars" (VH1, 8 p.m.).
"Bering Sea Gold" (Discovery, 8 p.m.) sees summer's end approach.
Host Dean Cain's estimation of his blackballing for political views falls under the category of "Masters of Illusion" (CW, 8 p.m.).
Lifetime begins a trilogy "Obsession Stalked by My Lover" (Lifetime, 8 p.m.), in which a woman picks the wrong roommate. Celeste Desjardins, Travis Nelson and Kelly Hope Taylor star.
On "Dino Hunters" (Discovery, 9 p.m.), Clayton hauls his 20,000-pound dinosaur fossil over 200 miles to a lab.
David Bromstad has to stay in his own Orlando condo on "Color Splash" (HGTV, 9 p.m.).
The month-long John Ford salute continues for most of the day on Turner Classic Movies with "Flesh" (noon), "Judge Priest" (2 p.m.), "Mary of Scotland" (3:30 p.m.), "Drums Along the Mohawk" (6 p.m.), "The Whole Town's Talking" (8 p.m.), "Arrowsmith" (10 p.m.), "The Informer" (midnight). Later comes two futuristic B-movies, "Deathsport" (2 a.m.) and "Cherry 2000" (3:30 a.m.).
So, this morning on TCM are movies with very similar titles: "So This is College" (6 a.m.), "So You Never Tell a Lie" (7:45 a.m.), "So You Don't Trust Your Wife" (8 a.m.), "So This is Love" (8:15 a.m.), "So You Want to Be Pretty" (10 a.m.), "So You Want to Be in Pictures" (10:15 a.m.), "So You Want to Be a Plumber" (10:30 a.m.), "So You Want to Enjoy Life" (10:45 a.m.), "So You Want to Wear the Pants" (11 a.m.), "So You Want to Play the Piano" (11:30 a.m.), "So You Want to Be a Gladiator" (11:45 a.m.).
Major League Soccer has Seattle vs. San Jose (ESPN, 9 p.m.).
Golf has second round play in the Workday Charity Open (Golf, 3 p.m.) and first round play in the American Century Championship (NBC Sports, 5 p.m.).
NASCAR runs its Alsco 300 (Fox Sports 1, 8 p.m.).
The Basketball Tournament reaches its quarterfinals with Team Brotherly Love vs. Golden Eagles (ESPN, 2 p.m.) and House of Paign vs. Red Scare (ESPN, 4 p.m.).
Australian football has Collingwood vs. Hawthorn (Fox Sports 1, 5:30 a.m.), Fremantle vs. St. Kilda (Fox Sports 2, 10:30 p.m.) and West Coast vs. Adelaide (Fox Sports 2, 1 a.m.).
Daytime Talk
Kelly Ripa and Ryan Seacrest: Jerry O'Connell, Rebecca Romijn, Mark Consuls. The View: Chris Wallace, Adrienne Bankert (rerun). The Talk: Ben Platt, Jack Osbourne. Ellen DeGeneres: Kevin Hart (rerun). Kelly Clarkson: Jane Lynch, Deon Cole, Lawrence Zarian (rerun). Wendy Williams: "Hot Bench" judges, Eddie Jackson (rerun). The Real: Christina Milian (rerun).
Late Talk
Stephen Colbert: John Dickerson, Black Pumas (rerun). Jimmy Fallon: Hugh Jackman, Rose Byrne, Will Ferrell, Kristen Wiig, Kesha (rerun). Seth Meyers: Tiffany Haddish, Brad Paisley (rerun). James Corden: Beanie Feldstein, Machine Gun Kelly, Travis Barker (rerun). Lilly Singh: Kevin Nealon (rerun).