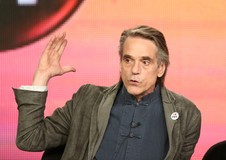 The blessings and curse of "Downton Abbey" were evident on the PBS press days that closed out the TV Critics Association winter press tour in Pasadena Tuesday.
Even as its officials extolled its record ratings, the show tended to creep into sessions of other shows as a point of reference.
It may have reached its peak at a panel for a series called "Shakespeare Uncovered" hosted by Jeremy Irons.
While mostly it is the reporters who bring up "Downton" in all things PBS and British, it was the silver tongued Irons who first declared in the Shakespearian session, "television doesn't end with 'Downton Abbey.' If you think that's good then watch these Shakespeare productions and you'll see what real writing, what real stories, what real characters are all about."
"It's like: a Ford Fiesta will get you there and give you a good time. But, actually, an Aston Martin, that's what you've got with Shakespeare," he went on.
Later, talking about the grandeur of the Bard's language, Irons pointed out that "You can't sort of mutter it in a sort of 'Downton Abbey' way."
Asked if he didn't like "Downton," Irons said it wasn't his intention to tear down the series, declaring in fact "I'm a terrible television snob. I don't watch very much television. I've never seen 'Downton Abbey.'  So I don't know what I'm talking about, basically, when it comes to that. I'm sure it's splendid."
His reason for bringing it up so much? He told critics " I'm conscious that you've all been here for 14 weeks, and I think we just need to stir the pot and, you know, keep you awake, basically. That's what I'm trying to do. But don't be too rude about what I said about 'Downton Abbey.'"