We're in the thick of it: The networks' new fall season, and some networks are trying really really hard to bring some edgy stuff to the table. It's all on display in the eight different network shows they're presenting on Tuesdays this fall. With only about one or two of them worth a second look.
We're spending each day this week examining what's being rolled out by broadcasters in the fall seasons. After doing it yesterday for Mondays, here's what to look forward on the screen on Tuesdays.
NEW SHOWS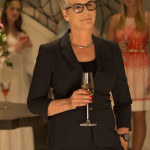 "Scream Queens" (Fox, 8 p.m., starts tonight). Ryan Murphy knows how to kick off a series with style and shock (only to lead to disappointment and insult soon after). But his contempt for the audience shines in the first two hours of this rehash of an awful sorority bedeviled by a mass murderer (dressed in a costume as in so many "American Horror Story" plots). Emma Roberts is hard to watch for two hours as an uber-bitch that's way beyond anything amusing, whose racism as humor is way out of line. Jamie Lee Curtis' dean is pretty much Jane Lynch from "Glee," whose Lea Michele is trapped in a neck brace. Skyler Samuels may be outnumbered as the one person to root for, and Keke Palmer way underused. It's "Glee" with no music, where the slushees are filled with blood. Ick.
"The Muppets" (ABC, 8 p.m., tonight). Except for the generation who grew up worshipping them in their youth, the squad of felt from Jim Henson were never too amusing for grown-ups. That tradition continues here as comedy hack Bill Prady shoehorns them into the old cliche of fake documentary about a late night show starring Miss Piggy as a shorter-fused Chelsea Handler. That Piggy is still a gender exaggeration with a man's voice pretending to be female makes her character as outdated as Milton Berle in drag. That Kermit carries a torch just pathetic. With its human cameos, it's watchable, but never really funny.
"Limitless" (CBS, 10 p.m., tonight). Another sci-fi series built on the flimsy premise of a big screen movie this time has bland Jake McDorman taking the NZT that makes him super smart enough to be in a cop procedural. (The one who took it in the movie, Bradley Cooper, still pops up in the series). Sad to see the great Jennifer Carpenter of "Dexter" in such a lesser cop show, another network one that tries to keep us past the commercial breaks with action and CGI razzle-dazzle.
"Best Time Ever with Neil Patrick Harris" (NBC, 10 p.m., started Sept. 15). As proved in its live debut last week, it is certainly not the best time; it's barely even a tolerable one with its mishmash of game show bits, hidden camera gags on ordinary people that border on privacy violation, self-aggrandizement and ain't I cute smirks. Will put network variety shows off the shelf for another decade.
"Grandfathered" (8 p.m., starts Sept. 29). A very old comedy trope — a single guy finds out he has a grown son — is tweaked a tiny bit when he finds out that his son also has an offspring. John Stamos' character can hardly believe he's become a granddad in one day while everyone around him (us included) think: Get over it. Stamos doesn't quite have the handsome guy as comic chops as does Rob Lowe (see below). But he's surrounded by an able cast that includes Paget Brewster and Josh Peck, the underrated comic talent in Nick's "Drake & Josh." But this is old time "Bachelor Father" stuff.
"The Grinder" (Fox, 8:30 p.m., Sept. 29), at least, has a modernist twist. In it Rob Lowe plays a TV star whose longtime legal show has been canceled. He comes home to visit his brother and dad who are both actual lawyers and tries to join the firm too. Juries certainly seem to like him. It frustrates his brother Fred Savage, who is very good, and amuses his dad, played by the always welcome William DeVane. It's probably the best half hour network comedy of the season.
"Wicked City" (ABC, Oct. 27). Trying to achieve edge, this anthology series about murders in Los Angeles begins by concentrating its season on Ed Westwick as a charming serial killer on the Sunset Strip in the 1980s. Like "Aquarius," this is an excuse for a lot of costumes and music, in this case bad hair metal, not to mention a parade of pretty victims. But this ick as entertainment doesn't seem to have much humor to it, as "Scream Queens" attempts, and looks like it will be exhausting and offensive.
"Chicago Med" (NBC, 9 p.m., Nov. 17). What do you do if somebody on "Chicago Fire" or "Chicago PD" gets sick? Go straight here. In another spinoff of Dick Wolf's site-specific franchise, you can expect the same types of pretty people getting into serious situations each week, only to pull out of them in 42 minutes and several commercial breaks. Plus you can count on all manner of crossover. Its cast includes Oliver Platt, Yaya DeCosta and S. Epatha Merkerson.
RETURNING SHOWS
"NCIS" (CBS, 8 p.m., returns tonight), "The Flash" (The CW, 8 p.m., returning Oct. 6), "Fresh Off the Boat" (ABC, 8:30 p.m., tonight), "NCIS: New Orleans" (CBS, 9 p.m., tonight), "Marvel's Agents of S.H.I.E.L.D." (ABC, 9 p.m., Sept. 29), "iZombie" ( The CW, 9 p.m., Oct. 6), "Chicago Fire" (NBC, 10 p.m., Oct. 13), "Beyond the Tank" (ABC, 10 p.m., Sept. 29).
OF NOTE ON CABLE
"The Bastard Executioner" ((FX, 10 p.m., started Sept. 15). Kurt Sutter went straight from motorcycle gangs in "Sons of Anarchy" to medieval axe-swinging to keep up the same level of macho bloodletting. He also got another job for his wife Katey Sagal as a soothsayer who convinces Lee Jones to take a new role, a rebel inside the castle walls in the role as executioner, at least guaranteeing more death as the tedious series goes along.
"Manhattan" (WBN America, 9 p.m., Oct. 13). The third season of the well-made drama about the making of the atom bomb in the desert promises more turns from one of the strongest casts in a series.