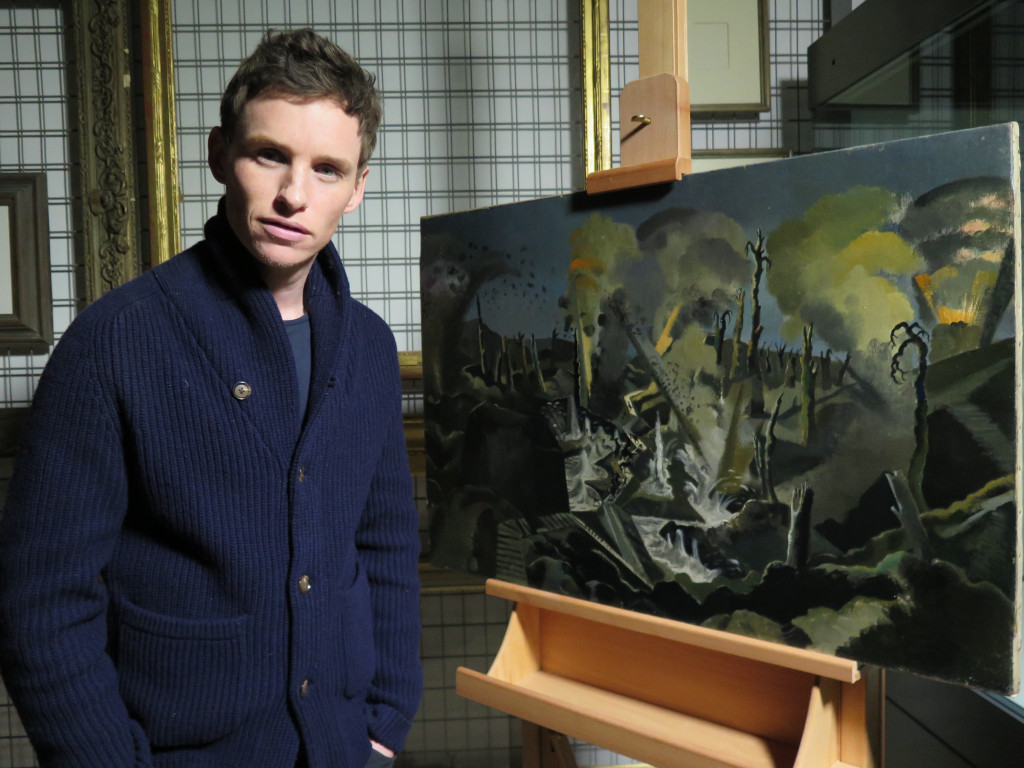 At this point you'd expect to see an Oscar nominee spending all their time prepping for Sunday's event. Instead, Eddie Redmayne flexes his art history education at Cambridge in delving into World War I era art and impressing curators at various museums he attends in what is actually a very good overview of the century-old art. "War Art with Eddie Redmayne" (Ovation, 7 p.m.) also interviews contemporary artists who depict combat on canvases.
One thing briefly mentioned on Redmayne's art survey is the art attempts of Adolph Hitler, which also comes up in the first episode of "Night Class" (History, 11:30 p.m.) the latest comedy addition to the channel trying to catch up on "Drunk History." The show also includes "Great Minds with Dan Harmon" in which the "Community" creator gets a visit from Ludwig Van Beethoven in the guise of Jack Black. It augments the recently premiered "Join or Die with Craig Ferguson" (History, 11 p.m.).
Just a handful of candidates are left for the last Republican Presidential Debate (CNN, 8:30 p.m.) before Super Tuesday. The Houston event will feature Donald Trump, Ted Cruz, Marco Rubio, Ben Carson and John Kasich. Wolf Blitzer moderates with Dana Bash, conservative radio host Hugh Hewitt and Telemundo's Maria Celeste Arrears.
In the six-episode British import "Prey" (BBC America, 10 p.m.), John Simm stars as a detective who has been framed and is on the run; Rosie Cavaliero portrays the cop after him. For the final three episodes, she's after another cop on the lam, played by Philip Glenister.
Adam West helps Sheldon celebrate his birthday on "The Big Bang Theory" (CBS, 8 p.m.), which is celebrating its 200th episode.
James Brolin gets a pony on "Life in Pieces" (CBS, 8:30 p.m.).
"Baskets" (FX, 10 p.m.) has been renewed for a second season.
Kath and Dave are disabled after an accident on "Portlandia" (IFC, 10 p.m.).
"2 Broke Girls" (CBS, 9:30 p.m.) continues to go meta, as Caroline goes to Hollywood to see about turning her life story into a movie (as if it hasn't already been turned into a sitcom).
Flashbacks show how April and Jackson got together on "Grey's Anatomy" (ABC, 9 p.m.).
It's Gigi Hadid vs. Tyler Posey on "Lip Sync Battle" (Spike, 10 p.m.).
Turner Classic Movies' 31 Days of Oscar starts in the '70s and jumps back to the '30s with "Young Frankenstein" (8 p.m.) and "The Candidate" (10 p.m.) followed by "Ninotchka" (midnight), "Bitter Sweet" (2 a.m.) and "Balalaika" (4 a.m.).
NBA action has Oklahoma City at New Orleans (TNT, 8 p.m.) and Houston at Portland (TNT, 10:30 p.m.).
Men's college coops includes Florida State at Duke (ESPN, 7 p.m.), SMU at Memphis (ESPN2, 7 p.m.), Nebraska at Penn State (ESPNU, 7 p.m.), Providence at Seton Hall (Fox Sports 1, 7 p.m.), Connecticut at South Florida (CBS Sports, 7:30 p.m.), UCLA at California (ESPN2, 9 p.m.), Indiana at Illinois (ESPN, 9 p.m.), St. John's at DePaul (Fox Sports 1, 9 p.m.), Winthrop at High Point (ESPNU, 9 p.m.), Murray State at Eastern Illinois (CBS Sports, 9:30 p.m.) and Portland at BYU (ESPNU, 11 p.m.).
Hockey has Nashville at Chicago (NBC Sports, 8 p.m.).
Daytime Talk
Kelly & Michael: Ginnifer Goodwin, Jodie Sweetin. The View: Hugh Jackman, Taron Egerton. The Talk: Johnny Galecki, Chi-Lan Lieu. Ellen DeGeneres: Gwen Stefani, Ashley Graham. The Real: David "Dee-1" Augustine, Zac Posen. Meredith Vieira: Malcolm-Jamal Warner, Ben Lyons, Lilliana Vazquez.
Late Talk: 
Stephen Colbert: Tim Daly, Krysten Ritter, Jason Isbell. Jimmy Kimmel: Kelly Ripa, billy Brown, Tinashe & Snakehips with Chance the Rapper. Jimmy Fallon: Gerard Butler, Jenny Slate, the 1975. Seth Meyers: Angela Bassett, MisterWives. James Corden: Casey Affleck, Lucy Hale. Carson Daly: Malcom-Jamal Warner, Heartless Bastards. Tavis Smiley: Robert G. Brown, Steve Mazzie, Lianne La Havas. Trevor Noah: Michael Hayden. Larry Wilmore: Tom Papa. Conan O'Brien: Kate Hudson, Robert Patrick, Lake Street Dive.