One of the fall broadcast season's most promising shows gets a start, as well as two that are based on old movies. And there's one that opens up the door to special needs actors. We've been spending day by day this week surveying the new fall shows. Here's what's in store for Wednesdays. 
NEW SHOWS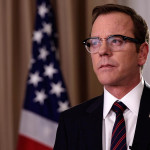 Designated Survivor" (ABC, 10 p.m., starts tonight) is probably the one fall show on the broadcast networks that I'm actually excited for. A big part of it is Kiefer Sutherland who translates so well to TV on things like "24," here plays a lowly cabinet member who is suddenly becomes president due to a bombing in D.C. that kills the chief and the next 10 in line that would have replaced him. Here, he's the opposite of Jack Bauer, bookish and meek, though he is beginning to fill the suit once the pilot concludes. Then what? After he struggles to dash low expectations, will it become a crisis of the week "Madam Secretary"? I'll tune in to see.
"Lethal Weapon" (Fox, 8 p.m.). One of a few reboots that hope to cash in on name recognition pairs Clayne Crawford, reckless and even more unstable after the death of his wife, with the more straight laced Damon Wayans to recreate the familiar movie roles. McG builds in a lot of action and it does seem at first a little more substantive than the usual police action series. But even at its best, it's merely OK.
"Speechless" (ABC, 8:30 p.m., tonight) pushes hard on the inclusion thing. This time it's about a mother who strives for the best for a special needs son played by Micah Fowler. Fowler, like his character, has cerebral palsy and uses a wheelchair. But in the show, his J.J. can only communicate with a pointer, leaving him to express himself largely by facial expression. His brash mother tries to clear the way for him and his siblings are drawn into the efforts which are played pretty much as comedy. Minnie Driver refuses to drop her English accent as the mother and you wish the show would be less frantic and settle into the kind of normalcy of the BBC import "The A Word."
"Frequency" (The CW, 9 p.m., Oct. 5). The night's other movie reboot is the emotional 2000 movie with Dennis Quaid in a long-dead father can converse with a now-adult offspring through his old ham radio setup. Riley Smith of "Nashville" plays the dad here; but twist is that he's communicating with a daughter, played by Payton List. She also happens to be a police detective. So together they solve crimes too. Wondering if the twist can survive a series, which may devolve into a procedural with a ghostly overlay.
RETURNING SHOWS
"Survivor" (CBS, 8 p.m., today), "The Goldbergs" (ABC, 8 p.m., today), "Blindspot" (NBC, 8 p.m., Sept. 14), "Empire" (Fox, 9 p.m., today), "Arrow" (The CW, 8 p.m., Oct. 9), "Law & Order: Special Victims Unit" (NBC, 9 p.m., today), "Modern Family" (ABC, 9 p.m., today), "Criminal Minds" (CBS, 9 p.m., Sept. 28), "black-ish" (ABC, 9:30 p.m., today), "Chicago P.D." (NBC, 10 p.m. today), "Code Black" (CBS, 10 p.m., Sept. 28).
OF NOTE ON CABLE
"Incorporated" (Syfy, 10 p.m., Nov. 30) is about a dystopian future in which corporations fuel a climate changed world where the haves are in the areas protected from the harsh environment and the have-nots toil in the overheated climate outside. Ben Affleck and Matt Damon co-produce what sounds to be a heavy-handed cautionary tale. the cast includes Sean Teale, Denyse Tontz, Julia Ormond and Dennis Haysbert.
"Rectify" (Sundance, 10 p.m., Oct. 24) presents its final episodes to close a superbly-told Southern tale of redemption that will become sought after and binged on online services, where people will say, "Why don't they make shows like this anymore?"
"Younger" (TV Land, 10 p.m., Sept 24). The third season of the series in which Sutton Foster pretends to be you're to get ahead in her career, only to find it complicates her love life as well.