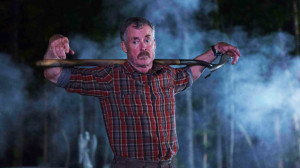 The interaction of comedy and horror can be tricky, ending up with something too timid (Abbot & Costello meet any given monster) or way too gory  ("Ash vs. the Evil Dead"). The new "Stan Against Evil" (IFC, 10 p.m.) stars John McGinley as a cranky ex-sheriff in a small New Hampshire town who has to fight the witches it once buried there. McKinley is the perfect mouthpiece for the cranky commentary of Dana Gould, the underused comic who created the series. And there are enough solid comic actors in the ensemble, led by Janet Varney, to make you think it will work as a series. Plus the witches popping up to scare you here and there. The third season of the another witch-hunting series, "Salem" (WGN America, 9 p.m.), also begins tonight, with Marilyn Manson joining the cast.
Carrie Underwood and Brad Paisley return to host The 50th Annual CMA Awards (ABC, 8 p.m.) from Nashville. Performers include Trisha Yearwood with Garth Brooks, Ricky Skaggs, Luke Bryan, Roy Clark, Florida Georgia Line, Miranda Lambert, Tim McGraw, Jason Aldean, Jennifer Nettles, Kacey Musgraves, Chris Stapleton, Alabama, Elle King, Little Big Town, Alan Jackson, Keith Urban, George Strait, Randy Travis, Charlie Daniels, Clint Black, Reba, Brooks & Dunn, Dwight Yoakum, Charley Pride and Eric Church.
It's come to this: A tie-breaking Game 7 of Cubs at Cleveland (Fox, 8 p.m.) to determine the winner of the World Series.
One of the great unsung satiric commentators on this hellish political year has been Triumph the Insult Comic Dog, who can never think so extremely out of the box that it can't fool some voters. On the latest edition, "Triumph's Election Watch 2016: The Home Stretch" (Hulu, streaming) he presents fake leaked tapes of Trump and Clinton to gullible focus groups and assemble his own panel of talking heads about the end of the campaign that will include Carl Bernstein.
Considering the other leading domesticated pet, "The Story of Cats" is the first half of a two-part look at how wild felines became domesticated begins on "Nature" (PBS, 8 p.m., check local listings).
"Nova" (PBS, 9 p.m., check local listings), meanwhile, looks at gems.
The new "Rachel Dratch's Late Night Snack" (truTV, 10:30 p.m.) stars the former SNL cast member amid a troupe of fresh faces, doing sketch comedy on the upper tiers of cable channels.
NBC has pulled its planned original new episodes tonight and has replaced them with reruns of "Law & Order: SVU" (NBC, 8 and 9 p.m.) and "Chicago P.D." (NBC, 10 p.m.) opposite the World Series.
If it was all about Daniel in the season premiere of "Rectify" (Sundance, 10 p.m.), it's all about his family back home in episode two. In the final season, things are moving.
On "Don't Be Tardy…" (Bravo, 10 p.m.), Brielle meets with "Access Hollywood" about a job. My advice: Don't get on the bus.
The new tribes aren't all getting along on "Survivor" (CBS, 8 p.m.).
Measles put the ER at risk on "Code Black" (CBS, 10 p.m.).
The squad on "Criminal Minds" (CBS, 9 p.m.) goes after bullies.
The Human Target lives up to his name on "Arrow" (The CW, 8 p.m.).
Anybody still on board with "American Horror Story: 6" (FX, 10 p.m.)?
"Little Women: LA" (Lifetime, 9 p.m.) reaches its fifth season finale.
"Lip Sync Battle" (Spike, 9 p.m.) pits Lupita Wyong'o opposite Regina Hall, followed by Anthony Anderson vs. Tracee Ellis Ross at 9:30 p.m.
Paul Pierce is on "Any Given Wednesday with Bill Simmons" (HBO, 10 p.m.).
The first of a two-part documentary on the history of documentary films, narrated by Alec Baldwin, "To Tell the Truth" (TCM, 8 p.m. and 1:15 a.m.) kicks off a twice-weekly series on Turner Classic Movies this month featuring more than five dozen docs, starting with social documentaries of the 1930s and 40s: "America Today / The World in Review" ( 9:15 p.m.); the 1936 Dust Bowl documentary "The Plow that Broke the Plains" (9:45 p.m.); the 1938 film about the establishment of the TVA "The River" (10:30 p.m.); "Night Mail" (11:15 p.m.); "Native Land" (11:45 p.m.); "Olympic Calvacade" (2:30 a.m.) from 1948, "The Secret Land" (3:45 a.m.) about Admiral Richard Byrd and the Antarctic; and Ken Murray's "Hollywood My Hometown" (5 a.m.).
NBA action includes Chicago at Boston (ESPN, 8 p.m.) and Oklahoma City at Clippers (ESPN, 10:30 p.m.).
Hockey has Detroit at Philadelphia (NBC Sports, 8 p.m.).
College football has Toledo at Akron (ESPN2, 7:30 p.m.).
Daytime Talk
Kelly Ripa: Donnie Wahlberg, Lauren Cohan, Vince Vaughn. The Talk: Kunal Nayyar, Carole Bayer Sager, Big Boy. Chelsea Handler: Nicole Richie. Harry Connick: Kelly Pickler, Nicole Byer. Ellen DeGeneres: Eddie Redeye, James More. Wendy Williams: Blair Underwood, Jeezy. The Real: Xzibit, Eve.
Late Talk
Stephen Colbert: Michael Strahan, Nick Kroll, Aaron Lewis. Jimmy Kimmel: Jessica Chastain, Hunter Hays, Willie Nelson, Justin Moore. Jimmy Fallon: Vince Vaughn, Patton Oswalt, Erykah Badu. Seth Meyers: Christian Slater, Priyanka Chopra, Luke Tracey, Hannah Welton. James Corden: Joel McHale, Julianne Hough, Gallant. Carson Daly: Tom Ellis, Getter, Ezra Furman. Trevor Noah: Kal Penn. Conan O'Brien: Ryan Reynolds, Rory Scovel.