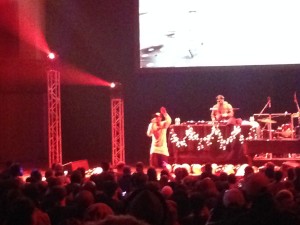 It's been a tough year for Yasiin Bey, the rapper formerly known as Mos Def, who now wants to be known as a former rapper.
He was arrested in South Africa last January for trying to leave the country with a "world passport." He had been living in Cape Town since 2013 and had been prevented from leaving with those papers for a U.S. tour in 2014, after a visitor's permit expired. Now he's been banned from that country for five years.
Nonetheless, he's hanging up his performance life at 43 — not only in hip-hop, where he's built a solid career of brainy, nimble conscious rap with wide ranging backing music — but in acting as well, in films from "Something the Lord Made" to "Be Kind Rewind."
Before he goes, he has a few things to say, and has released the first of what he says will be three final albums, "December 99th," last month. More significantly, he scheduled a pair of farewell concerts at the Apollo and three at the Kennedy Center.
There's no explanation why he'd choose the D.C. arts center for his final stand, that began New Year's Eve and continued until Jan. 2. But it seemed to underscore both the high level of his art and its high-minded purposes.
As he half-sung, quite convincingly, his songs of social struggle, he recalled the figure of hometown hero Marvin Gaye, who helped open the Kennedy Center with his "What's Going On?" tour nearly 45 years ago.
But his final performance Monday, fraught as it was with history, was also a lot of fun and as solid a hip-hop showcase as you'd hope for.
Entering the stage nearly an hour after the 8 p.m. start time, he dove into his inventive rhyme mixed with a world music so enticing, he sometimes just grooved to the instrumental break. After his tracks "No Time to Pretend" and "Smiley Man," he paused to admit "there's so much I want to do. This whole week has been way out."
His stage set looked like a post-holiday party, with twinkle lights looped on the DJ stand, and balloons all over the floor with rose pedals he helped sprinkle himself.
"I don't know why balloons make me happy," he said. "It's so ridiculous: balls full of air. Trapped happiness."
Behind him playing as almost an abstraction, was a 1967 cancer film, looping in black and white negative. That it mentioned Henrietta Lacks, the woman who was progenitor in one of the most important cell lines in cancer research could have played into his aim of African-American history (a slide from the painter Jean-Michel Basquiat accompanied the long wait for the show to start).
For a show that promised special guests to usher out his career, it did not disappoint. with Slick Rick, in diamond-encrusted eyepatch and weighed down with a career's worth of the kind of gold chains Bey always avoided, came out to join him on "Auditorium" as he did on Bey's 2009 album "The Ecstatic," leaving just as quickly. His appearance, though, was enough to get the Concert Hall crowd on its feet.
That excitement returned when Talib Kweli came on to accompany his old Black Star compadre for "Astronomy (8th Light)," "Definition" and "Re:Definition" — three consecutive tracks from their single album of 2002 that were so full of energy Bey feigned exhaustion, joking "I'm 1,000 years old in 'hood years."
As if to demonstrate that he had moved on, he climbed onto a drum set and set a beat with a jazzy trio of piano and standup bass. "I'm available for weddings," he deadpanned. "Psych: I'm retired."
Included amid his selections in the trio was a cover of Bell Biv DeVoe's "Poison."
There was no question the emotion that was welling as he reached "Umi Says" from his classic "Black on Both Sides" album, and its lyrics, "Shine your light on the world, I want black people to be free." And after wiping his face of tears, he took a lap around the auditorium to high five fans for the last time.
Free styling at the end with a snippet of "I'm Leaving on a Jet Plane" and saying, "I hope y'all remember me," there was no doubt that hip hop surely will.