A couple of D.C.-bred rockers returned to town Thursday for a show at the Black Cat's  backstage, the culmination of a short duo tour in which they both traveled light — with only their own guitars.
It helped that they brought with them careers' worth of pedigree and songs that still worked quite well.
Headliner Tommy Keene's energetic rock rang true with just a voice and chords bristling from a 12-string acoustic and, later, an electric guitar. It was same for the opener Ivan Julian, back on the road for the first time since cancer layed him low last year.
Julian, in his wild Afro not looking that much different than when he was founding guitarist in Richard Hell and the Voidoids, began the show, sitting on a stool with an acoustic guitar. Even though they'd played nine previous dates, he seemed to be still working things out on stage, ignoring a set list and traveling through his career and his songs he liked.
To show the fingers still worked, he picked out Peter Green's "Oh Well" to start, and moved right to "Walking on the Water," the John Fogerty song that appeared on the first Voidoids album.
He included a few tunes from his last solo album from 2011, The Latest Flame, including "Hardwired" and "You Is Dead," and a couple basic rockers from the band he had with Alejandro Escovedo in 2014, The Fauntleroys, "(This Can't Be) Julie's Song" and "Suck My Heart Out with a Straw."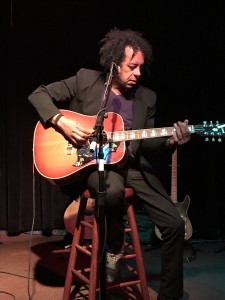 Julian could have sat there and told stories, though, from his early days as a teen touring with the UK band The Foundations ("Build Me Up Buttercup"), sitting in with the "Sandinista!" era Clash ("The Call Up"), touring with Matthew Sweet on the "Girlfriend," playing in Shriekback, and producing a pair of Fleshtones albums in recent years.
During his cancer bout, a pair of benefit shows a year ago in New York brought out a who's who of New York rockers: Hell came out of musical retirement amid Debbie Harry, Lenny Kaye, the Dictators, Thurston Moore, Lee Ranaldo, Bush Tetras and Arto Lindsay, among others.
In his laid back D.C. set, Julian brought Keene out to play a strange Indian stringed instrument, whose chords rang out from push button on a song appropriately called "Drone." He also covered John Hiatt's "Lipstick Sunset" and closed with a bit of "Statesboro Blues."
Keene seemed a little more assured in his set (though he had forgotten bring out his setlist altogether).
An awful lot of the songs seemed to have a homecoming theme or have to do with returning home, so there was some resonance to the warmly received show, where his old bandmate Billy Connolly joined him on "Back to Zero Now."
Newer songs like "Laugh in the Dark," "Go Back Home" and "Deep Six Saturday" worked  well with older classics like "My Mother Looked Like Marilyn Monroe," "Highwire Days" and "Places That Are Gone," his original breakthrough song that still served as the topper to the 17 song set.
In addition to his own history with the Tommy Keene Group, he's got a resume as interesting as the opener, having served as ace guitarist for both Paul Westerberg and Robert Pollard.
A couple of well chosen covers in his set also indicated a couple of key influences, Alex Chilton's yearning "Nighttime" and Robyn Hitchcock's "Raymond Chandler Evening."
Both Hitchcock and Westerberg had mounted compelling tours based on voice, song and guitar in the past, and Keene and, in his way, Julian, continued that tradition winningly.
The years pile up, though. And for the encore, Keene teamed with Julian for a driving version of the Stones' "Mother's Little Helper" and its opening complaint: "What a drag it is getting old…"
The setlist for Tommy Keene Thursday was:
"Going Out Again"
"You Can't Wait for Time"
"Go Back Home"
"Back to Zero Now"
"Nighttime"
"Silent Town"
"My Mother Looked Like Marilyn Monroe"
"Back Again (Try)"
"Astronomy"
"Laugh in the Dark"
"Nothing Can Change You"
"Raymond Chandler Evening"
"Highwire Days "
"Deep Six Saturday"
"Nowhere Drag"
"Long Time Missing"
"Places That Are Gone"
Ivan Julian's setlist Thursday was:
"Oh Well"
"Walking on the Water"
"Hardwired"
"Cabala"
"You is Dead"
"Lipstick Sunset"
"(This Can't Be) Julie's Song"
"Suck My Heart Out With a Straw"
"Drone"
"Tell Me Lies"
"Statesboro Blues"