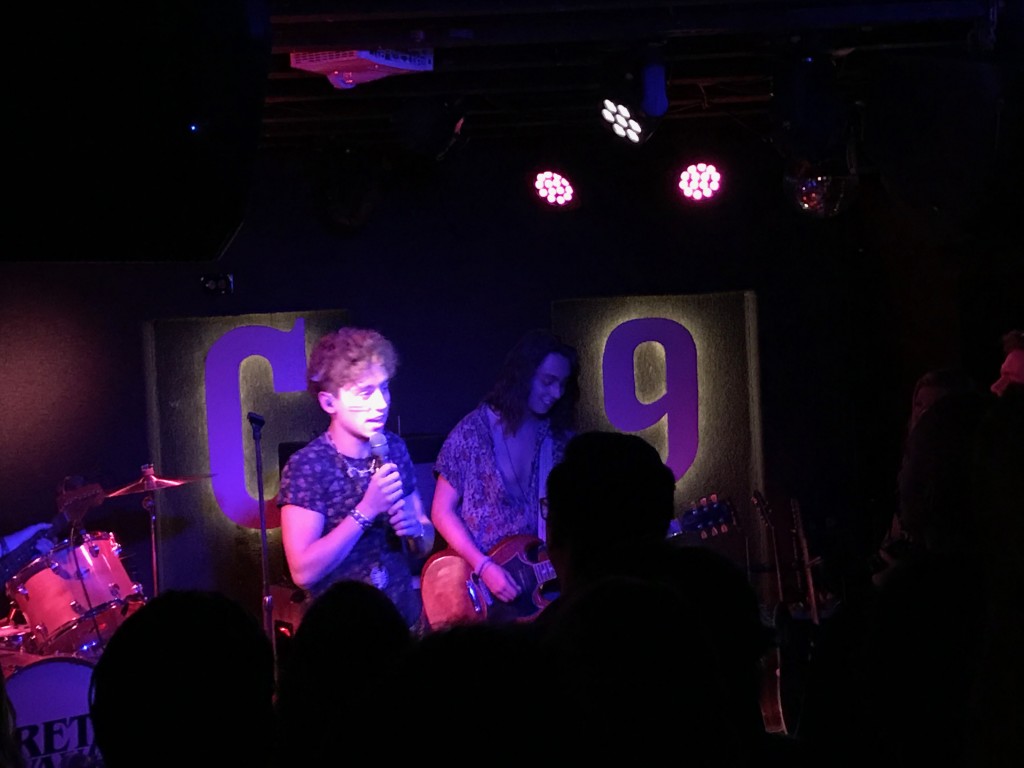 Like Lynyrd Skynyrd, Greta Van Fleet was named after a random person in their community with a quirky moniker. The teen band from Frankenmuth, Mich., might have risked getting mixed up with Greta Van Susteren at some point or at least the singer Grace VanderWaal.
But they might be a much bigger thing. To hear the people at their sold out debut at DC9 in Washington Saturday, it might be the second coming. "It might be like seeing Hendrix in a club before he got big," one guy in the crowd way oversold it.
And actually, the band brings enormous good cheer to its very familiar sound. It's a kick to hear a sound so accomplished — and so tied to classic rock of a half century ago — coming from a fresh-faced band of brothers.
Curly-haired Josh Kiszka, who for some reason wore Adam Ant war paint on his face as if mixing up rock periods, is lead singer. Brother Jake Kiszka is guitarist; the youngest of them Sam Kiszka switches from bass to keyboards. And like every rock band that ever existed, they've replaced their drummer. The current incarnation is Danny Wagner, who looks like a young Joe Perry banging away.
They're like the most adorable band ever to win a middle school metal competition.
But the main thing about Greta Van Fleet, from their first note to their last, is their slavish reconstruction of Led Zeppelin, from the supercharged version of blues and rock, every guitar intro, and to the bashing of the non-brother drummer.
And especially the wail of young Josh on vocals, who boasts every vocal trick from the Robert Plant tool box: "Yeah-ee-yeah-ee-yeah-ee-yeah" is there; "woo-yeah" as well, as is the sonic wail that begins low and goes all the way to the destroyed penthouse. He even addresses the women in the very simple songs as "Lady."
It's fun to think that the same elements — raw talent, an appreciation for old blues, an itching to send it into the stratosphere through rock   — evoked exactly the same response in these kids as it did in four other musicians 50 years ago in London.
But no.
Somebody's been spoon-feeding these kids a steady diet of Page, Plant, Bonham and Jones since childhood (Could it be the older folks moving equipment around, like parents turned roadies?).
Growing up in Michigan, there is a kind of hard-charging rock urgency in the (non-tainted) water. Though the band heralded their entrance with Motown, David Ruffin's "My Whole World Ended (The Moment You Left Me)," it's more the assembly plant power of the Stooges, MC5, White Stripes, Bob Seger and yes, Kid Rock and Ted Nugent that infuses the Northland. I could still hear it when I was up there earlier this month; a guy from the Frost is still tearing it up in nightclubs in Onaway.
Give GVF credit for not using their talents to become another cashing-in cover band – Lil' Zeppelin, ladies and gentlemen! But there's something a wee misleading in so clearly avoiding the band you're obviously aping. Another Michigan band, The Knack, once did the same thing by avoiding early Beatles they were clearly channeling.
It came through the most when they pretended to simply be covering the blues, as they did with Howlin' Wolf's "Evil is Goin' On," a proported favorite of the Zep, which is easily converted to the soaring blast of English electric blues.
And so it went, each song building on elements created in Zep originals – big hook intro, showboat vocals that required odd mouth shapes from Josh to elicit, even an acoustic approach at once. Just about every song could have an added coda of "….and she's buy-ai-ing a stairway from heav-on." Any song could have had a mid-song break in which he wailed: "Way down inside, woman, you need…"
There is a shelf life to the excitement of Greta Van Fleet's approach as well. As fun as it was to hear in the first few songs, it started to reach a kind of sameness toward the middle of their set and their songs simply couldn't hold up. You'd start thinking of better Zep songs and wonder why they'd choose never to do a straight cover — just to come clean about the connection.
Josh's vocals, too, started to sound less like Plant and more like, say Adam Sandler's aping of it.
The attention on the vocals may also take away from what is really the hidden weapon in the young band — Sam's inventive soloing, which was melodic and creative in a way that 70s guitarists used to be, but done so in an approach all his own (though playing behind his neck was his own way of showboating).
The test for Greta Van Fleet, as it is for any band, is how they will transcend their influences and come into their own.
The problem with DC9 is not only the limited space — six rows back and you're hitting the bar — but the distance the performance space is from backstage. By the time they got back there after their succinct 12 songs, too much time had passed to allow for their usual encore.