We've been looking at the new TV season day by day all week and the weirdness and creative bankruptcy of the new fall TV season is apparent today, when broadcast networks can only come up with three new shows — and all three are pretty much reheated shows from the past. One literally is so, the other is so much an homage, it might as well be the original show. 
NEW SHOWS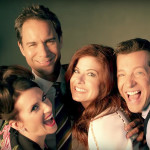 "Will & Grace" (NBC, 9 p.m., starts today). I almost hesitate to call this a new show, because in every sense it is just a continuation of a series that ended its run 11 years ago and picks up with its four characters back in the same place, bickering, bitchy and not making much of a connection with the outside world. Because the reunion had its start with a Hillary Clinton promo last year, the first episode back is so exclusively about Trump, it has both of the titular characters in the Oval Office. All four are still very good, in roles they haven't been able to equal since (except maybe Megan Mullally as "Tammy No. 2"). Old fans will take to it like a high school reunion. The rest of us can pass right by.
"The Orville" (Fox, 9 p.m., started Sept. 10, time period premiere today). Because Seth MacFarlane has done good business for Fox with his cartoons, they indulge his love for "Star Trek" by essentially letting him do his own version, with new adventures every week, quirky aliens in the crew and less humor than you would think. Also: clunky plot moves and stiff, retro scene breaks. I'm not a fan.
"S.W.A.T." (CBS, 10 p.m., Nov. 2). Shemar Moore stars in a remake of the 70s cop show which, like a lot of recent such remakes, take the title jazz up the theme song, and go their own direction. This one could almost be mistaken for a military show, for all the military equipment its squad shows, but I guess that's what's happening on the ground as well. Like its remakes of "Hawaii Five-0" and "MacGyver," its easy to skip.
RETURNING SHOWS
"Superstore" (NBC, 8 p.m., returning today), "Grey's Anatomy" (ABC, 8 p.m., today), "Supernatural" (The CW, 8 p.m., Oct. 12), "Scandal" (ABC, 9 p.m., Oct. 5), "Arrow" (The CW, 9 p.m., Oct. 12), "Mom" (CBS, 9 p.m., Nov. 2), "Great News" (NBC, 9:30 p.m., today), "Life in Pieces" (CBS, 9:30 p.m., Nov. 2), "Chicago Fire" (NBC, 10 p.m., today), "How to Get Away with Murder" (ABC, 10 pm., today),
OF INTEREST ELSEWHERE
"Nathan for You" (Comedy Central, 10 p.m., today). The nebbish with wild ideas to help real businesses returns for its fourth season.
"Real Estate Wars" (Bravo, 10 p.m., Oct. 5) Real estate agents in California's O.C. compete against one another.
"I Love You America" (Hulu, Oct. 12) Sarah Silverman
"The Rundown with Robin Thede" (BET, 11 p.m., Oct. 12), the comic hosts a new late night variety show.
"The Comedy Get Down" (BET, 11:30 p.m., Oct. 12), a scripted comedy series about a tour with comics George Lopez, DL Hugely, Cedric the Entertainer, Eddie Griffin and Charlie Murphy.
"Drop the Mic" (TBS, 10 p.m., Oct. 26). A battle rap for laughs involving celebrities, growing out of the bit on "The Late Late Show with James Corden." Hosted by Method Man.
"She's Gotta Have It" (Netflix, Nov. 23) Spike Lee adapts his own 1986 film, with DeWanda Wise as Nola Darling.