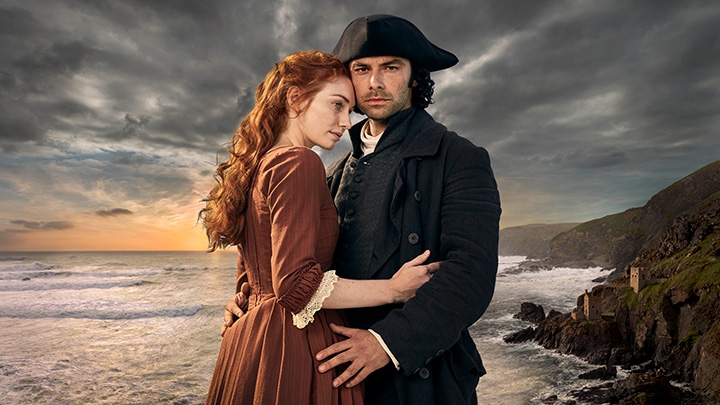 "Poldark" begins its third season on "Masterpiece" (PBS, 9 p.m., check local listings) with the disappearance of Dwight after he elopes with Caroline.
Season 29 of "The Simpsons" (Fox, 8 p.m.) begins in the medical world, where Marge's mother is turned into an Ice Walker.
It's Indianapolis at Seattle (NBC, 8:20 p.m.) on Sunday Night Football. Earlier games include New Orleans vs. Miami (Fox, 9:30 a.m.) from London, Oakland at Denver (CBS, 4:25 p.m.).
"The Last Man on Earth" (Fox, 9 p.m.) and all the people he's attracted all head down to Mexico to avoid nuclear fallout in the U.S.
Richard Branson sits in on the two hour, ninth season opener of "Shark Tank" (ABC, 8 p.m.).
The ninth season of "NCIS: Los Angeles" (CBS, 9:30 p.m.) begins with Hetty retiring.
Female-led comics is considered an invention on the second season premiere of "The Toy Box" (ABC, 7 p.m.).
A guy really likes Candy on "The Deuce" (HBO, 9 p.m.) and she is intrigued.
"Then and Now with Lisa Ling" (National Geographic, 9 p.m.) begins a new season by sneaking into North Korea.
Claire wonders if she'll ever find Jamie on "Outlander" (Starz, 8 p.m.).
Matt insists on a writing credit on "Episodes" (Showtime, 10 p.m.).
The "Shahs of Sunset" (Bravo, 8 p.m.) get ready for GG's big performance.
Another new season starts for the Kilchers on "Alaska: The Last Frontier" (Discovery, 9 p.m.).
Russell doesn't like the caricature somebody drew on "Vice Principals" (HBO, 10:40 p.m.).
Lance Armstrong is guest on the fourth season start for "StarTalk" (National Geographic, 11 p.m.) with Neil DeGrasse Tyson.
Trace is suddenly in demand after his band's video goes viral on "Chesapeake Shores" (Hallmark, 9 p.m.).
Norah O'Connell talks to Rep. Steve Scalise on a new "60 Minutes" (CBS, 7:30 p.m.).
"The Last Ship" (TNT, 9 p.m.) goes on an undercover mission to the land of the dead.
"Halloween Wars" (Food, 8 p.m.) starts another intense season, marked by a pumpkin search.
An out of state hunter seems to be lying about his deer kill on "North Woods Law: Protect and Preserve" (Animal Planet, 9 p.m.).
"Anthony Bourdain Parts Unknown" (CNN, 9 p.m.) starts the new season in Singapore.
"Family Guy" (Fox, 9 p.m.) opens its 16th season begging for an Emmy. Good luck on that.
Alicia becomes a leader when the ranchers get trapped on "Fear the Walking Dead" (AMC, 9 p.m.). Then everybody talks about it on "Talking Dead" (AMC, 10 p.m.).
The fourth season of "Rick and Morty" (Cartoon, 11:30 p.m.) ends with a mission from the president.
The bachelorette party continues on "WAGS Miami" (E!, 10 p.m.).
"Crime with Tamron Hall" (Investigation Discovery, 8 p.m.) concentrates on the murder of a young woman in a small Oklahoma town.
Someone make it stop: "Keeping Up with the Kardashians" (E!, 9 p.m.) begins its 14th season.
October is here and Turner Classic Movies has nominated Dracula the Monster of the Month, with vampire movies every sunday this month. So: "Dracula" (8 p.m.), "Dracula's Daughter" (9:30 p.m.), "Son of Dracula" (11 p.m.), and the silent classic "Nosferatu" (12:30 a.m.). Then comes Jean-Pierre Melville's French import "Le Circle Rouge" (TCM, 2:15 a.m.) with Alain Delon and Yves Montand.
Final rounds are played in golf's Presidents Cup (NBC, noon).
NASCAR races include the Apache Warrior 400 (NBC Sports, 2 p.m.),
WNBA finals has Minnesota at Los Angeles (ESPN, 8:30 p.m.) in game four.
Sunday Talk
ABC: Treasury secretary Steven Mnuchin, Sens. Tim Scott and Bernie Sanders. CBS: Rep. Paul Ryan, Sens. Chuck Chuter and Marco Rubio. NBC: Mnuchin, Sen. Bob Corker. CNN: Sanders, White House budget director Mick Mulvaney, Ohio Gov. John Kasich. Fox News: Mulvaney, FEMA administrator Brock Long.