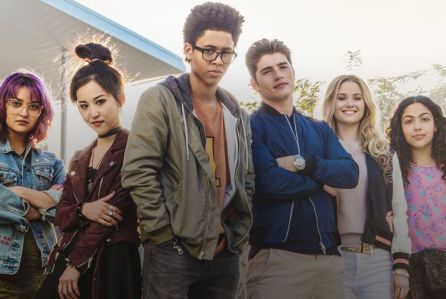 Teenagers at some point suspect their parents are villains. On "Marvel's Runaways" (Hulu, streaming) it's really true. And it's up to the kids, with their various powers, to defeat them.
It may be the best premise of any of the too many Marvel Comics adaptations out there. And because its pilot is by Josh Schwartz and Stephanie Savage, of "The O.C." and now "Dynasty" fame, it has the potential to have the same kind of clever repartee and pop culture references. The young cast includes Gregg Sulking, Allegra Acosta, Ariela Barer and Rhenzy Feliz; the cast of parents include James Masters, Ever Carradine and Annie Wersching.
The latest true crime miniseries documentary "Who Killed Tupac?" (A&E, 9 p.m.) tackles the still-unsolved murder, 21 years ago of Tupac Shakur, in six parts. This happens while there is still "The Hunt for the Zodiac Killer" (History, 10 p.m.).
Former labor secretary turned online political coach, Robert Reich turns his 2015 book into a documentary, "Saving Capitalism" (Netflix, streaming).
A winner is named on "Dancing with the Stars" (ABC, 8 p.m.) in a finale that also features performances by Debbie Gibson, Jordan Fisher, Becky G, Lindsey Stirling and Kelsea Ballerini.
A new standup comedy special debuts online, "Brian Regan: Nunchucks and Flamethrowers" (Netflix, streaming).
On the new English language newsmagazine "Real America with Jorge Ramos" (Fusion, 10 p.m.), the well known journalist travels to Puerto Rico for a hurricane recover update.
Gabby Hoffman and Tea Leoni dive into their family histories on "Finding Your Roots with Henry Louis Gates Jr." (PBS, 8 p.m., check local listings).
One judge gets to work as Maroon 5 performs on "The Voice" (NBC, 8 p.m.).
"Chicago Med" (NBC, 10 p.m.) gets one of the latest starts of the season, and as season three begins, they're looking for who shot Dr. Charles
The premise of the new "Checked Inn" (OWN, 10 p.m.) has a former Essence magazine editor helping run a family-owned bed and breakfast in the Poconos. First guest: Peabo Bryson!
On a new "At Home with Amy Sedaris" (truTV, 10:30 p.m.), she gets locked out of the house and forages in the woods.
Ms. Feldman falls for the new anti-drug officer on "Teachers" (TV Land, 10 p.m.).
Nixon is re-elected in the episode of "The Vietnam War" (PBS, 9 p.m.) covering May 1970 to March 1973. "DC's Legends of Tomorrow" (The CW, 9 p.m.) goes to Vietnam as well.
The band X Ambassadors perform on "NCIS: New Orleans" (CBS, 10 p.m.).
Miltenberger and his men are stranded on "The Long Road Home" (National Geographic Channel, 10 p.m.).
It's still seven weeks until the wedding on "Gucci Mane and Keyshia Ka'oir: The Mane Event" (BET, 10 p.m.).
Chris Collins and his dad are profiled on "Real Sports with Bryant Gumbel" (HBO, 10 p.m.).
"Leah Remini: Scientology and the Aftermath" (A&E, 8 p.m.) answers viewer mail.
"Fixer Upper" (HGTV, 9 p.m.) returns for its fifth and final season.
Scottie Pippen guest stars on a new "Lethal Weapon" (Fox, 8 p.m.).
The agreeable reality series "The Profit" (CNBC, 10 p.m.) is back for its fifth season.
Strange ghost lights appear in North Carolina on "Strange Evidence" (Science, 10 p.m.).
Nicole Scherzinger, Lil Rel Howery, Charlie Puth and the Backstreet Boys compete on "Drop the Mic" (TBS, 10:30 p.m.).
The babies come home on "Hodges Half Dozen" (TLC, 10 p.m.).
Local farms face foreclosure on "Damnation" (USA, 10 p.m.).
It's Thanksgiving on both "NCIS" (CBS, 8 p.m.) and "Bull" (CBS, 9 p.m.).
Kenny Rogers may drop into the restaurant on "Fresh Off the Boat" (ABC, 8:30 p.m.).
Axl visits a pal in Chicago on "The Middle" (ABC, 8 p.m.).
It's all about Kate on "This is Us" (NBC, 9 p.m.).
The Turner Classic Movies series on the Hollywood Blacklist continues with "Friendly Persuasion" (8 p.m.), "The Bridge on the River Kwai" (10:30 p.m.), "Odds Against Tomorrow" (1:30 a.m.), "The Law vs. Billy the Kid" (3:30 a.m.) and "Robinson Crusoe" (5 a.m.).
College basketball still has a lot of tournaments going. In the Maui invitational, it's Marquette vs. Wichita State (ESPN, 1:30 p.m.) and Notre Dame vs.LSU (ESPN, 10:30 p.m.) in the semifinals, with VCU vs. Cal (ESPN2, 4 p.m.) and Michigan vs Chaminade (ESPN2, 8 p.m.) in the consolation games.
In the Legends Classic, it's Oklahoma State vs. Pittsburgh (ESPNU, 3:30 p.m.) in the third place game, and Texas A&M vs. Penn State (ESPN2, 6 p.m.) in the title game.
In the Cancun Challenge, its' George Mason vs. Louisiana Tech (ESPN2, 6 p.m.) and Evansville vs. Fresno State (CBS Sports, 8:30 p.m.).
And it's Creighton vs. Baylor (ESPN2, 10 p.m.) in the Hall of Fame Classic title game.
WOmen's college basketball includes Connecticut at UCLA (ESPNU, 10:30 p.m.).
Pro basketball includes Chicago at Lakers (NBA, 10:30 p.m.).
Hockey has Edmonton at St. Louis (NBC Sports, 8 p.m.).
In college football, it's Kent State at Akron (ESPNU, 7 p.m.).
Daytime Talk
Kelly Ripa and Ryan Seacrest: Michelle Pfeiffer, Benjamin Bratt, Kelsea Ballerini. The View: Justin Hartley, Ana Navarro. The Talk: Drew Carey, Sean Valentine. Harry Connick: Anthony Anderson, Suzanne Somers, Cyndi Lauper. Steve Harvey: Kim Fields, Tatyana Ali, Miss USA Kara McCullough. Ellen DeGeneres: Sofia Vergara, Barbra Streisand. Wendy Williams: Mario Cantone, Alex Guarnaschelli. The Real: Nick Cannon.
Late Talk
Stephen Colbert: John Leguizamo, Daveed Diggs, Gregory Porter. Jimmy Kimmel: David Letterman, Fifth Harmony, Paul Shaffer (rerun). Jimmy Fallon: Gwen Stefani, Justin Hartley, Johnny Bananas. Seth Meyers: Jeff Daniels, Danielle Brooks, Daniel Caesar. James Corden: Chris Hardwick, Camila Mendes, Rag n Bone Man. Carson Daly: Jay Pharaoh, Kevin Devine, Carly Chaikin (rerun). Trevor Noah: Jeff Ros (rerun). Jordan Klepper: Jon Lovett (rerun). Conan O'Brien: Jim Jeffries, Katy Tur, Taylor Tomlinson (rerun).