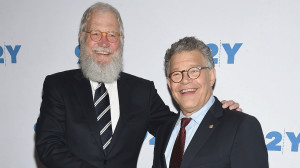 When it comes time, finally for the honoree at "The Mark Twain Awards: David Letterman" (PBS, 8 p.m., check local listings), to take the stage after 90 minutes of praise of entertainers and officials, the bearded former talk show host takes time to say: "I have great admiration for Al Franken. This really is quite a guy."
Letterman has been working with the suddenly controversial Minnesota senator over the past year on a series of viral videos on the state of climate change which, in the manner of both men, is meant to inform and entertain.
But it's clear that the event was taped weeks ago, before the sudden fallout surrounding Franken's actions during a 2006 USO tour.
Now, PBS says it won't be including Franken's part in the event, which included one joke and one introduction to a Monkey Cam clip.
"It means so much to me to be included honoring Dave Letterman alongside my old friends in comedy," Franken told the crowd at the Kennedy Center, advising those comedy colleagues: "Do not think what you do is less important than what I do in Washington — even though it is."
Franken tells about being taken to task by a Philadelphia TV critic over "Saturday Night Live" no longer being cutting edge, as say, Letterman, who was using a monkey cam. Not fair, said Franken, any monkey with a camera would get a laugh.
Look closely at the final moments of the Twain salute, though, and you might catch a moment of Franken — for now apparently banned from public TV because of the accusation.
Highlights of the event include Steve Martin and Martin Short in an introductory bit, and John Mulaney and Norm Macdonald in short bits.
Q film from the "Documentary Now!" team of Bill Hader and Fred Armisen is well done, about supposed hometown pals who are a little needled by their famous friend. For all the pomp of his entrance, last year's Twain recipient, Bill Murray does appear doesn't have a lot to add. You may wonder why Jimmy "J.J." Walker is there at all; he had hired Letterman early in his career.
The one moment that got Letterman to his feet: Eddie Vedder playing Warren Zevon's "Keep Me In Your Heart for a While," backed by longtime Letterman bandleader Paul Shaffer.
What there is a lot of in the show are Letterman clips — from his first "Tonight" show performance, to some random stupid animal tricks, a dip in a water tank wearing an Alka-Seltzer suit, manning a Taco Bell drive-through. Many are memorable, some have been seen many times in the past. I think the best of Letterman has been his sitting at the desk bantering about the week, or looking bored at a starlet. Still, the show is cut to show how Letterman responded to most of the jokes about him.
In a statement Monday, from PBS and WETA, the D.C.-based producing station, they "felt that the inclusion of Sen. Franken in the broadcast at this time would distract from the show's purpose as a celebration of American humor."
Instead, it has the unintended consequence of drawing attention to it. And as one remembers remarkable individual Letterman broadcasts, it all brings to mind the one in 2009, where he foiled a blackmail attempt on him by admitting that he had sex with women on his show. What was an embarrassment would be career ending now and even the holders of the Mark Twain Award — who gave it to Bill Cosby that same year, 2009 — might have had second thoughts.