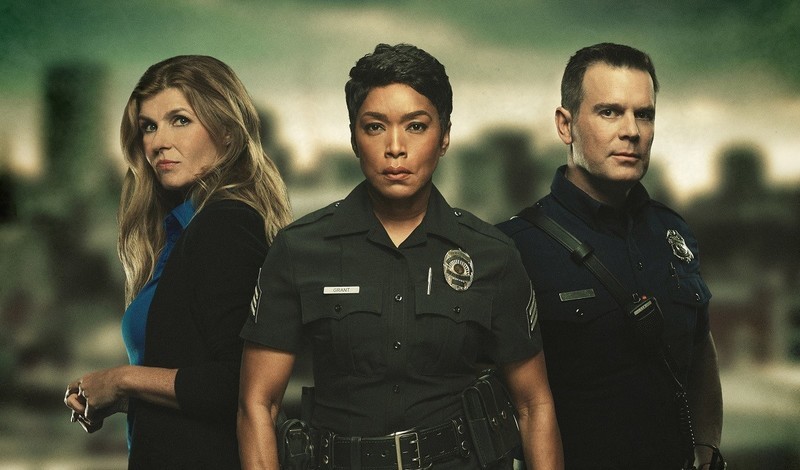 Ryan Murphy has always innovated in TV and while some of his creations that began big became off-putting, he's also been able to put out some of the best in recent TV with things like his "Feud" and "American Crime Story."
Never has he done anything quite so conventional as "911" (Fox, 9 p.m.), a by-the-numbers procedural about a fire rescue team. Good about casting, he's got a strong one, with Peter Krause,  Connie Britton and Angela Bassett. And while it's a better than usual version of the show, it's limited by its insistence on new calls and events to which they rush. One of the first of them has a touch of Murphy craziness — a baby stuck in plumbing.
The anticipated "Black-ish" spinoff, following the oldest daughter as she goes off to school, is called "Grown-ish" (Freeform, 8 p.m.). Tara Shahidi in real life attends Harvard and has visited with Michelle Obama and Hillary Clinton. So she's a little hard to believe as a dim college slacker amid her buds. The comedy, which is dominated by narration and freeze frame, underachieves. The streaming "Listen White People," covering the same ground, is better. And so maybe is "The Quad."
Speaking of disappointment, "The X-Files" (Fox, 8 p.m.) return last year was overwhelming enough to tarnish the memory of the old series. Its return today (not by popular demand), stays on that low level, with the task of recovering from the cliffhanger that hospitalized Scully. A lot of the return to night is devoted to chase scenes and makes one appreciate by comparison how much better a reboot "Twin Peaks" was last year.
The 30th season of "The Amazing Race" (CBS, 8 p.m.) takes off from New York's Washington Square Park en route to Iceland. Teams include former NBA players Cedric Ceballos and Shawn Marion, race car drivers Conor Daly and Alexander Rossi, skiers Kristi Leskinen and Jen Hudak, competitive eaters Joey Chestnut and Tim Janus and the most hated couple from last season's "Big Brother," Jessica Graf and Cody Nickson.
A new group of Wives and Girlfriends of Sports Stars exploit their lives in the spin-off series "WAGS Atlanta" (E!, 10 p.m.).
The comedian Cipha Sounds hosts the new standup series, "Laff Mobb's Laff Tracks" (TruTV, 11 p.m.) in which monologues are acted out in real time.
"Catfish" (MTV, 10 p.m.) returns for a new season with promos that promise a broader vision.
Ale Baldwin hosts a third season of "The Match Game" (ABC, 10 p.m.) with Joel McHale, Niecy Nash and Constance Zimmer.
Taylor goes to a concert on "American Housewife" (ABC, 9:30 p.m.).
Claire wants to build her own clubhouse on "Modern Family" (ABC, 9 p.m.).
Beverly is organizing moms on "The Goldbergs" (ABC, 8 p.m.).
Liz seeks a fresh start on the winter premiere of "The Blacklist" (NBC, 8 p.m.).
The Hollywood Foreign Press Association doesn't just add weird questions at press conferences or make odd choices for the Golden Globes. It aisle throws some money in to film preservation. A few of its recent restorations are on Turner Classic Movies tonight: "The Boy with the Green Hair" (8 p.m.), "A Fistful of Dollars" (9:30 p.m.), "Panther Panchali" (11:30 p.m.), "Eraserhead" (1:45 a.m.), "Logan's Run" (3:30 a.m.) and "La Jetee" (5:30 a.m.).
Earlier, it's all 1950s horror movies all day for some reason, with "The Thing from Another World" (6 a.m.), "Them!" (7:30 a.m.), "The Giant Behemoth" (9:15 a.m.), "Godzilla" (10:45 a.m.), "Rodan" (12:30 p.m.), "Attack of the 50 Foot Woman" (2 p.m.), "Queen of Outer Space" (3:15 p.m.), "The Invisible Boy" (4:45 p.m.) and "Forbidden Planet" (6:15 p.m.).
NBA action includes Cleveland at Boston (ESPN, 8 p.m.) and Oklahoma City at Lakers (ESPN, 10:30 p.m.).
Hockey has Chicago at Rangers (NBC Sports, 8 p.m.).
Men's college basketball includes Marquette at Providence (CBS Sports, 6:30 p.m.), North Carolina at Florida State (ESPN2, 7 p.m.), Syracuse at Wake Forest (ESPNU, 7 p.m.), Connecticut at Tulsa (ESPNews, 7 p.m.), St. John's at Creighton (Fox Sports 1, 8 p.m.), St. Bonaventure at Dayton (CBS Sports, 8:30 p.m.), Oklahoma State at Oklahoma (ESPNU, 9 p.m.), Missouri at South Carolina (ESPN2, 9 p.m.) and Wyoming at Nevada (CBS Sports, 10:30 p.m.).
There are U.S. Olympic trials in speedskating (NBC Sports, 6 p.m.) and women's figure skating (NBC Sports, 11 p.m.).
Daytime Talk
Kelly Ripa and Ryan Seacrest: Chris Hemsworth, Millie Bobby Brown, Katy Mixon. The View: Yara Shahidi. The Talk: Angela Bassett, Sean Valentine. Harry Connick: Terrence Howard, Michelle Buteau (rerun). Steve Harvey: La La Anthony, Bow Wow. Ellen DeGeneres: Seth Meyers, Sean "Diddy" Combs, DJ Khaled, Meghan Trainor, Charlie Walk, Ferbie, Charlie Puth. Wendy Williams: Jason Biggs (rerun). The Real: Wendy Raquel Robinson (rerun).
Late Talk
Stephen Colbert: David Harbour, Julien Baker. Jimmy Kimmel: Jessica Chasten, Sean "Diddy" Combs, Brandi Carlile. Jimmy Fallon: John Cena, Briget Everett, Beck (rerun). Seth Meyers: Chris Hayes, Kristin Scott Thomas, Alex Lahey (rerun). James Corden: Rainn Wilson, Jack Whitehall, Novak Djokovic, Ty Dolla $ign (rerun). Carson Daly: Michael Kelly, Bad Suns, Amber Stevens West (rerun). Trevor Noah: Dan Harris. Jordan Klepper: Jeff Goodell. Conan O'Brien: Anna Faris, Nathan Fielder, Dhani Harrison (rerun).