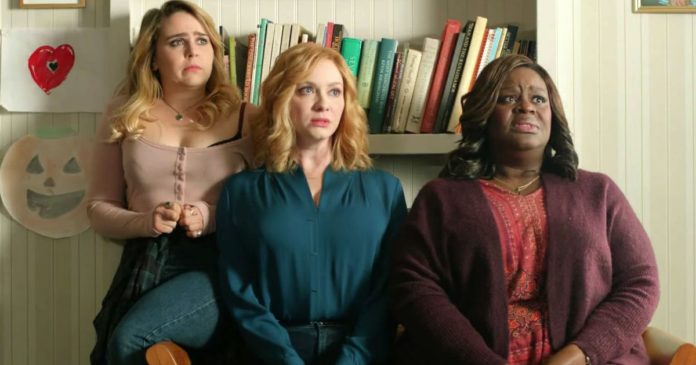 With the Winter Games over, a glut of new and returning shows suddenly appear; late night is back up to full strength, and recording star switches talent competition affiliation.
Of the new shows (both considerably promoted during the games), "Good Girls" (NBC, 10 p.m.) has a strong and familiar cast of Christina Hendricks, Mae Whitman and Retta. But are they credible as housewives so desperate they all pick up guns and ski masks to rob the local grocery store (and is this a good time to normalize gun play?). The big problem for creator Jenna Bans, who has written on "Desperate Housewives" and "Grey's Anatomy" is the tone. Is it comedy? Is it drama? Shows that this one wishes it could be, like "Breaking Bad," made it seem so easy. Perhaps it is not.
An easier sell, surprisingly, is "Living Biblically" (CBS, 9:30 p.m.), perhaps because it was already done as an experiment by writer A.J. Jacobs — can one follow the Bible literally in the 21st Century? It may work because of the light tough of actor Jay R. Ferguson — Stan from "Mad Men" — and his philosophical approach to living straight and narrow. It helps he has a panel of advisors as he proceeds. Among CBS' bad sitcoms, this one actually compares well.
Kelly Clarkson, the first "American Idol" winner, takes one of the spinning seats as the new judge as the 14th season begins for "The Voice" (NBC, 8 p.m.), alongside Adam Levine and Blake Shelton as well as the returning Alicia Keys.
The new "McMafia" (AMC, 10 p.m.) has the sleek international look of the network's "The Night Manager" with its box office cast of James Norton, Juliet Rylance and David Straithairn and its plot of a British banker trying to steer clear of his roots in the Russian mafia. The complicated, methodically-told tale unfolds in eight episodes, which all drop at once on the AMC streaming service.
In another new eight-episode drama, "Shoot the Messenger" (WGN America, 10 p.m.), Elyse Levesque of "Orphan Black" plays a rookie reporter who witnesses a murder after taking a job and is drawn into the web of underworld activities the lead to the government. Alex Kingston, Lucas Bryant and Lyric Bent also star.
The brief gospel period of Bob Dylan was an anathema to fans, but it led to a remarkable tour with one of his best backing bands and singers, with a lot of songs that never made it on the albums. Of course, it also had some sermons. The hour long documentary "Trouble No More" (Cinemax, 10 p.m.), first created for the boxed set of the same name that came out last fall, gets a cable airing for the first time tonight, with some driving performances from Toronto interspersed with brief sermon interlude, written by Luc Sante and delivered by Oscar nominee Michael Shannon, of all people. But don't walk out before the end as some Dylan fans during those early 80s tours. This one ends with a soundcheck duet of Dylan with singer Clydie King on "Abraham, Martin & John."
In other documentaries tonight, "Jamestown: The Women Behind the Massacre" (A&E, 9 p.m.) look at the four women who helped plan the mass exit of Jim Jones' cult.
"The Lost Tapes: Malcolm X" (Smithsonian, 8 p.m.) collects speeches and archival footage in honor of Black History Month.
"Rat Film," on "Independent Lens" (PBS, 10 p.m., check local listings) ties the rodent problem in Baltimore with racial segregation.
The sci-fi cartoon "Final Space" (TBS, 10:30 p.m.) gets its official premiere after a couple of prominent sneak peaks.
Long after the second season ended, "UnReal" (Lifetime, ) returns for its third go-round, with a female suitor for the show within a show played by the terrific Caitlin FitzGerald of "Master of Sex."
The show they're making fun of, "The Bachelor" (ABC, 8 p.m.) has its most embarrassing night, the fantasy suites.
A new British series, "Ackley Bridge" (Acorn, streaming) concentrates on life at an academy school.
"iZombie" (The CW, 9 p.m.) returns for its fourth season of crime fighting and snacking.
You can't keep a good comic man down. Kevin Smith, who had a massive heart attack Sunday, is back with a new "Comic Book Men" (AMC, midnight), with guest Rosario Dawson.
On "The Good Doctor" (ABC, 10 p.m.), a teenager looks to surgery to get her free from being homebound.
Three concurrent surgeries test the limits on "The Resident" (Fox, 9 p.m.).
The team on "Scorpion" (CBS, 10 p.m.) tries to prevent the creation of a black hole.
A plan is made to catch the killer on "The Alienist" (TNT, 9 p.m.).
Guests on "Summer House" (Bravo, 10 p.m.) invite their moms over.
"Lucifer" (Fox, 8 p.m.) infiltrates a high school reunion.
Sara takes some private time on "DC's Legends of Tomorrow" (The CW, 8 p.m.).
"Kevin Can Wait" (CBS, 8 p.m.) tries a dating app.
Bet starts volunteering at the hospital on "Man with a Plan" (CBS, 8:30 p.m.).
Franco encourages a young DJ to quit school on "Superior Donuts" (CBS, 9 p.m.).
More best picture Oscar winners and nominees tonight on Turner Classic Movies: "Test Pilot" (6 a.m.), "The Magnificent Ambersons" (8:15 a.m.), "The Lives of a Bengal Lancer" (10 a.m.), "The Talk of the Town" (noon), "Libeled Lady" (2 p.m.), "Dark Victory" (4 p.m.), "Cat on a Hot Tin Roof" (6 p.m.), "The Best Years of Our Lives" (8 p.m.), "Mrs. Miniver" (11 p.m.), "Grand Hotel" (1:30 a.m.), "It Happened One Night" (3:45 a.m.) and "42nd Street" (5:45 a.m.).
Hockey includes Philadelphia at Montreal (NBC Sports, 7:30 p.m.),
Spring training baseball has Mets vs. Houston (MLB, 1 p.m.).
Men's college basketball includes Duke at Virginia Tech (ESPN, 7 p.m.), Marquette at Georgetown (Fox Sports 1, 7 p.m.), Norfolk State at Howard (ESPNU, 7 p.m.), Texas at Kansas (ESPN, 9 p.m.) and Texas Tech at West Virginia (ESPN2, 9 p.m.).
Women's games include South Florida at Connecticut (ESPN2, 7 p.m.), Memphis at Temple (CBS Sports, 7 p.m.) and West Virginia at Baylor (Fox Sports 1, 9 p.m.).
Pro games include Golden State at New York (NBA, 7:30 p.m.) and Minnesota at Sacramento (NBA, 10 p.m.).
In international basketball, it's U.S. vs Puerto Rico (ESPN2, 11 p.m.) in a FIBA World Cub qualifier.
Daytime Talk
Kelly Ripa and Ryan Seacrest: Laverne Cox, Freddie Highmore. The View: Meredith Vieira. The Talk: Jay R. Ferguson, Johnny Galecki, Lindsey Kraft, Brandi Glanville and James Maslow. Harry Connick: Dylan McDermott. Steve Harvey: Jason Ritter, Kellie Pickler. Ellen DeGeneres: Heidi Klum, Tonya Harding. Wendy Williams: Michelle Dockery, Felix Semper (rerun). The Real: Tom Welling, Tom Ellis, Yvette Nicole Brown.
Late Talk
Stephen Colbert: Jennifer Lawrence, Patton Oswalt, MGMT. Jimmy Kimmel: Oprah Winfrey, Timothy Chalamet, Andra Day, Common (rerun). Jimmy Fallon: John Lithgow, Kelly Clarkson, Kacey Musgraves. Seth Meyers: Uma Thurman, Jimmi Simpson, Stephanie Wittels Wachs. James Corden: Jonny Galecki, Steve Harvey, Nate Fernald. Carson Daly: Rebecca Romijn, Greta Van Fleet, Jamie Lee (rerun). Trevor Noah: Wayne Brady. Jordan Klepper: Beratunde Thurston. Conan O'Brien: Nick Kroll, John Mulaney, Olan Rogers, Debra DiGiovanni.