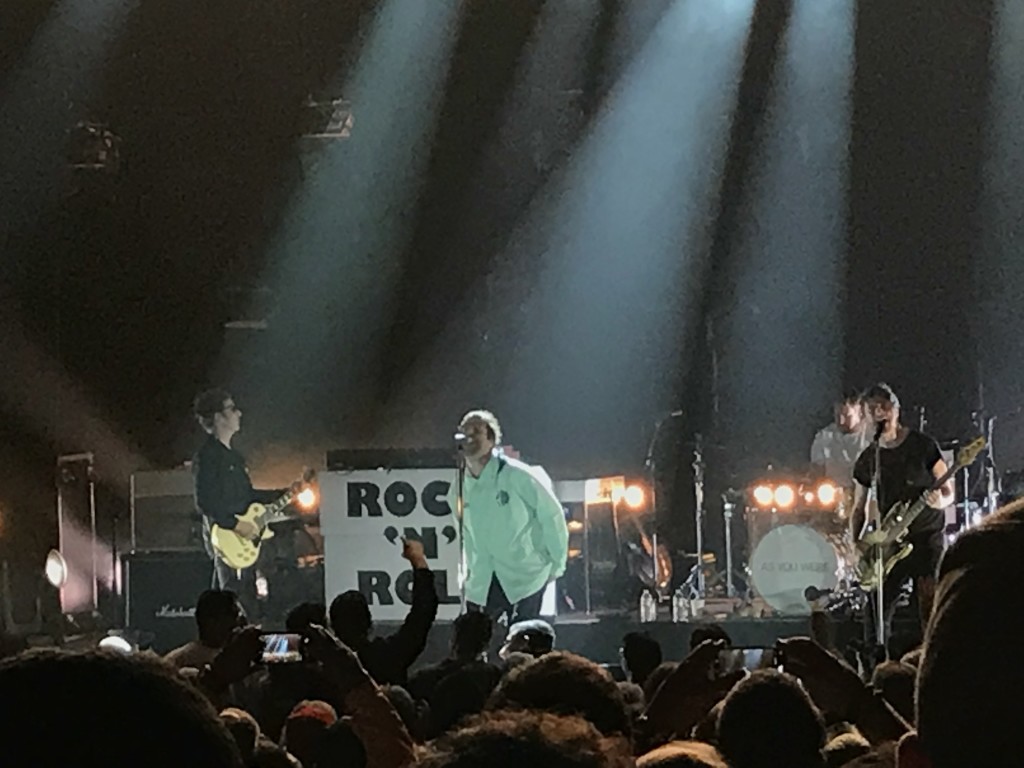 Seems like all of England was at the Royal Wedding Saturday, but rocking native son Liam Gallagher, so highly esteemed in his home country, was in Washington, D.C., to make up a show he canceled last year. And looking as if he wanted to leave as soon as possible.
Other than fulfilling an implied contract with the audience, there was other sense of closure for the show that capped a quick week of U.S. shows: here was the second of the two brothers from Oasis performing in town within three months. Noel Gallagher played a big show at the Anthem in February; Liam's gig at the Lincoln Theater was the other rock 'n' roll shoe dropping.
The success of both shows were based on both brothers' greater reliance on Oasis songs that made them stars. Indeed, more than half of Liam's set were Oasis anthems, with the five others from his recent solo album (He decided to skip over the two albums of his first post-Oasis project, Beady Eye).
The sellout crowd that leaned toward nostalgia appreciated that ratio, but the total number of songs is what made this show notable: Ten in the main set, two encores, 12 total. Because Richard Ashcroft had to ditch the tour early, there was no opener. So this was the rare rock show in which the headliner began an 8 o'clock show at 7:59, ended the main set at 8:44 and was out of there by 8:54.
Did he have to catch a plane? He was set to open the big Rolling Stones show Tuesday in London Stadium, so maybe he had his mind on other things.
Gallagher has played slightly longer shows on this U.S. run (by one song), but not at a D.C. show that needed it.
Of course, lack of consideration is something he's sort of built his career on. Along with his sneer and excess attitude, the younger Gallagher has been known to push it it a bit far. He was, after all, voted Dickhead of the Year three years in a row in an NME poll. His own reluctance to appear with Oasis is what helped lead to its demise. His brother described him as "rude arrogant, intimidating and lazy."
Gallagher hinted he might be trying to change. He offered a slight apology for canceling the November show, but added "Things happen when you live in the real world." All this just before going into his "For What It's Worth" (not the Buffalo Springfield song) which begins, "In my defense, all my intentions were good / And heaven owns a place for the misunderstood."
Gallagher's new stuff on his album "As You Were" is pretty good; catchy hooks and simple phrases on tracks solid enough to take their place along some truly stellar Oasis works, from "Morning Glory" to "Supersonic."
Liam got credit for co-writing some of the Oasis songs, but none of those that became their most celebrated, and none that he played live Saturday.
He does knows what he brings to the stage, which is that patented rock 'n' roll voice, his constant stance, keeping his body angular, hands often behind his back, leaning into the microphone. He'll hold a tambourine or maracas but forget to play them for most of a song (he tossed the maracas to a balcony box toward the end of the show, suggesting that they be shared).
As in Oasis, the backing musicians are generally ignored. Liam's five piece were never introduced, but kept churning up the sounds admirably. They included Jay Mehler on lead guitar, Drew McConnell on bass, Mike Moore on rhythm guitar, Dan McDougall on drums and Christian Madden on keyboards, behind a big sign for anyone who didn't get the picture, saying Rock 'N' Roll in cartoonishly large letters.
Gallagher basked in his illusion and built upon it, bookending the abbreviated show with "Rock 'n' Roll Star"  on one end, and "Live Forever" on the other.
Fans remained on their feet throughout, relishing this jolt from their past, and the opportunity to hear this music in the relative intimacy of a theater rather than the stadiums where Oasis roosted (or even the larger Anthem, where Noel played). But if he indeed wants this career to live forever, he'll have to put a little bit more into it going forward.
The setlist for Liam Gallagher Saturday was:
"Rock 'n' Roll Star"
"Morning Glory"
"Greedy Soul"
"Wall of Glass"
"Bold"
"For What It's Worth"
"Some Might Say"
"D'You Know What I Mean"
"You Better Run"
"Cigarettes & Alcohol"
"Supersonic"
"Live Forever"