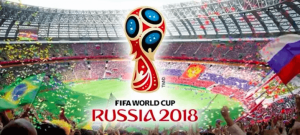 Clear your schedule for a month and fire up the vuvuzela: The 2018 FIFA World Cup begins in Moscow, an odd location since Russia was banned from the Winter Olympics for doping earlier this year. The time change means that a lot of games in the quadrennial international soccer competition.will be live around midday in North America (which was awarded the 2026 games yesterday). Things kick off before noon with Russia vs. Saudi Arabia (Fox, 11 a.m.).
"Girlfriend's Guide to Divorce" (Bravo, 10 p.m.) returns for its fifth and final season, with Lisa Edelstein's character posing a big question to her boyfriend.
The new series about a janitor turned rocket scientist "Strange Angel" (CBS All Access, streaming) is only available online.
A second season starts for the Marlon Wayons comedy "Marlon" (NBC, 9 and 9:30 p.m.), with two episodes.
Much time on "RuPaul's Drag Race" (VH1, 8 p.m.) is given to promote his podcast and "hit" single "American."
A new set of challengers step up on "The Four: Battle for Stardom" (Fox, 8 p.m.).
Brad's country music singing competition begins on "Nashville" (CMT, 9 p.m.).
Bonnie tries to get a handle on finances on "American Woman" (Paramount, 10 p.m.), whose stars Alicia Silverstone and Mena Savari go up against one another on the first of two episodes of "Lip Sync Battle" (Paramount, 10:40 p.m.).
"Alone" (History, 10 p.m.) begins its fifth season with past survivalists returning for a stint in northern Mongolia.
On "Swamp Mysteries with Troy Landry" (History, 9 p.m.), a monster called Hogzilla affects a small Texas community.
Tensions rise between Mike and JWoww on "Jersey Shore Family Vacation" (MTV, 8 p.m.).
"Epic Engineerings" (Science, 9 p.m.) look at the making of huge cruise ships. Then "Impossible Engineering" (Science, 10 p.m.) looks at trains that cut through mountains.
Poachers illegally fishing for salmon are nabbed on "Northwest Law" (Animal Planet, 10 p.m.).
The annual BET Awards gets its own "BET Awards '18 Nomination Special" (BET, 10 p.m.).
Turner Classic Movies presents more musicals from the 1940s all day, with "Bathing Beauty" (6 a.m.), "That Midnight Kiss" (8 a.m.), "Two Sisters From Boston" (9:45 a.m.), "Two Girls and a Sailor" (11:45 a.m.), "You Were Never Lovelier" (2 p.m.), "My Dream is Yours" (3:45 p.m.), "Anchors Aweigh" (5:30 p.m.), "Yankee Doodle Dandy" (8 p.m.), "Holiday Inn" (10:15 p.m.), "Moon Over Miami" (12:15 a.m.), "Hollywood Canteen" (2 a.m.) and "Rhapsody in Blue" (4:15 a.m.).
Baseball includes Houston at Oakland (MLB, 3:30 p.m.), Tampa Bay at Yankees (Fox Sports 1, 7 p.m.) and Boston at Seattle (MLB, 10 p.m.).
First round play begins in the U.S. Open (Fox, 4:30 p.m.).
It's Edmonton at Winnipeg (ESPN2, 8:30 p.m.) in Canadian football.
Daytime Talk
Kelly Ripa and Ryan Seacrest: Chris Pratt, Lisa Edelstein, Jason Mraz. The View: Kelly Preston, Vanessa Kirby. The Talk: Alicia Silverstone. Harry Connick: Dorit Kemsley (rerun). Steve Harvey: Ledisi, Christine Lakin, Diann Valentine, Reginald Lewis, Peta Murgatroyd (rerun). Ellen DeGeneres: Sterling K. Brown, Bill Gates, Jerry Seinfeld, Camila Cabello (rerun). Wendy Williams: J.J. Totah, Jackie Miranne (rerun). The Real: Craig Robinson (rerun).
Late Talk
Stephen Colbert: Natalie Portman, Marc Maron, Alt-J with Pusha T. Jimmy Kimmel: Jon Hamm, Lil Rel Howery, G-Eazy with Yo Gotti & YBN Nahmir. Jimmy Fallon: Chris Pratt, Christina Aguilera. Seth Meyers: Ed Helms, Vanessa Kirby, Hannah Gadsby, Brian Fraiser-Moore. James Corden: Isla Fisher, Jeremy Renner, Ramesh Ranganthan. Carson Daly: Rachel Bloom, Adam Pally, Coin, Eugenio Derbez (rerun). Trevor Noah: Mike Colter. Jordan Klepper: Clint Watts. Conan O'Brien: Lisa Kudrow, Tom Papa, Jukebox the Ghost.