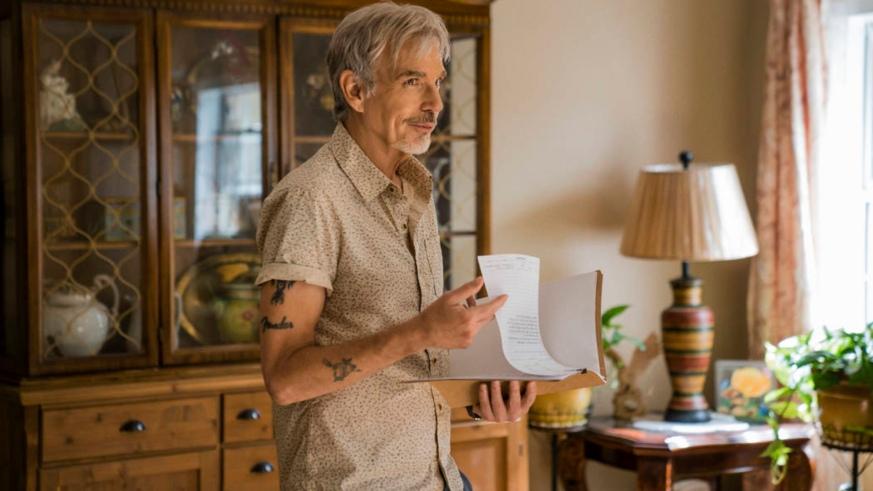 The downside of the TV glut is overlooking some great series. One prime example is "Goliath" (Amazon, streaming), the well-wrought legal drama from David E. Kelley and Jonathan Shapiro starring Billy Bob Thornton. There are some threads to tie in the aftermath of the first season's case, against a malevolent William Hurt. But mostly Thornton's dissipated lawyer, spending the money from the last case and living by the beach has to be coaxed into looking into a double murder case involving the son of a friend (Lou Diamond Phillips).
There's a political angle to this saga, and Mark Duplass plays a great comic lawyer in the tradition of Bob Odenkirk's Saul. With relaxed, naturalistic dialogue and real life settings, it's a series that doesn't deserve to be missed.
Getting more attention: A second batch of shows from the new integration of "Queer Eye" (Netflix, streaming).
Also returning tonight online is the Ashton Kutcher comedy "The Ranch" (Netflix, streaming), whose main task in season five is writing out  Danny Masterson, who was fired in December after being accused of rape.
The much-promoted rom com "Set It Up" (Netflix, streaming) about assistants setting up their demanding bosses with each other, finally makes its debut.
And there are a lot of international entries: "Lust Stories" (Netflix, streaming) which features four films by Indian directors; and the Spanish "Sunday's Illness" (Netflix, streaming) in which a woman looks for her birth mother; and the gangster redemption of "Maktub" (Netflix, streaming) which is in Hebrew (all three titles have English subtitles available of course).
"Life Sentence" (CW, 9 p.m.) ends its single season with a series finale.
Not sure why there's a third season for "Mama June: From Hot to Not" (We, 9 p.m.). Honey Boo Boo is almost a teenager.
"Wyatt Cenac's Problem Areas" (HBO, 11:30 p.m.) ends its first season trying to fix community relations for the Cincinnati police department.
The WWE's Stephanie McMahon becomes "Undercover Boss" (CBS, 8 p.m.).
An underground operation turns deadly on "Quantico" (ABC, 8 p.m.).
The new series "Breaking Big" (PBS, 8:30 p.m., check local listings), hosted by Carlos Watson, profiles contemporary success stories. The first: Trevor Noah of "The Daily Show."
Sonya Yoncheva and Vittorio Grigolo star in the Metropolitan Opera's production of "Tosca" on "Great Performances" (PBS, 9 p.m., check local listings).
Tom Courtenay is star on Turner Classic Movies in "The Loneliness of the Long Distance Runner" (8 p.m.), "King & Country" (10 p.m.) and "The Night of the Generals" (11:45 p.m.). Then comes a pair from 1978, "Eyes of Laura Mars" (2:15 a.m.) and "Coma" (4 a.m.).
There are triple the World Cup games today with Egypt vs. Uruguay (Fox Sports 1, 8 a.m.), Morocco vs. Iran (Fox, 11 a.m.) and Portugal vs. Spain (Fox, 2 p.m.).
Baseball includes Chicago at St. Louis (MLB, 8 p.m.).
In Canadian football, it's Toronto at Saskatchewan (ESPN2, 9 p.m.).
Golf includes second round action in the U.S. Open (Fox Sports 1, 10 a.m.; Fox, 4:30 p.m.).
Daytime Talk
Kelly Ripa and Ryan Seacrest: John Travolta, Bryce Dallas Howard. The View: Ed Helms, Holly Huner, Craig T. Nelson. The Talk: Christina Ricci, Michael Mealor. Harry Connick: Lisa Ling, Jenni Pulos, The Gumbo Bros (rerun). Steve Harvey: Tyra Banks, Carolyn London, Garcelle Beauvais, Rachel Lindsay, Emily Skye (rerun). Ellen DeGeneres: Tiffany Haddish, Amy Schumer, Chrissy Teigen, Diane Keaton. Wendy Williams: Kate Wash (rerun). The Real: Terrell Owens, Cheryl Burke (rerun).
Late Talk
Stephen Colbert: Thandie Newton. Jimmy Kimmel: Tiffany Haddish, DJ Khaled, Ella Mai. Jimmy Fallon: Jada Pinkett Smith, Bryce Dallas Howard, Nikki Glaser. Seth Meyers: Reese Witherspoon, David Redneck, Zach Danziger (rerun). James Corden: Claire Foy, Method Man, Michael Palascak (rerun). Carson Daly: Tony Hale, The Aces, Melissa Barrera, Mishel Prada (rerun).