It's coincidence this year that the first official day of the fall TV season actually occurs on the first day of fall. (The more decisive factor is: The day after the Emmys). Any fuss about the fresh new broadcast offerings is made quaint by the fact that Netflix alone releases more new titles weekly than any network will come up with all season. Increasingly, the unsurprising new rosters show that networks are anxious to fill slots for a type of show (comedy, legal drama, cop drama) than for any particular new ideas. Nonetheless, we will play our role this week as well, unveiling the new titles as they come, night by night, all week.  
NEW SHOWS
"Prodigal Son" (Fox, 9 p.m., tonight). Fans of "Silence of the Lamb" may be drawn into this dark new series in which Michael Sheen gleefully plays an incarcerated mass murderer, whose criminal psychologist son (Tom Payne, of "The Walking Dead") begins to visit, mostly to glean insights in order to help the NYPD solve murders. Bellamy Young ("Scandal") is the conflicted ex-wife; Lou Diamond Phillips is the cop who encourages the uncomfortable father-son reunion. The ickiness that pervades network crime shows spills through.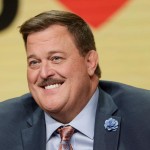 "Bob [Hearts] Abishola" (CBS, 8:30 p.m., tonight). Billy Gardell of "Mike & Molly" returns to another  Chuck Lorre sitcom as a middle-aged sock salesman who gets a crush on his Nigerian nurse, played by Folake Olowofoyeku. The straining attempt at inclusion has its sweet moments, but a lot of its humor is based on unfunny tropes. That her black family distrusts the white guy is played for laughs, for example (as opposed to what we're supposed to believe as the reality the other way around). Any success for the show may depend on co-creator Gina Yashere, who also is part of the cast, rather than Lorre, who I've never found funny.
"All Rise" (CBS, 9 p.m., tonight). The tone is all wrong for this legal yarn about a newly appointed judge (Simone Missick) presiding over serious cases and some truly absurd ones. The idea is that anything can happen in the chaos of applying justice, but it comes off as a mishmash that doesn't know what story it wants to tell. Wilson Bethel and Jessica Camacho also star, and Marg Helgenberger ("CSI") returns to TV in a role as a mentoring female judge.
"Bluff City Law" (NBC, Mondays, 10 p.m., tonight) Jimmy Smits returns to TV as an establishment lawyer in Memphis who is joined in his firm by his estranged daughter (Caitlin McGee) after the sudden death of her mother, on whom he has cheated. So there are topical cases to represent each week, but father-daughter bonds to repair over the long term. McGee is good but the cases so far seem overblown. The Tennessee setting is emphasized, if only to keep your mind off Smits' earlier legal locale in "L.A. Law."
RETURNING SHOWS
"9-1-1" (Fox, 8 p.m., returns tonight), "The Voice" (NBC, 8 p.m., tonight), "Dancing with the Stars" (ABC, 8 p.m., began Sept. 16), "The Neighborhood" (CBS, 8 p.m., tonight), "All American" (CW, 8 p.m., returns  Oct. 7), "Black Lightning" (CW, 9 p.m., Oct. 7), "Bull" (CBS, 10 p.m., tonight), "The Good Doctor" (ABC, 10 p.m., tonight).
OF NOTE ON CABLE
"Catherine the Great" (HBO, 10 p.m., Oct. 21). Helen Mirren stars in the four-part series as the colorful Russian queen at the end of her reign and during her affair with Grigory Potemkin (Jason Clarke). The co-production with Sky TV also stars Joseph Quinn, Gina McKee, Rory Kenner, Richard Roxburgh and Sam Palladio. It was written by Nigel Williams (Elizabeth I) and makes use of HBO's recently installed Monday night premieres.