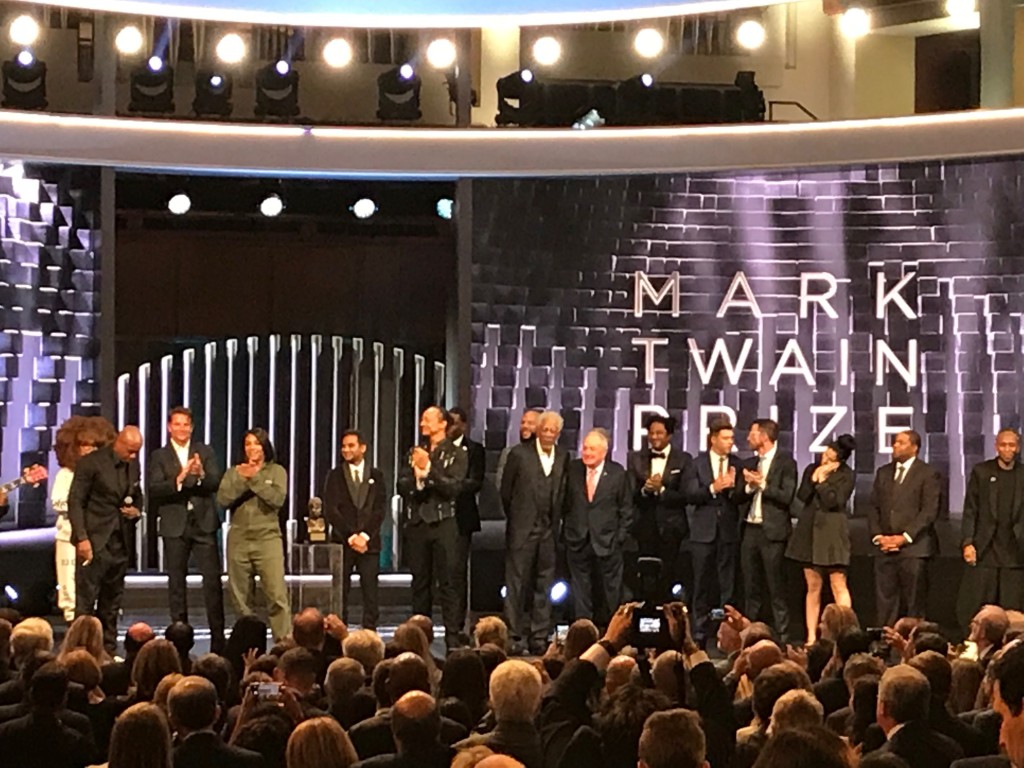 The 22nd recipient of the Kennedy Center's Mark Twain Prize for American Humor Sunday was a hometown hero, comedian Dave Chappelle — a perfect pairing, said comic Sarah Silverman, since "you both love using the n-word."
The marching band of his Washington D.C. alma mater, the Duke Ellington School of the Arts, joined in on the Prince's "Let's Go Crazy" to start the long event, which will be edited for broadcast early next year in what's likely the most-bleeped program ever on PBS.
A roster of musicians and hip-hop artists — including Common, John Legend, Q-Tip, Erykah Badu and yasiin bey, the former Mos Def — joined the comics on the roster, which included Tiffany Haddish, Jon Stewart and Aziz Ansari to demonstrate the way Chappelle has always brought together artists and musicians, in the manner of his 2005 film "Dave Chappelle's Block Party" that served as a coming out party after he abruptly quit his wildly successful "Chappelle's Show" that made him a superstar.
Morgan Freeman served as a master of ceremonies in an event that drew another Hollywood star to the stage in Bradley Cooper, who directed and co-starred with the comic in "A Star is Born," calling their scene together "probably the best scene I've ever done with another actor."
But the Kennedy Center audience was filled with celebrity friends including Chris Tucker, Chance the Rapper, Michelle Wolf, Jeff Ross, Marlon Wayans and George Lopez — as well as the patrons of the Kennedy Center.
"I had no idea you had so many old white fans," said Michael Che of "Saturday Night Live." "I feel like I died and went to Brooks Brothers."
Che hailed Chappelle as someone who is "willing to make fun of you whether you're white or gay – end of list," a reference of criticism to Chappelle's latest Netflix special "Sticks & Stones" that premiered in August.
Che was among a group of presenters who agreed to participate so late, they weren't in the printed program, including  Ansari, Badu and "SNL" compatriots Kenan Thompson and Colin Jost, who called the 2016 post-election hosting that won Chappelle an Emmy "as the best episode that we've been there for."
"SNL" creator and past Twain winner Lorne Michaels said he fought to get Chappelle to be the perfect host days after the 2016 election whatever the outcome, and though he didn't know what the comic was going to say in his monologue until he did it, he did not disappoint. "It was a landmark show," he said. "It was perfect."
Haddish, who came dressed in the kind of green jumpsuit Chappelle sported in the latest special, called him a mentor and big brother, but chided his singing of Prince songs.
Silverman praised Chappelle's ability to observe and take in details others would miss, such as when he returned from Hollywood early to say he finally visited Compton, and was struck that everybody had lawns.
Chappelle spent part of his growing up in Ohio, where he now makes his home in what Buckeye native Legend called "the kind of town that makes people say, 'Why does Dave Chappelle live here?'"
But the comic has thrived and connected there, most recently organizing a concert in Dayton to promote healing shortly after the August mass shooting.
Neal Brennan, a longtime writing partner who co-created Chappelle's Show, said the comic originally tried to pitch a show based on the old "Playboy After Dark," "which, if you can remember that, get you're affairs in order, because you're on death's door." (For those who didn't recall the reference, he described its host Hugh Hefner: "Imagine Jeffrey Epstein with a grotto").
That show never came to pass, but the 2003 "Chappelle's Show," which found the star improvising some of the most famous bits on the spot, did go "absurdly well," Brennan said, "like, so-well-you've-gotta-go-to-Africa well."
Walking away from the Comedy Central hit, after being offered $50 million for a third season, and flying off to South Africa, got the attention of his fellow Comedy Central star Jon Stewart of "The Daily Show" — not for holding true to his values despite the promised windfall, but that the cable network had $50 million to offer in the first place.
"I knew that money was going to need a home," joked Stewart, who became late night's highest paid host until he left in 2015. "Dave, I want you to know I raised that money like it was my own."
Chappelle basked in the tributes from a box seat alongside the stage with his wife, children and his mother. "You have no idea what I've put this woman through," he said in brief remarks at the end, in which he mostly praised the freedom comics have to comment on the world, even if you can't agree with all of it.
"It's an incredibly American genre," Chappelle said. "The First Amendment is first for a reason. The second one is in case the first doesn't work out."
Chappelle followed past Mark Twain Prize recipients Richard Pryor — the first in 1998 — George Carlin, Bill Murray, Tina Fey, David Letterman and two Chappelle helped induct – Lily Tomlin in 2003 and Eddie Murphy in 2015.
Murphy didn't appear Sunday, but in a taped message called Chappelle "the voice of his generation, no question. Nobody is more deserving of this honor."
Dave Chappelle: The Kennedy Center Mark Train Prize will air on PBS Jan. 7, 2020 at 9 p.m. (check local listings).