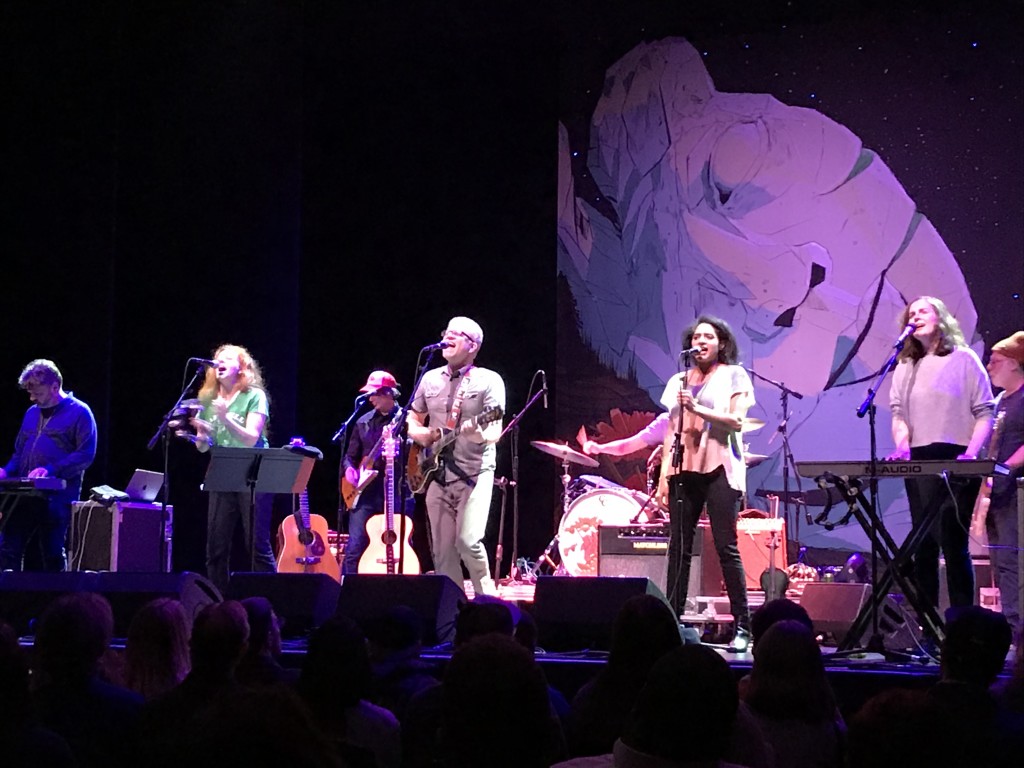 From the big sound that comes from The New Pornographers you'd almost expect more people on stage. But just seven were there Wednesday at the Lincoln Theatre in Washington D.C., covering songs from eight different albums before a happy, largely seated audience.
It was the rare second day in the city to satisfy demand. Even more rare was that they were inside a theater rather than a big nightclub. "In 15 years I don't think we've ever not played the 9:30 Club," frontman Carl Newman said. It was such a topsy turvy thing, he sang a line from "Yorktown (The World Turned Upside Down)" from "Hamilton," perhaps inspired by being in the Nation's Capital an extra day.
But doing a second night's show, though, they were determined to present a different show than the night before. "It's only polite," said Newman, ever the Canadian.
So people didn't hear the new "Leather on the Seat" from their new album "In the Morse Code of Brake Lights."
Instead of "Dancehall Domine" from "Brill Bruisers" they played "You Tell Me Where"; two things were heard from "Challengers" including the title track that they hadn't played the night before; they did a rare "Use It" but not "Stacked Crooked" from "Twin Cinema." "Avalanche Alley" instead of "High Ticket Attractions" from "Whiteout Conditions"; and "Sweet Talk, Sweet Talk" instead of "Crash Years" from "Together."
It couldn't have been too easy; these are intricate pop creations with lots of parts presumably needing lots of practice – they don't just bang out anything. But it all sounded glorious and kept in enough favorites to rally fans from any of its eras (for me, "Singing Spanish Techno").
By now, what was once a Western Canadian collective of artists who came in and out from their own projects, The New Pornographers are now largely Newman's  band. He sings most of the songs, at least co-writes everything for the happy group.
And Newman, who also recorded solo as A.C. Newman, is doing some great work – putting together these interesting parts of songs with catchy and surprising turns, with lyrics that are engaging, unexpected and seemingly the result of an endless supply of fresh ideas.
Arguably the biggest name in the band, Neko Case, merely looked happy to be singing choruses and only the occasional lead, without the responsibility of doing all her own songs.
One aspect missing from the band was Dan Bejar, the frontman from Destroyer who has gone off to do that full-time a couple of years back (though his bassist John Collins still holds it down with the Pornographers).
When Case left for a few years, Newman enlisted his niece, Kathryn Calder, to sing and play keyboards. With both of them singing now, often alongside Newman and violinist Simi Stone (who sings far more than she fiddles), it's a formidable harmonic output.
It reached its celestial heights at the end of "Testament to Youth in Verse" where their voices joined together as bells ringing out, "No, no, no…"
Hard charging is how you'd describe the general velocity of the show, slowing for acoustic approaches on the starts of "All the Old Showstoppers" and "Colossus of Rhodes."  The band had flirted with more of an electronic approach on recent albums and had a hint of it in the live show, triggered by Case, saying "Time to dance!"
The comfortable crowd mostly stayed seated, though, except during the three-song encore that, like the rest of the performance, included a surprise from about as far back as they go, "Letter from an Occupant," from their first album of nearly 20 years ago.
The evening began with a surprising and successful set from Lady Lamb, the New York band led by 30-year-old Maine native Aly Spaltro who is an intriguing lyricist and quite a phenomenal singer, aided by a three piece band.
The setlist for The New Pornographers Wednesday was: 
"Falling Down the Stairs of Your Smile"
"Use It"
"You'll Need a Backseat Driver"
"Sweet Talk, Sweet Talk"
"Sing Me Spanish Techno"
"One Kind of Solomon"
"Testament to Youth in Verse"
"Higher Beams"
"You Tell Me Where"
"The Laws Have Changed"
"The Surprise Knock"
"Avalanche Alley"
"All the Old Showstoppers"
"Champions of Red Wine"
"Whiteout Conditions"
"Adventures in Solitude"
"Colossus of Rhodes"
"Play Money"
"Moves"
"The Bleeding Heart Show"
"Cliffhangers"
"Brill Bruisers"
"Letters from an Occupant"