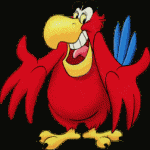 As something of a student of Walt Disney (sad to say, I did a post-grad thesis on what it was in the design of Mickey Mouse that made him so popular), I'm always interested in what's new at Walt Disney World and how that studio is reflected in his theme parks.
Part of the appeal of returning to the park is to revisit sites that hold fond memories. The Dumbo ride is still the Dumbo ride even if it isn't much of a ride, for example. On the other hand, other old fashioned aspects of the park don't age well at all. The Pirates of the Caribbean ride has been updated slightly to include Johnny Depp's Jack Sparrow character from that successful series (no need for similar updates to the Haunted Mansion or the Country Bear Jamboree, to name two attractions turned wrongheaded movies).
But some stay just the same, such as the thinly veiled racism of the Jungle Ride, where headhunters and wild savages still taunt from the shores. The more inclusive sentiment (and retro design) of It's a Small World seems a little more timeless, but each of its very cute dolls is based on cultural stereotypes as well.
Even when rides are upgraded, it doesn't always work. The Enchanted Tiki Room with its singing birds, originally known as Tropical Serenade, isn't quite the wonder it may have been, now that half the toys on shelves talk, squawk and sing. But the renovated Enchanted Tiki Room Under New Management, as it is known, doesn't quite work either, with the intrusion of more recent cartoon birds Iago from "Aladdin" and Zazu from "The Lion King." (There's something not quite right about hearing Gilbert Gottfried's voice after having seen him in "The Aristocrats").
I liked that Mickey and Minnie's houses have been built and are on display in the relatively recent Mickey's Toontown with some humor and flair (his bedroom has a dozen pair of identical black shoes and a drawer full of three-fingered white gloves). Maybe it's just because you can walk in on your own power and don't need to be put on a moving cart, boat or runway, the way they whisk you on other rides.
But Mickey himself seems to have shrunken in stature; he's about half the size of Goofy now and all they ever do is wave and put their hands in front of their mouth and other exaggerations meant to communicate. These can be effective. I saw parts of the elaborate "Dream Along with Mickey" stage show and could figure it out from their broad gestures, from half a park away.
As Mickey has diminished though, he hasn't been replaced by other characters, though there's been a steady stream of Disney movies each year that could benefit from having a park presence. There's a mishmash of them in the overwrought "Move It! Shke It! Celebrate It! Street Party" with Chip and Dale cavorting with Lumiere from "Beauty and the Beast" and Frozone from "The Incredibles."
And made up characters representing "Tangled" were greeting guests. But where is the ride from that movie? Or, more importantly, from the "Tron" remake? Disney has a popular stable of hits on its cable channel and Phineas and Ferb, but while they are represented in the gift shops, there are not seen in the park.
Disney World must be able to more quickly adapt to reflect its newly created characters to engage the young even as it doesn't forget the old ones for the elders who may be on the lookout for Clarabelle the Cow.