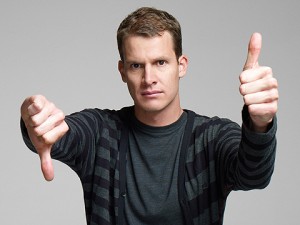 Television has tried to cash in on the popularity of viral video on the internet through a variety of clip shows in the past. But only one of them, "Tosh.0," can actually qualify as a hit.
With 3 million viewers (and 4 million fans on Facebook), "Tosh.0," returns for  third season Tuesday on Comedy Central.
In a session at the TV Critics Association winter press tour Wednesday in Pasadena, I asked how they did it.
Tosh, a standup comic who has become a breakout star pointed to himself immodestly.
But Kent Alterman, executive vice president of programming & development at Comedy Central said that might actually be true.
"I believe you could take this same exact source material and have ten different people use it, and it would be ten different shows, and this one would be up here where it is," he said.
"We realize that the format had been tried a couple dozen times and failed before," Tosh says. "And I think that was just our idea: push it as far as you can and see what happens."
"I think a big part of it is we have a different kind of relationship with the people who appear in these videos and bring them into the show," says executive producer Charlie Siskel. "We kind of make them the stars of their own short films, with Daniel as their costars."
"And we don't do background checks either," Tosh adds. "We just fly people out to L.A. with little to no research, which is a very bad idea half the time."
Because, he says, "these people are insane!"
Still, they're all good natured about their newfound fame and the ribbing they take from Tosh and the show is mostly in that spirit.
"I do like these people," Tosh says of his subjects. "I'm way more fascinated interviewing these people than I would be some celebrity. It is ridiculous that their lives have been turned upside down because of, you know, a
15-second clip of something that they may or may not have intentionally done. It's a bizarre life they have. So I genuinely am on their side of it and trying to let them have a good experience. I don't do anything that they would be completely against. We always run ideas by them. If they like it, we go forward. If they don't, we come up with something different."
The new season of "Tosh.0" begins Tuesday at 10 p.m. on Comedy Central.