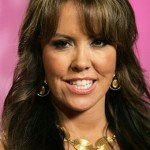 Gregarious "So You Think You Can Dance" judge Mary Murphy will be back as permanent judge this season. But she won't be doing much of her signature screams.
Murphy, recovering from throat cancer that kept her from the show in part last season, will be laying off the shrieks that accompanied her call for the Hot Tamale Train.
Murphy said at a TV critics press tour party Tuesday she's very close to being pronounced cancer-free after a bout last year. Her absence from the show in season seven caused complaints from longtime fans of the show who liked her passion for dance despite her occasional shrieks.
It was only earlier in the day that Fox officially she'd be back as regular judge in season eight, alongside Nigel Lythgoe.
"I am delighted to have Mary back on the show," Lythgoe said in a statement. "Her expertise in dance, coupled with her warmth, compassion and humor., make her an excellent judge and fun to work with."
"I am thrilled and already dancing in my seat to be back as a permanent judge this season, which I'm sure will be the best ever," said Murphy.
Auditions are continuing for the new season which will return in May. The next auditions are Feb. 2 in Salt Lake City, Feb. 25 in Los Angeles and March 1 in Charlotte, N.C.