Chris Harrison looked like he'd be more comfortable handing out roses; Brooke Burke seemed like she wanted to give out call-in vote numbers.
But the abc reality show hosts from "The Bachelor" and "Dancing with the Stars" combined forces in helping bring Miss America pageant back to network TV after several years in cable exile. The whole thing still had an air of desperation to it, perfect for the network of "Desperate Housewives."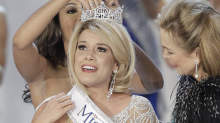 Teresa Scanlan, Miss Nebraska, from the tiny town of Gering, won the whole thing by the way, in case you were seeking actual news out of this thing. She played a showoffy variant of "Chopsticks" on piano for her talent and her topical question was about Wikileaks. She went hard on the side of prosecution. "When it comes to the  security of the nation, we have to focus on security fist, and then the right to know," she said. At 17, she's the youngest Miss America in the pageant's 90 year history.
But the show does not reflect her youth. Of the contestants who performed, one did ventriloquism, two sang, two danced routines they seem to have learned in youth. Most of it was not prime-time quality, I must say.  Or very up to date. They tried to add flash to the stuff they had to have — 53 girls introducing themselves, with jokes about their state they may not have written themselves; and then fewer of them wearing evening gowns and bikinis, as they were cut down by judges that included Joy Behar, Marc Cherry and Tony Davolani.
Because it was the 90th anniversary, there was a parade of more than 50 surviving Miss Americas from past years, from Lee Meriweather to Gretchen Carlson of "Fox & Friends." (But no Vanessa Williams, who could have gone as a star of an ABC show if not an official Miss America).
And there were a lot of commercials from DSW, which is the shoe store company that seems to have enough money to be listed as presenter (it was in those ads where Bert Perks kept singing "There She Goes, Miss America"). Not that anybody wanted to hear Chris Harrison sing.