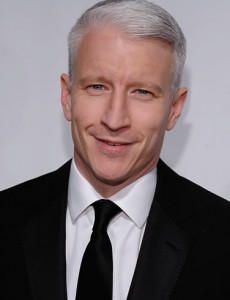 Anderson Cooper, CNN's biggest primetime name, had his start in daytime talk shows at age 8 on "The Mike Douglas Show," dressed as a Munchkin in an original costume from "The Wizard of Oz."
The segment was cut.
But he did try to fool panelists on "To Tell the Truth" at age 9, lying that he was Wally Norton, the world's youngest bear trainer.
He wasn't.
When he got a little older, he paid attention to the daytime television stylings of Phil Donohue, another white haired man in the field looking to talk more about issues than rile up audiences with extreme personalities or DNA tests, a la Jerry Springer or Maury Povich.
"There are plenty of people I've watched over the years who I respect what they do," Cooper told the TV critics press association Tuesday.
For his new syndicated daytime show, "Anderson" which begins Sept. 12, he said "I wanted to be authentic to who I am" but at the same time, "I liked how the old Phil Donahue how' used audiences."
Appearing as a fill-in on "Regis and Kelly" he learned how much people in audienes have to offer to shows.
They'll be a part of his new show, which he'll tape in New York, even as he continues his nightly work on CNN for "Anderson Cooper 360" and contributing reports on "60 Minutes."
I asked Cooper how the new show will allow him to do what he is best known for – flying out to hotspots and disasters in the world and he didn't think it would be a problem.
Some shows could be pre-taped if he needs to fly to Egypt or Joplin, Mo. Or he could arrange segments from newsy areas
I'm not worried about it at all. It's very doable because I manage my time really well."