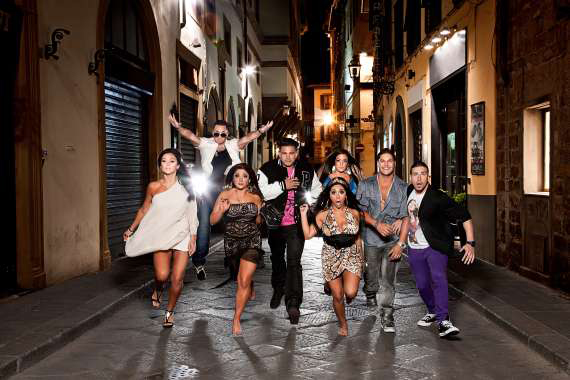 Things get dangerous as the fourth season begins for "Jersey Shore" (MTV, 10 p.m.). Rather than just being an embarrassment at Seaside Heights, the overly-familiar cast is exported abroad, where Europeans are given an ample excuse to hate Americans all over again.
Snooki falls down in the Florence airport almost immediately. The cast has a tough time mingling with locals and eventually, previews suggest, are forced to spend so much time together that they eventually turn on one another as well.
I hope they stay out of the Uffizi and the Basilica.
It was those GM commercials from Eminem that began the whole Detroit pride thing on TV, an effective campaign to awaken awareness in a crumbling city if not sales of its vehicles.
The effort expands considerably in a three hour special,  also sponsored with General Motors, "Detroit in Overdrive" (Planet Green, 8 p.m.) that further looks at the promise of the town.
It looks at artists and creative people who have been drawn to the declining metropolis, such as fashion designer Joe Faris and New Hampshire's Segway founder Dean Kamen, but also longtime partisans as Kid Rock.
Other segments look at the arts in Detroit, its homeless and hunger problems, and creative results such as a heat-capturing coat that aids the homeless.
When two more are eliminated on "So You Think You Can Dance" (Fox, 8 p.m.), the remaining four will make up next week's finale. Singing until they get the word will be this season's most famous reject from "American Idol," Pia Toscano.
When Brandon won the power of veto for the third time this season on "Big Brother" (CBS, 9 p.m.) this week, he chose not to save himself from being up for eviction. Instead, he chose to save his girlfriend Rachel, who was also up.  Head of Household Daniele chose as replacement is another returning woman (and former winner), Jordan.
Another odd challenge is presented to the contestants on "Project Runway" (Lifetime, 9 p.m.): use materials found at a pet store to attire models on stilts. The 90-minute new episode is preceded by last week's 90-minute premiere at 8 p.m.
Dane Cook guest stars on a new "Louie" (FX, 10:30 p.m.) and Jane Kaczmarek  stops in at a new "Wilfred" (FX, 10 p.m.).
Shark Week continues with the new "Shark City" (Discovery, 9 p.m.) and "When Fish Attack 3" (Discovery, 10 p.m.), preceded by "Air Jaws: Sharks of South Africa" (Discovery, 8 p.m.).
Kat Von D and Jesse James are still engaged in the new episode of "LA Ink" (TLC, 10 p.m.).
The Jerry's Painting episode gets a replay on "Parks and Recreation" (NBC, 8:30 p.m.).
A boy is rescued from his father on "Burn Notice" (USA, 9 p.m.).
The star of the day on Turner Classic Movies is Ronald Colman, starring in "A Tale of Two Cities" (8 p.m.), "Random Harvest" (10:15 p.m.), "Her Night of Romance" (12:30 a.m.), "Lost Horizon" (2 a.m.) and "The Story of Mankind" (4:15 a.m.).
Daytime Talk
Regis and Kelly: Bryce Dallas Howard, Caroline Rhea. The View: Ryan Reynolds, Jason Bateman. The Talk: Kathy Ireland, Tichina Arnold, Guest co-host D.L. Hughley. Ellen DeGeneres: Alyson Hannigan, Rascall Flatts, Miles Brown (rerun). Wendy Williams: Jennifer Hudson (rerun).
Late Talk
David Letterman: Colin Farrell, Christopher Ferguson, Typhoon. Jay Leno: Roseanne Barr, Jason Momoa, Lykke Li. Jimmy Kimmel: Jeremy Piven, Denise Richards, Todd Glass.  Jimmy Fallon: Ryan Reynolds, Viola Davis, Fountaints of Wayne. Tavis Smiley: Ashley Judd (rerun). Carson Daly: Amanda Palmer, Kat Corbett, Matt & Kim, Screaming Females (rerun). Jon Stewart: Sen. Dick Durbin. Stephen Colbert: Anthony Bourdain. Conan O'Brien: Jason Bateman, Noah Ringer, Ron Funches. George Lopez: Hank Azaria, Nicole Scherzinger. Chelsea Handler: Mary McCormack, Josh Wolf, Loni Love, Ryan Stout.