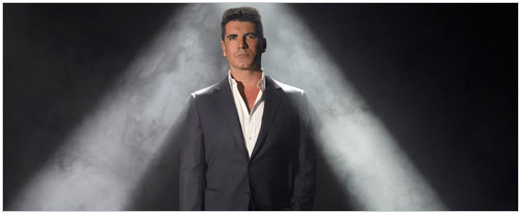 The specter of Simon Cowell hovered over the TV Critics Association summer press tour Friday in a large screen showing him via satellite from New York. The size of his image may have indicative of his outsized imprint on his new show, a U.S. version of "The X Factor" that starts on Fox this fall.
As producer and creator of "The X Factor," a massive hit in England that replaced its "Pop Idol," he has a little more clout than his fellow judges – Paula Abdul, L.A. Reid and Nicole Scherzinger – and over his show.
His absence from "American Idol" last season left a more bland judges panel; and the lack of his brutal honesty robbed the show of its jolt of reality.
And now his return came with the same kind of haughty, bigger than life ego. "I can't hear the applause," he complained about his satellite hookup.
Cowell said he started the show with the intent of changing the singing competition landscape, which has lately included "The Voice," which included the same device of judges acting as mentors. But "X Factor" also opens the door for younger and older singers as well as groups.
And there's a huge prize. In addition to a recording contract, Cowell says, "The winner is guaranteed to walk away with $5 million in cash."
"I wouldn't have made the show unless I thought it was going to be different," Cowell said. "We're going to try and change the rules. We're going to try and find a completely different kind of contestant. Our job as judges is to find people who've got star quality, turn them into stars. And I've got a panel who can do that."
Fox wanted it on last year, Cowell says. "We weren't ready for it last year. We felt the time was ready now."
And there were other problems. Cheryl Cole, a judge in the UK version was originally slated as a U.S. judge, but was replaced by Scherzinger, the ex-Pussycat Doll who was originally slated as co-host with Steve Jones.
"I offered her the job back in the UK, which initially she accepted. And then, unfortunately, when it went public, the negotiations fell apart. But she was offered a chance to come back to America, but, for certain reasons, decided not to," Cowell says. "I'm the first to admit if you get it wrong, you have to take it on the chin. And I take it on the chin. But, having said that, Nicole has been a revelation."
Having younger contestants hasn't made him nicer to them. But, he adds, "If I'm being honest with you, it's been the other way around. We've had to say to the 14 year olds, 'Will you be kind to me?' Because they are more lippy than any other contestants I've ever met in my life. So I was quite traumatized after the auditions."
"The X Factor" reunites Cowell with Paula Abdul.
"It's nice to be back in a demented relationship. It's like home," Abdul said. "We're like an old, married couple."
"More like the "Exorcist II,'" sniped Cowell.
Mostly, Abdul says of her fellow judge, "He has turned into a pussy cat. It's very sweet."
And the show is different from "Idol," she says. "It's very it's a grand scale. It's an epic feeling. I've never witnessed so much talent that, in each of the four categories, there are stars, not just one winner. There are stars that are going to emerge. I truly believe that. The whole next step the next phase of the mentoring is going to be extremely intense. It's something that I have a tremendous love for from when I started my career behind the scenes as a choreographer, you know, and also working with mentoring talent."
And Abdul may not be the loopiest person on the panel any longer, with the addition of Scherzinger, who seemed at least a little groggy at the session.
"I was honored to be put on the judges' panel when Simon asked me, because I had been in that exact place," Scherzinger said, parsing her words. "That's how I got my start 10 years ago, through that exact audition process on "Popstars," and I know exactly what they are going through. I've been there. I can empathize with them. I come from a different place of compassion and understanding. So."
The reason why I accepted the job was because of this dude right here and because I do believe in him and I trust him. But when they asked me to when Simon called me and asked me to be a part of the panel, I was so honored and so elated. And I cried for days because I felt I was maybe more at home on the panel because, like, we had just spoken about I had been through that whole process. I can empathize. I know what it's like, and I wanted to really mentor. So I'm really happy. And, Simon, you can't get rid of me."
For the other judge, producer L.A. Reid, the show is really about finding new voices.
"We are collectively seeing more talent in a day than I could see perhaps in a year in my job as a record executive," Reid says. " We are auditioning sometimes 50, 60 contestants a day. I may see 50, 60 in a two year period, right? So just the numbers certainly increases the opportunities for us to discover the next generation of stars, and we are finding them, too. We are finding artists, contestants that we really believe to be true stars of tomorrow."