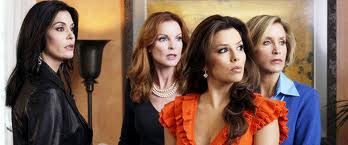 ABC made it official Sunday, in announcing that the upcoming season of "Desperate Housewives," the series that revitalized the network in the new century, will be its last.
"The only thing harder than creating a hit show is knowing when to end it," creator Marc Cherry told writers at the TV Critics Association summer press tour. "I'm also very aware of people overstaying their welcome, shows that kind of go on too long and people just forget about them. They drift away into nothing, and they're unceremoniously booted off. "And I just didn't want that to happen to 'Desperate Housewives.' I wanted to go out while the network still saw us as a viable show, while we were still doing well in the ratings, and we were still a force to be contended with," he said. "I wanted to kind of go out in the classiest way possible."
ABC entertainment President Paul Lee said he's prepared to give the final season the launch it deserves.
"It is an iconic show. We are so proud of it," Lee said. "I just wanted to make sure that this show that sort of put this network on the map — certainly the new brand of this network for the last six or seven years — had its victory lap."
To end "Desperate Housewives," Cherry says the series will go back to its first season origins.
"The mystery of what's going on this season harkens back to the first season," he says. "We're going back to the roots of Mary Alice," he says, which feels right "because it goes back to that very first season."
Cherry said when he told the cast of the show's fate on Friday, "it was bittersweet and lovely because the women knew that it was a possibility, but they didn't know. So there was a little you know, a touch of shock but not completely."
In his conversation with Eva Longoria, he came up with a spontaneous spin-off idea. "I was, like, 'I was going to put you in a van and have you solve mysteries,'" Cherry says.
He said he hopes to involve all the former cast members of the show, even Nicollette Sheridan who left the show amid recriminations and lawsuits.
"I don't know how I would do that," he says, "but I have an idea for the last episode in which I want to pay homage to everyone who's been there before, you know, who's been on the show. So we'll see what happens with that."
It's been hard enough juggling the main cast of Longoria, Teri Hatcher, Felicity Huffman and Marcia Cross.
"It's such a complex show to write because you have four women, have soap opera storylines that must intersect plus there's a mystery that they all have to be connected to," Cherry says. "I swear my next show is just going to be two guys in a prison cell because it's going to be I need something way easier than 'Desperate Housewives.'
As it is, Cherry is already at work on his next project, a gospel music series called "Hallelujah." "I don't want to be one of those guys that just repeats himself constantly," he says.