"Mad Men" and "Modern Family" took repeat multiple awards at the Television Critics Association Awards Saturday and the departed "Friday Night Lights" took program of the year.
The modest annual ceremony, which even allows the likes of your correspondent to be a presenter, can sometimes be a moving and funny event, and that was the case Sunday at the ballroom of the Beverly Hilton, which at another time is home to the Golden Globes.
Nick Offerman, the mustachioed scene-stealer on "Parks and Recreation" provided the opening entertainment, playing up his role in funny bacon-eating videos and original songs (about avoiding online commentary). He'd return to win individual achievement in comedy, a category that ironically had two winners, the other being Ty Burrell of "Modern Family." "Family" also took Outstanding Achievement in Comedy for the second year in a row.
In Outstanding Drama, "Mad Men" won for the third time, with its star Jon Hamm cited for Individual Achievement in Drama. Production begins Monday on the fifth season of the show, not expected to air until next spring.
But it was "Friday Night Lights," the saga that recently ended its run, honored for program of the year and HBO's lavish "Game of Thrones" cited as new show of the year.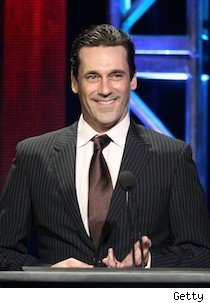 In the first reality show winner in the competition went to "Amazing Race."
The adaptation of "Sherlock" on PBS' "Masterpiece" took best miniseries while "Sesame Street" won outstanding youth programming. "Restrepo," the arresting documentary on war in Afghanistan won outstanding achievement in news and information.
"The Dick Van Dyke Show" won heritage award, with creator Carl Reiner taking the stage and Rose Marie and Larry Matthews, who played young Richie on the show, sharing memories from their seat.
Most stars were on hand, but Oprah Winfrey, recipient of the career achievement award, gave her thanks in a taped message that referenced her January press conference before the group, which was dominated by a single 18-minute answer to a single question.