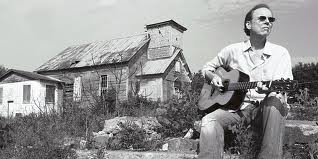 He had spent time in Los Angeles as songwriter, recording artist and performer before he moved South a quarter century ago. But when John Hiatt began his current tour earlier this month, it was the first time he had played the Troubadour, the institution that seemed well suited to his him.
Whatever the reason for that oversight, Hiatt made up for the difference by practicing there a few days before his splendid, kicking show to accompany his new album "Dirty Jeans and Mudslide Hymns." The sold out show was a nice escape for a couple of us from the TV Critics Association summer press tour down the street in Beverly Hills.
Haitt at 58 is still a lanky, gracious performer, who apologized for having a voice made rough by rounds of interviews he'd been doing that week. The rough-hewn edges worked well with the latest homegrown music that fits so well with his strongest material.
With a band that featured Doug Lancio on guitars, he kicked off with "Thank You Girl" and continued to mine a mix of songs from the "Bring the Family" era that brought him a wider audience 25 years ago and the new album, which had a lot of the same kick.
An artist with the catalog as full as Hiatt's means a lot of great songs to present and his new stuff, like the sinister "Damn this Town" (which might have been about Los Angeles) and "Adios to California" (which definitely was), fit in well with "Drive South," "Perfectly Good Guitar," "Cry Love," "Slow Turning," "Memphis Plates" and the mix of bluegrass and drive of "Crossing Muddy River."
A guitar-based band meant no keyboard on the opening show, so it also meant the first time I'd heard his classic "Have a Little Faith in Me" done with guitars instead. It worked. He could conjure the magic on slower songs as well, such as "Feels Like Rain" and "What This Looks Like" as well.
Some of his biggest songs over the years have been written for others, so he was sure to include "Thing Called Love," a hit for Bonnie Raitt, and "Riding with the King" a vehicle for B.B. King and Eric Clapton got a long workout at the show's end.