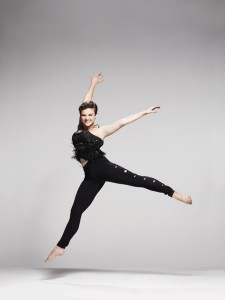 A standout from the earliest part of the season, pixie-haired Melanie Moore won the season for "So You Think You Can Dance" easily Thursday night.
Moore, 19, a contemporary dancer from Marietta, Ga., took the title and $250,000 cash after earning 47 percent of the vote in the four-way race, according to host Cat Deeley. The runner-up was a woman, too, Sasha Mallory, 23 of Bakersfield, Calif.
Marko Germar, 22, of Los Angeles, who was Moore's partner for the first half of the season, came in third and Tadd Gadduang came in fourth.
Moore, in her season, was never put at the bottom all season, and this week guest judge Kenny Ortega told her "I would push myself to the front of the line to work with you."
For her part, Moore could only manage a "Thank You" as fonfetti fell and the audience heered in the final minutes of the two hour finale.