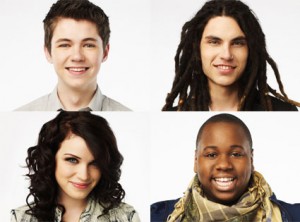 It's down to Alex, Damian, Lindsay and Samuel in the first season finale of "The Glee Project" (Oxygen, 9 p.m.). The winner gets a seven-eupside role in the Fox show next season.
There wasn't much to "Same Name," the summer reality show that matched "celebrities" of the level of David Hasselhoff, Reggie Bush and Kathy Griffin met regular people with the same name and switched lives with them for a day. But it wasn't a popular enough show to prevent the network from pulling the show this week after just four episodes. Plugging its space tonight are reruns of "The Good Wife" (CBS, 9 p.m.) and "CSI: Miami" (CBS, 10 p.m.).
I lieu of their own tour, which fell apart this month, "Talihina Sky: The Story of Kings of Leon" (Showtime, 10 p.m.) profiles a big dose of the respected rock band as they attend an annual family reunion in Oklahoma. Another good rock documentary tonight is Jonathan Demme's 2006 concert film, "Neil Young: Heart of Gold" (Fuse, 8:30 p.m.).
Another blockbuster episode of "Breaking Bad" (FX, 10 p.m.) is planned. It comes after last week's announcement that the network has ordered 16 more episodes after this season – which will also be the show's last.
Two are nominated for eviction on "Big Brother" (CBS, 8 p.m.), though by now they're not sent home, but to the jury house. They have yet to learn that there will be a double eviction Thursday.
It's San Diego at Dallas in some preseason Sunday Night Football (NBC, 8 p.m.).
Inspector Lewis is back in action on a "Masterpiece Mystery!" (PBS, 9 p.m.) repeat.
Old crime stories on "20/20" are reincarnated in a speak-from-the-grave storytelling style, on a two hour show that's been renamed "Sunday 20/20: The Sixth Sense" (ABC, 9 p.m.). (You'll see dead people!). For a lighter approach there is "Casper" (Telemundo, 6:30 p.m.) — in Spanish! Also in Spanish is the Miss Mexico competition, "Nuestra Belleza Mexico" (Univision, 7 p.m.).
Just about the only new scripted show on broadcast TV is another show of sketch comedy from "In the Flow with Affion Crockett" (Fox, 9:30 p.m.), where guest stars include David Koechner, Michael Strahan and Hugh Moore.
The final two singers are revealed on "Sunday Best" (BET, 8 p.m.) after one of the remaining three gospel singers is eliminated. In the meantime, Mary Mary and Kim Burrell perform.
In the wake of last week's revelations of college athletic improprieties, there is a timely replay of a couple of great documentaries in the "30 for 30" series, "Pony Excess" (ESPNU, 6 p.m.) about SMU and its "death penalty," and "The U" (ESPNU, 9 p.m.) about the University of Miami in the 1980s.
In baseball tonight, it's Cardinals at Cubs (ESPN, 8 p.m.). In the Little League World Series, it's Mexico vs. Japan (ESPN2, 8 p.m.).
Next stop is Salt Lake City on "The Great Food Truck Race" (Food, 9 p.m.).
"Keeping Up with the Kardashians" (E!, 10 p.m.) is clearly not keeping up. On the new episode tonight, Bruce and Kris Jenner are only now just meting Kim's new boyfriend Kris Humphries — the two planned to get married in some over reported ceremony this weekend.
Shreveport's Festival of Tolerance is about to be tested on a new "True Blood" (HBO, 9 p.m.), after which it's Rosie O'Donnell vs. Larry David on a new "Curb Your Enthusiasm" (HBO, 10 p.m.).
It's almost the end on "Celebrity Rehab with Dr. Drew" (VH1, 9 p.m.), but there are still a few problems.
Maggie Gyllenhaal studies female orgasms as "Curiosity" (Discovery, 8 p.m.) wonders "Why is Sex Fun?"
Jerry Springer's game show spawns a special, "Baggage First Dates" (GSN, 8 p.m.), pairing past contestants.
"Hillbilly Handfishin'" (Animal Planet, 10 p.m.) may be my favorite new weird show.
What television has really been lacking: celebrity streetball. Wiz Khalifa, Him Jones and Lil Twist participate in the new "Converse Band of Ballers" (MTV2, 1:30 p.m.).
Cary Grant is the star of the day on Turner Classic Movies, which means his daughter comes in to reminisce, but also a day-long roster of great films including "The Philadelphia Story" (3:30 p.m.), "North by Northwest" (5:30 p.m.), "Gunga Din" (8 p.m.), "Only Angels have Wings" (10:15 p.m.), "Mr. Blandings Builds His Dream House" (12:30 a.m.), "The Bishop's Wife" ((2:15 a.m.) and "Bringing Up Baby" (4:15 a.m.).
Sunday Talk
ABC: White House adviser David Axelrod, Gov. Jon Huntsman. CBS: Former Republican chairman Ed Gillespie and former Democratic chairman Tery McAuliffe, Sen. John McCain. NBC: Gov. Mitch Daniels, Obama campaign adviser Robert Gibbs. CNN: Axelrod, Govs. Bob McDonnell and Marin O'Malley, Rep. Elijah Cummings. Fox News: Rick Santorum, Karl Rove.