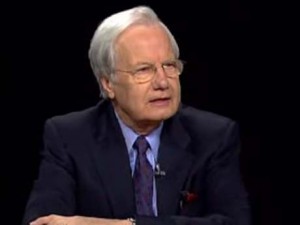 It's great news that the great newsman and wise cultural observer Bill Moyers has decided to cut his TV retirement short at 77 and return once again to public television.
But for "Moyers & Company," his one-on-one interview program he is readying for January, his longtime home of PBS has told him there's no room on its schedule for him.
So Moyers has said he will present his weekly show on WNET in New York probably on early Sunday evenings and make his show available to any other public broadcasting station that sees fit to run it any time of the week they want. It will be distributed by American Public Television instead of PBS.
Plenty of PBS stations will take him up on his offer. (Connecticut Public Broadcasting, from its dismal programming track record, will probably not).
It was Moyers whose smart and thoughtful hour he called "Now" helped make Fridays on PBS worth tuning into each week. It wasn't the same without him (especially since funders yanked money such that the remaining show became a half hour production).
The reduced "Now" made way for a news and public affairs show meant to engage younger audiences. But "Need to Know" was deemed not needed in some PBS member stations (including Connecticut Public Television).
Now comes news that the Friday lineup of news and public affairs will be truncated further by the addition of a "Fine Arts Special" that will include a difference dance, musical or theatrical performance from a different city each week.
I asked PBS chief Paula Kerger last month whether that wouldn't cut into the Friday night tradition they'd built.
"A lot of stations have played around with different content on Friday nights," Kerger said. "And within public broadcasting, we thought a lot about Friday nights. Friday nights, although I don't need to tell you, is not necessarily the strongest television night."
Nonetheless, she added, "we still will have news and public affairs at the beginning of primetime. So we'll come out of the 'Newshour' and still go into 'Washington Week' and then 'Need to Know.' Then beginning at 9 o'clock, we'll move into the arts programming."
With even "Need to Know" being reduced to 30 minutes (apparently you don't need to know half as much), there was no room for the prize-winning granddaddy of PBS, and the rare voice of reason on broadcast TV.