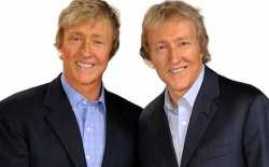 The Keno twins, Leigh and Leslie, who came to fame on "Antiques Roadshow," are now the featured stars in a new network show with largely the same premise.
The main difference on the new, wildly under-promoted "Buried Treasure" (Fox, 8 p.m.) is that the twin appraisers and experts in old furniture go out to the houses, where they can gawp at the pieces in context, rather than have everybody come to them in a city auditorium. Then they ask the owners if they are ready to sell.
As in the other show, some will be shocked at how much their stuff is really worth; others will be very sad.
It remains to be seen how much this show is a treasure. But premiering in late August certainly qualifies it as officially buried.
Desserts are the most difficult task on "Top Chef," so leave it to its producers to come up with a variation, "Top Chef: Just Desserts" (Bravo. 10 p.m.), which begins a second season with 14 new contestants.
This one is hosted by "Top Chef" judge Gail Simmons, who presides over the returning judging panel of Johnny Iuzzini, Hubert Keller and Dannielle Kryllos. Upcoming guest judges include the cast of "Willy Wonka & the Chocolate Factory" and Beastie Boy Adam Horovitz. The top prize is $100,000.
Their first challenge tonight: a showpiece based on a fairy tale.
How does a network like Animal Planet cash in on the hoarding show craze? With "Confessions: Animal Hoarding" (Animal Planet, 10 p.m.), of course. The second season starts tonight with a man who is hoarding venomous snakes while living with his mom.
"The Challenge: Rivals" (MTV, 10 p.m.) reaches a finale. No, I haven't been watching it either.
Ms. Barr speaks to young women at a local high school on the newest episode of "Roseanne's Nuts" (Lifetime, 9 p.m.), a title that might undercut her authority with the group.
One hint: It's not like indie rock. It's "Slammed: Inside Indie Wrestling" (National Geographic, 10 p.m.).
Watch "Jurassic Park" (AMC, 8 p.m.) again and see if the forthcoming fall drama "Terra Nova" can compare with it.
Four acts from Tuesday night's 12 move on to the final eight on "America's Got Talent" (NBC, 9 p.m.), which means to me that there's only one more week of semifinals until the Top 8 start vying for votes.
With newbie women Porsche and Kalia up for eviction by head of household Jeff, the power of veto ceremony is held on "Big Brother" (CBS, 8 p.m.).
Unseen episodes of "Happy Endings" (ABC, 9:30 p.m.) round out a Wednesday night of comedy reruns on ABC. There are followed by "Primetime Nightline" (ABC, 10 p.m.). Because they couldn't wait until 11:35.
Joan Blondell is the star on Turner Classic Movies all day, with "Sinner's Holiday" (8 p.m.) kicking off primetime, followed by "Dames" (9:15 p.m.), "Stand-In" (11 p.m.), "Cry Havoc" (12:45 a.m.), "Will Success Spoil Rock Hunter?" (2:30 a.m.) and "Kona Coast" (4:15 a.m.).
Daytime Talk
Regis and Kelly: Tom Hanks, Ken Jeong. The View: Bobby Flay, Giada De Laurentiis (rerun). The Talk: Howie Mandel (rerun). Ellen DeGeneres: Kristin Chenoweth, Nick Cannon, Alison Krauss & Union Station (rerun). Wendy Williams: Jenny McCarthy, Mr. T (rerun).
Late Talk
David Letterman: Ashton Kutcher, Rafael Nadal, Stewart Copeland. Jay Leno: Katie Holmes, Novak Djokovic, Mat Kearney (rerun). Jimmy Kimmel: Dax Shepard, Stephen Moyer, Bush (rerun). Jimmy Fallon: Jason Bateman, Freida Pinto, Tony Bennett, Big Audio Dynamite (rerun). Craig Ferguson: Regis Philbin, Vera Farmiga. Tavis Smiley: Vera Farmiga. Carson Daly: Sean Casey, Girl Talk, Interpol (rerun). Jon Stewart: Jay Bahadur (rerun). Stephen Colbert: Nassir Ghaemi (rerun). Conan O'Brien: Rainn Wilson, Roberta Mancino, Christina Perri (rerun). Chelsea Handler: Rashida Jones, Matt Braunger, Sarah Colonna, Dov Davidoff.