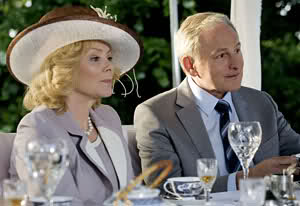 Jean Smart  is used to playing  powerful, highly visible women She was the unstable First Lady of the United States, Martha Logan, on "24." Then she was Hawaii Gov. Pat Jameson on the first season of "Hawaii Five-0."
Tonight, she plays Camilla, Duchess of Cornwall, who plays a much larger role in the made for TV movie "William & Catherine: A Royal Romance" on Hallmark than she did on the previous made for TV movie on the romance shown by Lifetime.
To research, Smart says she was left to her own devices.
"I found very little of Camilla on camera and speaking," Smart told writers at the TV Critics summer press tour last month. "And you feel a certain responsibility — certainly especially when it's someone still alive — to just try to capture just a quality and hopefully it's something that's done respectfully. And I liked that she was portrayed sympathetically in the script, and I felt that she deserves that."
The script was by Linda Yellen, who wrote the similarly named TV movie "The Royal Romance of Charles and Diana" 30 years ago; the film was shot in Bucharest after the royal wedding in May.
"I think it's really Linda's achievement as a writer that these people are depicted as a family," said Victor Garber, who plays Prince Charles in the film. "Because we don't ever really know what goes on behind closed doors."
As a child growing up in London, Ontario, Garber says "I remember when the queen, Queen Elizabeth, came to our town, and I saw her drive by in a car, and it was kind of a momentous occasion for me. I am not obsessed with them like some people are, but I certainly have enormous respect, and it was kind of a great thing to be able to step in there."
And if she couldn't find source material on the former Camilla Parker-Bowles, Smart could enhance her role because of the surroundings in Bucharest.
"We shot at the royal palace where the president, actually, is still residing, if you can imagine," she says. "He let us shoot there. It was like shooting a movie at the White House."
Jane Alexander plays Queen Elizabeth in the film; Dan Amboyer and Alice St. Clair play the young couple in question.
"William & Catherine: A Royal Romance" debuts tonight at 9 p.m. on Hallmark.