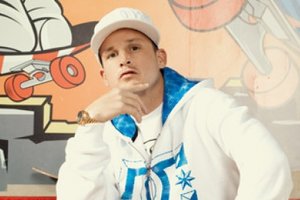 MTV uses its platform of the Video Music Awards (which get worse every year) to launch new shows. So tonight comes three of them.
First the network attempts to catch up on the viral video recap success of "Tosh 2.0" by employing its own daredevil Rob Drydek, left,  hosting his own show, "Ridiculousness" (MTV, 10 p.m.).
It's followed by two more new shows – the video awards show are the platform to launch shows. One, "Death Valley" (MTV, 10:30 p.m.) is a lighthearted zombie series about a task force in L.A. capturing the undead as well as werewolves and vampires when they get a chance.
And the new "Cuff'd" (MTV, 11 p.m.) is a variant of "Cops" (G4, 8 p.m.) that concentrates on the young offenders and what they have to say while they ride to the precinct in custody.
VH1 is casting its lot not with glossy housewives but with those married to high paid NBA stars. "Basketball Wives LA" (VH1, 8 p.m.) is the West Coast version of the show that began in Miami that includes at least one holdover — Gloria Govan, whose fiance left the Orlando Magic for the Lakers. The new show is paired with "La La's Full Court Life" (VH1, 9 p.m.), about the high living of Mrs. Carmelo Anthony.
"Hell's Kitchen" (Fox, 9 p.m.) gets a new timeslot, same old hell though, as six chefs remain.
The season finale of "Hoarders" (A&E, 9 p.m.) checks up on those whose cases were covered this season.
Lynda Carter is among the guest-judges on the season finale of "RuPaul's Drag U" (Logo, 9 p.m.) when three 80s music TV divas try to reclaim their sheen from drag experts.
How crappy a show is "Bachelor Pad" (ABC, 8 p.m.)? After another two hour episode last week, they never revealed which one was leaving the show – Kasey or Jake. It's bad enough with all the "Coming Up Next" hype and post-commercial recaps. But a cliffhanger – to next week's episode? Pretty weak, even for this paltry show.
At least one of them will be gone tonight. Though Vienna is still there for at least another week.
S0unds like an awfully pleasant jaunt for "Anthony Bourdain: No Reservations" (Travel, 9 p.m.), in which he takes a few of the guys from "Treme," for which he was a consultant and writer, deep into cajun country.
On "The Closer" (TNT, 9 p.m.), Brenda seeks help from the captain (Mary McDonnell) on a murder for hire scheme.
Here's something weird: "Supersize vs. Superskinny" (OWN, 9 and 10 p.m.) in which thin people and heavy people swap diets. Thanks, Oprah.
Elsewhere, meet former convict turned used car salesman Mike DeLucia in the new series "Carfellas" (Discovery, 10 p.m.).
The Teutels won't give up their feud and Discovery won't stop exploting it. So now their show is called "American Chopper: Senior vs. Junior" (Discovery, 9 p.m.) as the series moves from motorcycle building garage to courtroom.
Who's the Amber behind Amber Alerts? Find out in the 2006 TV movie "Amber's Story" (Lifetime Movie Network, 8 p.m.).
An old boyfriend gets between the central characters of "Rizzoli & Isles" (TNT, 9 p.m.) in the middle of a murder investigation.
The week of 9/11 coverge includes the search for Khalid Sheikh Mohammed in "CIA Confidential: 9/11 Mastermind" (National Geographic, 10 p.m.). It follows reruns of "Giuliani's 9/11" (National Geographic, 8 p.m.) and Sunday night's "George W. Bush: The 9/11 Interview" (National Geographic, 9 p.m.).
"Watch What Happens: Live" (Bravo, 9 p.m.) gives a look at shows coming up that will take the place of duds like "Most Eligible Dallas" (Bravo, 10 p.m.).
Decorating a studio apartment on the cheap is the assignment for the few candidates left on "HGTV Design Star" (HGTV, 9 p.m.).
On "Intervention" (A&E, 10 p.m.) a guy tries to cut his 30-beer-a-day habit down to at least an even case.
One would think that a new "Dateline NBC" (NBC, 10 p.m.) would be used to discuss the hurricane and its impact. On the other hand, it's unlkely they'll bump Jamie Gangel's interview with Dick Cheney timed with the release of his book Tuesday. This is the network that is playing a two hour week old rerun of "America's Got Talent" (NBC, 8 p.m.) to round out its prime time.
Phillies at Reds (ESPN, 8 p.m.) gets a national showcase.
Anne Francis is the star all day on Turner Classic Movies with "Blackboard Jungle" (8 p.m.) kicking off prime time, followed by "Forbdden Planet" (10 p.m.), "Brainstorm" (midnight), "A Lion is in the Streets" (2 a.m.) and "Impasse" (2 a.m.).
Daytime Talk
Regis and Kelly: Emma Watson, Jennifer Aniston, Tine Valencic. The View: James Franco, Freida Pinto, Andy Serkis, Alison Krauss & Union Station featuring Jerry Douglas (rerun). The Talk: Tyler Pery, Justin Kanew & Zev Glasserberg, Michelle Stafford (rerun). Ellen DeGeneres: Michelle Obama, Jill Biden, Sugarland (rerun). Wendy Williams: John Leguizamo (rerun).
Late Talk
David Letterman: Jason Sudeikis, Bettina Luescher, St. Vincent. Jay Leno: Julia Scardina, David Koechner, Cake. Jimmy Kimmel: Aziz Ansari, Chris Harrison, Eric Church (rerun). Jimmy Fallon: Robert Duvall, Emmanuelle Chriqui. Craig Ferguson: William Shatner, Eliza Coupe, Ted Alexandro. Tavis Smiley: Rep. Xavier Becerra, Herbie Hancock. Carson Daly: Walton Goggins, Dave MacDowell, Soundtrack of Our Lives (rerun). Jon Stewart: Ali Velshi (rerun). Stephen Colbert: The Cars (rerun). Conan O'Brien: Reese Witherspoon, Joseph Gordon-Levitt, the Head and the Heart (rerun). Chelsea Handler: Paul Rudd, Michael Yo, Loni Love, Ross Mathews.